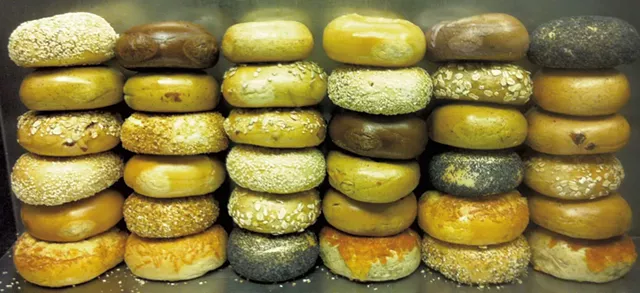 Courtesy Of Burlington Bagel Bakery
A variety of flavors from Burlington Bagel Bakery
Nearly 40 years after Burlington Bagel Bakery launched its business on St. Paul Street in Burlington, it will return downtown when a new branch opens at 93 Church Street on the Marketplace, site of the former Bruegger's Bagels. The restaurant is expected to open in October, according to assistant manager Avery Fersing.
This will be a second location for the bagel bakery, which relocated to Shelburne Road in South Burlington three decades ago. The availability of the space on Church Street, coupled with a "really great staff," presented an opportunity for expansion, said Fersing, daughter of owners Kyle and Tamara Fersing. "There was a perfect spot open."
The two-story space is under renovation, including installment of new floors, counters and booths, Fersing said. But the basic layout of the bagel shop and café will remain the same.
The Burlington branch, like its South Burlington counterpart, will make and serve about two dozen varieties of bagels. The menu will include soups, sandwiches, smoothies, coffee and tea. The restaurant will have an espresso machine, according to Fersing.
Burlington Bagel Bakery is a family affair for the Fersings. Avery's brother, Hayden, rolls and bakes the bagels in South Burlington.
Correction, Aug. 8, 2018: An earlier version of this story misidentified the Fersings as the founders of Burlington Bagel Bakery. In fact, Roy Feldman and Marty Schwartz founded the bakery in 1979.