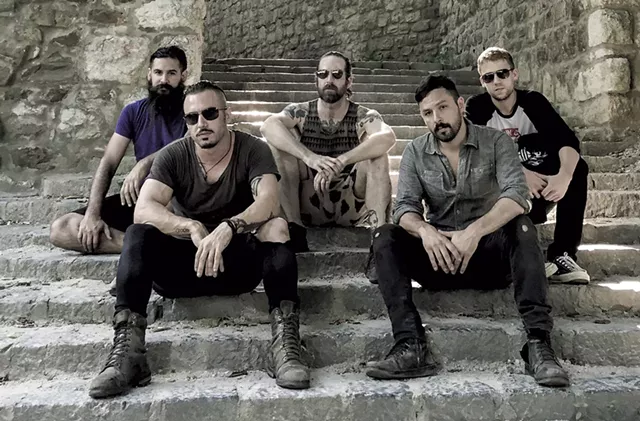 The Dillinger Escape Plan
It's rare that we're given the opportunity to end something — a relationship, a job, an artistic pursuit — in the way it deserves. Sometimes messy ends are the result of an outside force such as a cheating lover or an unexpected trauma. Sometimes it's the result of hanging on too long and failing to recognize it. Either way, all things must end eventually. And it's rarer still to terminate a good thing before it turns bad.
Such is the case with the Dillinger Escape Plan. After a nearly 20-year run, the New Jersey group is calling quits following the conclusion of its current tour. DEP are touring in support of their latest, and last, album, aptly titled Dissociation. The record puts a cap on a career that has established them as one of the most influential — and notorious — American hardcore bands of their generation.
Formed in 1997, DEP — as well as bands such as Deadguy and Converge, among others — are generally acknowledged as the progenitors of mathcore. That genre subset combines the technical precision and wizardry of prog rock with the sludgy fury of hardcore. It's a bracing, brutal style that relies as much on teeth-rattling crunch as calculated sonic dissonance and rhythmic fuckery. DEP's legacy is one of innovation. And also utter madness at their live shows.
Seven Days recently spoke by phone with founding guitarist Ben Weinman. DEP play on Thursday, November 17, at Club Metronome in Burlington.
SEVEN DAYS: So ... what the hell, man?
BEN WEINMAN: [Laughs.] Well, it's gonna be 20 years in a couple months, man. That's a long time, you know? I've said it before, but there has got to be a point when it ends. Everything has to end. And we really want to be in control of it and do it right, make sure that we're doing it while we're on top of our game and feel excited and inspired.
[The end of the band] has given everything a lot more meaning, for sure. Just doing another tour cycle for another record is always exciting. But it kind of lacks purpose other than, "This is what we do." So it seems like everything has more meaning now.
SD: Being able to arrive at that decision on your own terms must feel good, because that's not often the case for most bands.
BW: Yeah. You see bands that kind of just dwindle away and then break up until they feel they can pack rooms again. We're packing rooms now. So it doesn't have to be some kind of a gimmick. It really just is making a record and touring in support of it. But we know it will boil down to an end.
SD: Looking back on the band, what are you most proud of?
BW: Just that we managed to be relevant and grow continually, slowly over time and completely outside of trends or whatever else was going on. So many things come and go. I started this band before the internet was a huge part of everything. So to see all of this happen and stay relevant and continue to put out music that I think feels fresh and important is something I'm really proud of.
SD: You talked about trends. I think a lot of people would point to Dillinger as trendsetters.
BW: Well, if we're a trend, I think the music industry is in for more of a recession than it already is. We're not exactly the most mass-marketable music.
SD: I guess I meant that on more of a niche level.
BW: It's interesting. I do talks on art business and the music business often. And one of the examples I give is that a band like Dillinger has always been honest. And because of that, we've been able to go on our own trajectory and keep slowly rising and continuing, while so many other bands and artists keep spiking up and down. We may never be as big as those other bands were at one point. But we've been able to make a career and continue to grow, literally. Our past two albums were our most successful. And that's something that speaks volumes.
SD: It's certainly a more sustainable model. Do you have thoughts or hopes for what the legacy of Dillinger will be?
BW: I think the fact that, most likely, someone in a thousand years will hear a Dillinger song somewhere. That's pretty crazy to me. Making something out of nothing is why I do it. Taking air and turning it into a tangible thing that people have and listen to, that's super magical. So the thought of someone being able to hear Dillinger Escape Plan at some point way in the future is crazy. Who knows what it will sound like to them? But I certainly think that we're a band that continues to be opening a door in some way, at a time when there is really a lot of that happening. So, hopefully, that's something that stays imprinted on us as part of our legacy.
SD: Do you have any regrets about the band?
BW: That's hard to say. Everything that happens brings you where you are. There have been a lot of hard times. But I don't regret any of it. I've had a really hard but kickass, interesting life.
SD: What are your post-Dillinger plans?
BW: That might speak more to regret. This is the end point of our young lives, where we still want to do these things before that's it, we're old. So I think early on after this is about not having regrets, being able to say, "I did all that." But maybe also being able to have a family, find adventures. There are all kinds of things I want to do that I haven't had the opportunity to do, based on the busy lifestyle that Dillinger has brought me.
SD: So, you won't be pursuing any other musical projects?
BW: I don't know. Right now I kind of see myself walking away into the sunset and disappearing.
SD: Last question: What is the craziest thing that you've seen Greg Puciato do onstage?
BW: It's so weird. People notice things that happen in a video or a picture, but crazy stuff has been happening since day one, before Greg was even in this band. It's almost like you join the band and it just takes you. Dillinger has a life of its own.
I remember at the beginning, we were playing small places, coffee places. This old dude was playing Scrabble and an old singer ran out and jumped on the table and destroyed the Scrabble game. There was a ceiling that caught on fire. Lots of things have caught on fire. And when Greg joined, it just continued. So every night is crazy. People see things on video, but none of those things on video are probably as crazy as the other nights.
Obviously, Greg taking a shit onstage at Reading Festival was pretty gnarly. That doesn't happen every day. But is that crazy? I don't know. We've gotten in full fistfights onstage. But the truth is, there are always rumors about bands. You hear about these legendary shows before the internet where there was, like, a riot. But there probably was not a riot. It was probably two kids that got arrested. But it was like a game of Telephone, and by the time the story got from one coast to the other, it was this insane, exaggerated thing.
With Dillinger, every rumor is true. Every story is true, and it's usually under-exaggerated. It was actually probably worse.