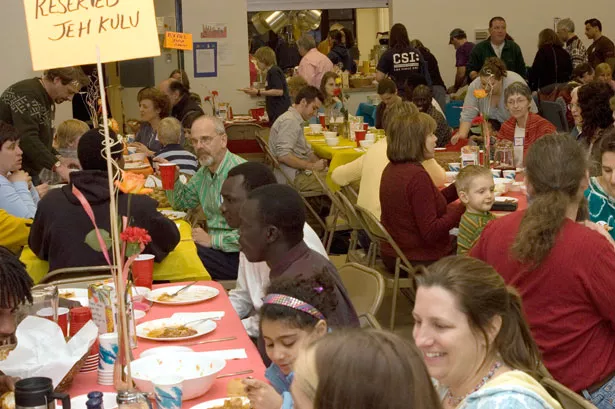 Last Friday, the St. James Episcopal Church auditorium was the place to be if you wanted to hear, see and taste the traditions of Sudan. The New Sudan Education Initiative (NESEI) was the focus of the night, and Africa inspired the colors: bright tablecloths, orange roses on each table, and a quilted map of the continent on one wall. Church youth served up Sudanese dishes: salty beef and cabbage, thick and pasty red beans, brown rice. Some church members donned African clothing, such as bright purple dresses and neon green shirts, in solidarity.
Atem Deng, a University of Vermont junior majoring in social work and a co-founder of NESEI, stressed how important education was for the people of his native land. "When we went back to Sudan we asked them, 'If they had $1, what would they use it for?' And they said education, even though they [also] need clean water, new roads and medicine," he related.
After dinner, presenters showed a heart-wrenching video about the wartime atrocities the Sudanese people endured, and the long journey some of them made from refugee camps to the U.S. Some of the so-called "Lost Boys" have returned to visit their families since moving to America. For Deng, it was the first reunion with his relatives in 17 years.
After this somber discussion, the young Sudanese men filled the room with joyful singing. The smiles on their faces were contagious and, though none of the rest of us knew the words to the traditional songs, we happily clapped along.
Then Jeh Kulu Dance and Drum Theatre took the floor, immediately bringing everyone to their feet. The locally based group features Caucasian female dancers, clad in vivid costumes, and West African drummers. Their leader incited the crowd to clap and whistle, while the children in the front joined the high-energy dancers waving their arms and kicking their legs. The rhythm of the drums was hypnotic.
"Africa Comes to Vermont" wasn't just about entertainment; the night was full of learning and bonding. The enthusiasm ensured a fondly remembered experience for natives of both continents.