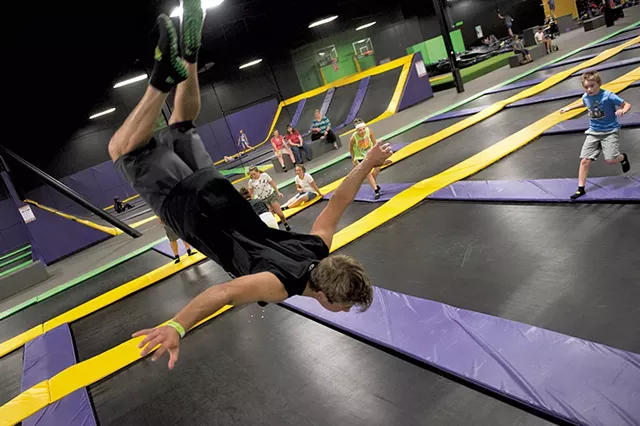 Get Air Trampoline Park
Everybody had that one friend with a trampoline when they were a kid, right? Well, Get Air is what happens when that friend grows up, buys a warehouse and fills it with thousands of square feet of trampolines. You can bounce for hours. But why not also play an elevated game of dodgeball or work on your 360-tomahawk slam dunk on the basketball court?
ArborTrek Canopy Adventures
1239 Edwards Rd., Jeffersonville, arbortrek.com
Get a bird's-eye view of the Green Mountains while shooting down 4,500 feet of zip lines at Smugglers' Notch Resort. Don't have a need for speed? Try the treetop obstacle course.
Esc4pe
156 College St., Burlington, esc4pe.com
You'll have one hour to figure a way out of one of three themed "Esc4pe" rooms by solving a series of physical and mental puzzles — like, for example, why you agreed to be locked in a room with total strangers or what the "4" in "Esc4pe" is all about.
Essex Family Fun & Entertainment Center
Navigate the challenging, nautical-themed 18-hole mini golf course or iron out the kinks in your real golf swing at the driving range. And let's not forget about the batting cages, which feature baseball and softball pitches at speeds ranging from slow to Chris Sale.
Gonzo's HD Sports
1860 Williston Rd., South Burlington, gonzoshdsports.com
Immersive golf simulators allow you to (virtually) travel to famed real-life courses such as Pebble Beach or St. Andrews Links any time of year. Not a duffer? Gonzo's boasts a variety of sporty sims, including zombie dodgeball.
Petra Cliffs Climbing Center & Mountaineering School
This indoor climbing gym is a hub for those who aren't content to simply look at cliffs and mountains. Walls vary from easy to "Are you f*cking kidding me?" There's also a year-round mountaineering school.
Spare Time Entertainment
The Burlington area's last remaining bowling alley is huge, glitzy (as bowling alleys go) and a lot of fun. Don't miss the sweet laser tag arena.