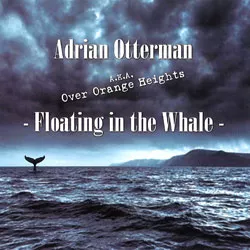 (Self-released, CD)
If you don't have anything nice to say, don't say anything at all. — Unknown
If the above adage applied to music criticism as much as it does to other facets of life, this review of Adrian Otterman's Floating in the Whale would end right here. Otterman would be spared the public airing of his debut's grievous crimes against rock music, I would be spared the dirty business of discussing them, and the world would keep on turning, blissfully unaware. Sadly, as this is my chosen profession, I am duty-bound to submit these findings: Floating in the Whale is profoundly — and at times comically — bad.
There, I said it. And frankly, I don't feel any better having unburdened myself. Judging by the disc's immaculate recording quality — it was mastered by Lane Gibson of Chuck Eller Studios renown — the general professionalism of instrumental performances, and attention to detail in the arrangements, the project was obviously a labor of love. Over the course of 13 tracks, the songwriter bears the bulk of the instrumental duties. And he delivers acoustic and electric guitars, harmonica, keys, percussion and backing harmonies with surgical precision. But this album's maladies are likely beyond even Dr. Gregory House. Paging Dr. Kevorkian?
From twin opening salvos "Green Mountain Skies" and the title track, through gamely contrived tunes such as "Promise Not to Cry," "Drive" and "Hear My Words," Otterman serves up cliché after mincing rock cliché. Though crisply performed, his songs are at best derivative and, at worst, outrageously melodramatic. It doesn't help that he has a propensity to breathily speak certain lyrics — presumably for theatrical effect — such as "She told me that she loved me."
Which brings us to the disc's gruesome centerpiece, "Onward Christian Soldiers," a tune that embodies the album's artless aplomb in a manner unlike anything you've ever heard.
A medley of sorts, Otterman begins the tune with the lyrics and melody from Blue Oyster Cult's "(Don't) Fear the Reaper." This morphs into a piano-driven take on Bob Dylan's "All Along the Watchtower." Except that Otterman eschews Dylan's lyrics in favor of — wait for it — the words from the hymn "Onward Christian Soldiers," delivered with unwavering, occasionally spoken-word, earnestness. Dylan does get his full due towards the song's conclusion … roughly seven minutes later. It's the musical equivalent of Con Air: pure, unintentional comedy.