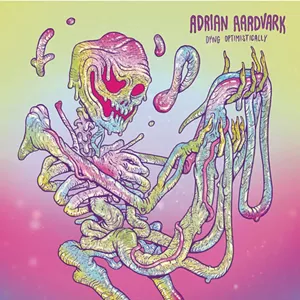 Adrian Aardvark, Dying Optimistically
(Epifo Music, CD, digital download, vinyl)
When last we left Christopher Stott-Rigsbee, he was captaining the intergalactic curiosity that is Plattsburgh's Our Holy Orgasmic Cosmic Rays. That Lake City sorta-supergroup specializes in a distinctly off brand of no-fi indie rock that is often juvenile, sometimes funny and almost always dangerous. If OHOCR were a sandbox, it would be filled with rusty razors, syringes and broken glass and populated by the Garbage Pail Kids.
With the Rays, Stott-Rigsbee has been just shy of prolific, releasing four records since 2014, including a trilogy — Phase One, Phase Two and Phase Three — that foretells the world's coming doom in a cataclysm of fire, alien stalkers and dick jokes. So very many dick jokes. Ragged, jagged and simmering with mania, the Rays' cacophonous sound isn't for everyone. But it might actually be more conventionally palatable than has been Stott-Rigsbee's other band, Adrian Aardvark.
Presumably tied up — maybe literally? — with OHOCR, Stott-Rigsbee hasn't released an Adrian Aardvark record since 2014. That alone makes the impending release of AA's Dying Optimistically notable. Even more interesting is the record's relative refinement.
AA's earliest recordings were inscrutable. The sprawling collective's 2012 album, Hidden Magic Revival, was a pitch-black expression of Stott-Rigsbee's personal trauma reflected through a shattered prism of grimy noise. 2014's American Aardvark was lighter and leaner, though no less sonically obtuse and thematically oppressive. Dying Optimistically bears shades of those albums while embracing the implicit contradiction in its title.
Perhaps buoyed by his time with the Rays, Stott-Rigsbee now largely writes within identifiable pop constructs. Songs such as "Just Us," "Peace in a Loving Way" and "Get Gotten" hang, albeit loosely, to skeletons of garage and indie rock, fleshed out with scabs of distorted guitar, bruised drums and intermittent freckles of strings — the last courtesy of Stott-Rigsbee's wife, Shannon. Stott-Rigsbee still sings with a yawning delivery that's something like Magnetic Field's Stephin Merritt on anxiety meds that may or may not be working.
And he's still got a penchant for puerile yuks — witness the feverishly pervy "Horny Wildebeest." But Stott-Rigsbee's off-kilter musings now come swaddled in well-considered yet unpredictable arrangements. These alternately add urgency to his addled rants ("Oo Ra Ra / The Sun") and humanize his more introspective moments ("Young Pharoahs and Horses").
To be clear: Though nominally more conventionally palatable than previous Adrian Aardvark records, Dying Optimistically is not for the faint of heart — or ears. It is still a bewildering musical exodus that will likely lose more than a few sojourners along the way. But those who see it through might find some common ground with a songwriter who remains a true enigma.
Dying Optimistically is available on Friday, April 20, at adrianaardvark.bandcamp.com.