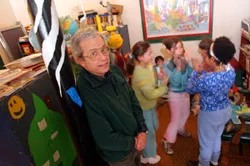 Jordan Silverman
Richard Nessen, Bridge School
For a rural area, Addison County hosts a surprising number of secular private schools. The 26-year-old Bridge School was the area's original elementary-school alternative. The Gailer School has moved from Shelburne back to Middlebury, where it originated in 1989. More recent additions include the Aurora, North Branch and Red Cedar schools, in Middlebury, Ripton and Bristol, respectively.
Why are more than 200 of the county's families willing to spend as much as $13,000 a year on alternatives to schools they already help fund through their property taxes? Is it a Vermont version of the national condition described by economist John Kenneth Galbraith as "private affluence, public squalor"?
Not exactly.
Middlebury and surrounding towns have a high proportion of well-educated and well-off residents, many of them affiliated with the college or with Porter Hospital. This socio-economic profile may help account for the proliferation of private schools. "Middlebury College does attract people who are used to having a range of choices in education," says Alison Lockwood, who has a child at the Gailer School and is also the development director there. But a significant portion of Addison County's population doesn't qualify as affluent - or even middle-class. Its public school populations are economically mixed. Leaders of local private schools say some households sacrifice substantially in order to make tuition payments. And a few families must rely on the partial or full financial aid that the schools sparingly provide.
It's also not the case that the county's public schools are underfunded or academically inferior. Year after year, taxpayers in many towns approve comparatively generous school budgets. Middlebury, for example, sets its per-pupil expenditures at 122 percent of the statewide average. And on most student-performance criteria, Addison County public schools rank at or above the Vermont mean.
Many private-school parents acknowledge that the county's public system is sound. They justify opting out in purely positive terms.
"We weren't running away from something but toward something," explains Ron Hallman, whose 16-year-old daughter, Anna, attends Gailer. The school's "DaVinci curriculum" is modeled on a rounded, Renaissance-inspired approach to learning. "We were looking for a smaller environment that would better suit her learning style."
Jacquie Werner-Gavrin, director of the Red Cedar School in Bristol, emphasizes the virtue of variety. She presides over a K-12 "independent" school that encourages "participating in a democratic mixed-aged school community," according to its website. "We need different types of schools for different types of students. Choice is very important," says Werner-Gavrin, who taught for 10 years at the public Monkton Central School. All three of her children have attended Red Cedar.
It's the same story at Middlebury's Bridge School, which is housed in a renovated barn on the corner of Route 7 and Exchange Street. The private elementary school "wasn't started in opposition to the public system," notes Richard Nessen, who co-founded it in 1981. "Middlebury actually has an excellent public system. We tell parents that there are a variety of options and they should choose the one that's best for their child."
A family with one child in private school may have another in public. Hallman, who is vice president for development at Porter Hospital, sends his younger daughter to Mary Hogan, Middlebury's K-6 public school. Many private-school parents say they expect their elementary-aged kids will go to public middle or high schools - often for the larger social environment or athletic opportunities.
The "I'm-OK-you're-OK" attitude usually expressed in regard to public and private schooling may be a reflection of small-town diplomacy. Press them a bit, though, and parents of private-school students do voice complaints about various aspects of public education.
"Public school failed my child," declares Gailer's Lockwood. "He benefits from a smaller classroom environment," which the Charlotte Central School didn't provide, she says.
The scale of public schools, even in thinly populated Addison County, is also a cause for consternation. "I'm not a fan of regulated education in large groups," says Cheryl Faraone, a theater professor at Middlebury College. "The larger the school, the more institutionalized it has to be and the less helpful it becomes to most kids."
Many private-school enthusiasts say administrators intent on adhering to a formulized method of education don't welcome parental involvement in the public schools. "In our school, parents are in and out constantly," notes Cal Birdsey, founder of the 26-student North Branch private school in Ripton. "How easy do you think it is to walk into Middlebury Union Middle School and participate in your child's education?"
Some parents of students at the middle school counter that MUMS does welcome volunteers.
Persistent efforts on the part of parents can produce incremental changes in public education, says Nessen of the 67-student Bridge School. "But are you going to sacrifice your kid because you want the public institution to do better?" Nessen asks rhetorically. "The child is the number-one priority of most parents."
"The massive size of the public school structure" fosters rigidity, argues Erik Shunstrom, a teacher at the K-6 Aurora School in Middlebury. Bureaucratic inertia frustrates would-be public school reformers, adds Shunstrom, who taught for eight years at a public school in Los Angeles.
He counterposes the individually tailored curriculum at Aurora, a "relationship-based" school with 26 students, to the "hot-lunch model where you get served what you get served."
But Shunstrom's own daughter attends Middlebury Union Middle School along with 350 other students. "It was her choice, mainly because of sports," he says. And MUMS does employ many "dynamic and interesting" teachers, he finds. On the other hand, "The yoke that holds them back is having to teach a state and federal curriculum," Shunstrom adds.
Creativity in the public classroom has grown even scarcer in the age of No Child Left Behind, private-school advocates contend. They regard the federal law, enacted in 2001 with the aim of promoting school accountability and higher educational standards, as a club used to enforce conformity. "Regulations imposed on local schools by the central government" result in "box-like situations" that stifle many students, says Lockwood, who is a Gailer School board member as well as administrator.
In practice, No Child Left Behind has forced public schools to concentrate their resources on a minority of students who score poorly on standardized tests, adds Jeff Byers, a chemistry professor at Middlebury College. His seventh-grade daughter enrolled at Gailer in September after completing her elementary career at Mary Hogan, which is where his wife, Cathy, teaches.
Byers was drawn to Gailer because when he's had conversations with people associated with MUMS, he explains, "One of the first things they say when their guard is down is that academics is secondary to social development in grades seven and eight." The middle school acts in accordance with this assumption, Byers observes, adding, "I don't like that. It's not what we want for our family."
Faraone cites "cliquishness in social circles" at the local public middle school as a factor that contributed to her daughter's enrollment at Gailer.
Parents worry that those social circles can exert powerful pressures on adolescents to engage in risky behavior. "There are different issues to contend with in public schools, and the environment at Middlebury Union High School is very different" from that at Gailer, says Hallman. At the same time, he acknowledges that teens and tweens will be exposed to the temptations of drugs and alcohol no matter where they attend school. "If we think they're going to be isolated from society because they go to private schools, we're kidding ourselves," Hallman says.
Often, however, the choice to invest thousands of additional dollars in a child's education is made precisely because a family believes private school will yield more favorable returns. Some supporters of schools such as Aurora, North Branch and Gailer define these alternatives in at least tacit contrast to Mary Hogan, MUMS and Middlebury Union High School.
North Branch, which takes the unusual approach of educating ninth-graders as well as seventh- and eighth-graders, is "completely different from MUMS," says head teacher Birdsey. Because the multi-age setting at North Branch is "larger than a family but smaller than a system," it appeals to parents who "want the kind of place where their kids are loved and known," he suggests.
Interdisciplinary education is emphasized at most Addison County private schools. Gailer promotes critical thinking, as opposed to rote studying, Lockwood says. The school fosters "pushback," she notes. "We allow our kids to challenge any and every theory."
Lockwood further describes Gailer as "nimble" - a trait that many private schools tout. Sandra Murphy, the mother of two sons attending Aurora, values its support for "out-of-school adventuring." Teachers there don't object when Murphy, a freelance writer on natural-history topics, pulls her kids from school so they can accompany her and her husband on trips to western states.
Private schools also provide parents and students with a ready-made community of the like-minded. The "strong sense of being part of a whole" is among the attributes that attracted Becky Trombley to the Bridge School, which her 11-year-old daughter attends.
But what about the larger community? Do private-school parents feel disconnected from the commonweal because they exclude their kids from one of a town's most defining institutions?
In Murphy's case, the answer is "definitely." Calling herself "very community-oriented," the Lincoln resident says she laments the loss of involvement in her local public school, which she describes as "a wonderful place."
Other private-school parents say they experience no such alienation. Hallman, for example, notes that his 10th-grade daughter at Gailer maintains ties to many of the friends she made at MUMS. "I don't feel any disconnection from the Middlebury community," Hallman says.
The biggest detriment to the commonweal, adds North Branch founder Birdsey, would be "having only one kind of school to attend."
Those drawn to the alternative kind exhibit characteristics common among transplants to Vermont, says Faraone, who came to Middlebury College 20 years ago. "A search for independence and autonomy is what brings many people to Vermont and also to private schools," she observes.
That they tend to be more homogeneous than, say, the Vergennes public schools is not a concern. "There's so much focus on social justice and economic disparities" in the Gailer School curriculum, Faraone says, that her daughter will learn that American society is hardly monolithic. Tom Buzzell, the associate principal at Mary Hogan, agrees that private schools such as Gailer make "strong community-service efforts that allow their students to have a full range of experiences."
Private schooling requires considerable sacrifice on the part of teachers as well as many parents. Salaries at schools dependent almost entirely on tuition income run well below what teachers make in Vermont's unionized public schools. And paying the costs of a private education can strain even a middle-class family's budget. "It is a sizable financial commitment," says Trombley, a full-time mom whose husband works at IBM. But in a comment echoed by many private-school parents, Trombley adds, "This was the right choice for us. We had to do what is best for our child."