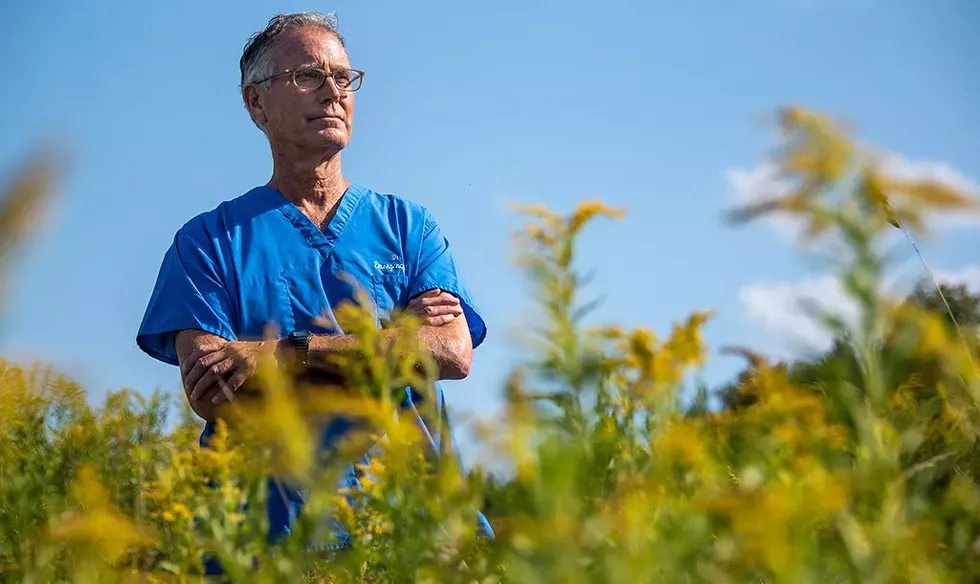 Jeb Wallace-Brodeur
Dr. Mark Depman
A
ddiction, also known as substance use disorder, impacted more than 40 million people in the U.S. in 2020. Alcohol is the most frequently reported substance of concern, but more than 107,000 Americans died in 2021 due to drug overdoses — a record number. Vermont saw its highest ever overdose death rate last year, as well. Substance use disorder is destroying lives all across the state.
It's possible to treat patients struggling with this condition and help them achieve recovery. To do that successfully, health care professionals must have a mission-positive and nonjudgmental approach, says Dr. Mark Depman, an attending physician in the emergency department at Central Vermont Medical Center.
"We're not judgmental about people when they come in with a heart attack or stroke," he says. "We jump right on their treatment and the path forward."
The same hasn't always been true of addiction, he says. Some people see it as a moral failing, a choice or a lack of willpower. But a growing body of evidence shows that's the wrong way to view it. "No matter the life conditions that bring a person to addiction, addiction is a medical problem," Depman explains. "Yes, there are complex factors involved, such as those involving past trauma, and those must also be addressed as we practice evidence-based treatment pathways that work."
Depman has seen his colleagues embrace this approach and has witnessed dramatic improvements in treatment for substance use disorder at his hospital and around the state. To help spread the word, he recorded a video testimonial for the Vermont Department of Health's
End Addiction Stigma campaign
.
"I've worked in emergency medicine for a little more than 30 years," he says in the video, posted to the HealthVermont YouTube channel. "I think one of the most important things for me as a caregiver is to help people understand that drug addiction and alcohol dependence are chronic diseases … They're real struggles, just like heart disease and diabetes are, where we do our best, and we stay at your side, and we don't give up."
Changing How We Treat Addiction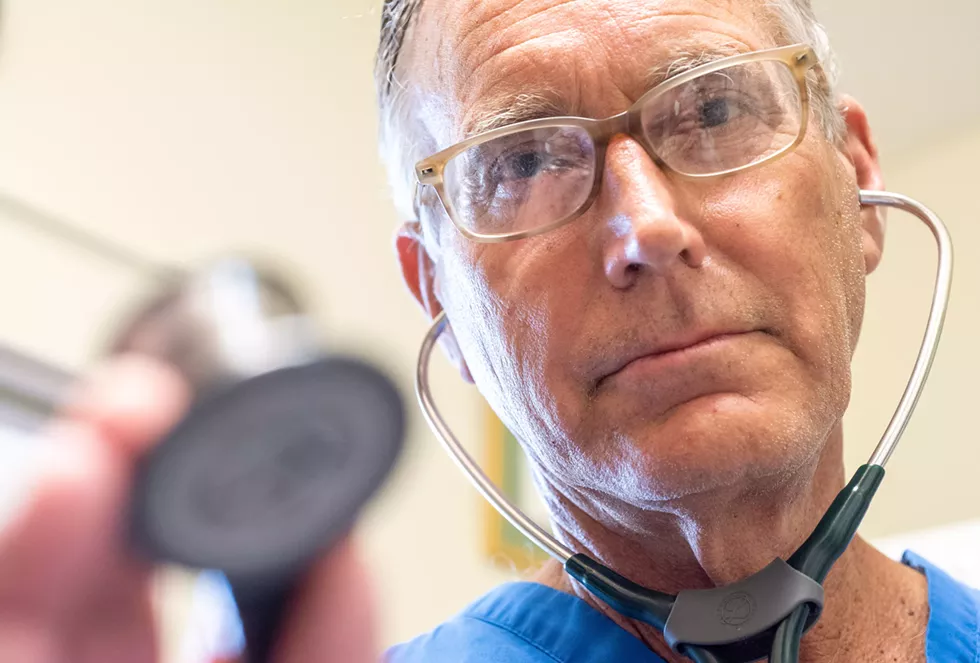 Jeb Wallace-Brodeur
Dr. Mark Depman
Depman moved to Vermont in 2007, as addiction treatment was starting to evolve. Before the move, he had seen the beginning of such changes while working as an emergency room physician in urban New Haven, Conn., he explains in a phone interview.
"When I started working at CVMC, like anywhere else, when someone came in struggling with addiction, we would basically settle them down, potentially with a sedative, to get them over the acute symptoms," he recalls. "Yes, if someone was seriously withdrawing from alcohol, they would get admitted to the hospital. But, generally speaking, people would sleep it off in the ER and then be sent out with a piece of paper that listed the local recovery center, Narcotics Anonymous' phone number, the Alcoholics Anonymous phone number, a church group, etc. We really didn't even know what those organizations did with these folks."
That approach, he says, was "wholly inadequate."
Depman came to that conclusion a decade ago, after seeing mounting evidence that attitudes toward addiction in the profession were changing: "All of a sudden, I realized there's a group of people I'm doing nothing for, and I was ashamed about it," he says. When he started talking to his partners, doctors and nurses, they said they felt the same way.
Depman, with his colleague Dr. Javad Mashkuri, became part of a growing movement in Vermont to change the way treatment of substance use disorder is delivered. Part of that was transitioning to Vermont's Hub and Spoke model of care for opioid use disorder, which has become a national model for access to effective treatment. Hospitals like CVMC are a critical part of that system. CVMC has strong connections within its local communities and connects patients with ongoing support and medication for opioid use disorder. But Depman says what mattered most was changing the culture in his own department. Every person involved in the care of someone with a substance use crisis became part of the team creating the conditions for success for their patients.
Depman and Mashkuri helped pull together the Washington County Substance Abuse Regional Partnership, later renamed the Central Vermont Prevention Coalition, with strong support from the hospital. "We now have 25 or so organizations that are part of our coalition," he says, "and we all work together. We meet every month; we share ideas, innovations, problems. We review barriers, and we work together to overcome them."
The doctors essentially built relationships with the people and organizations listed on those pieces of paper they'd been handing out, and they started providing patients with real-time, hands-on, 24-7 support in their treatment and recovery journeys. In partnership with Turning Point Center of Central Vermont, CVMC gave patients the ability to see a peer recovery coach in the ER at midnight — someone with firsthand experience with addiction, who could create a recovery plan with the patient — or to see a social worker at 10 a.m., working in tandem with the treatment team. Depman describes that change as "nothing short of miraculous."
"We literally had a person or people that met with somebody in the ER and then stayed in touch with them," he explains. They even started giving out cheap cellphones to help patients stay in touch with social workers and recovery coaches.
"It was transformative," Depman says. "Our patients with an alcohol or drug crisis feel better and typically leave with medication to stay feeling well. They leave with a plan. They know they have a follow-up appointment. They leave connected with someone who's going to navigate them through treatment and recovery. And most people do."
At a recent press conference, Health Commissioner Mark Levine, MD, joined Gov. Phil Scott and Dr. Mashkuri to discuss how Vermont's efforts are making a difference and announce new investments to address substance use disorder.
"We — the State and our partners — will build on these efforts, keeping Vermont in the forefront of programs, services and partnerships to support the mental, emotional and physical health of Vermonters," Dr. Levine said.
Champions Change Minds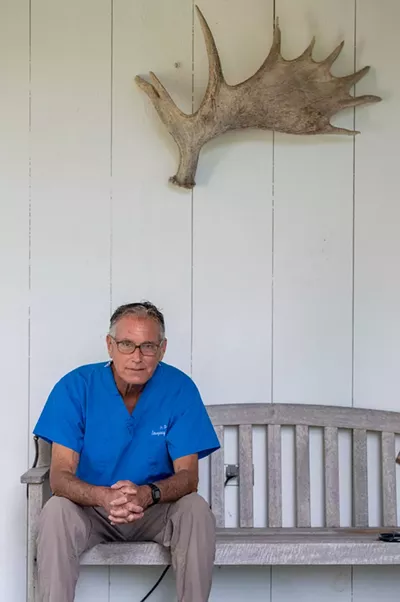 Jeb Wallace-Brodeur
Dr. Mark Depman
How did CVMC and other medical providers change attitudes toward addiction stigma? Dr. Depman explains that it involved many conversations with doctors, physician's assistants, nurses and techs to change the culture around these diagnoses — and it took a willingness for them to advocate for the cause. "We had champions," he recalls, noting that their new role in the effort elevated the sense of urgency and value staked out by the medical center.
What does it mean to be a champion? "You make the medical, ethical and moral case, and you find the resources to do it. You have to work with all of your staff," he says. "You're talking about working with the transport techs, housekeeping staff — everybody — so that no one's giving off a whiff of attitude about what they're seeing as a diagnosis on the computer screen. You've got to change the culture.
It's got to become normal medicine."
At his hospital, it is, he says. "It's been a phenomenal and heartening turnaround."
Talk With Patients Early and Often
Jeb Wallace-Brodeur
Dr. Mark Depman
When people seek health information, they typically turn to their doctors. They're credible messengers. What they say and how they say it matters — a lot.
Emergency rooms where patients are in crisis shouldn't be the only places that offer information about substance use disorder. Depman points out that primary care providers are in the ideal position to dispel addiction stigma by bringing up substance use in conversations with their patients, making it normal medical practice for patients and staff.
One easy way to do that is during screening — asking in a judgment-free way about drug, alcohol and tobacco use. "You then have an opportunity to start exploring motivation, attitudes about change, about treatment, and opportunities for recovery."
Providers who work with children and adolescents know that talking with youth, young adults and parents as early as possible will set a framework of understanding about the risks of substance use. Parents and communities need to understand the concept of "protective factors," he says — the things that will prevent their young people from using drugs, tobacco and alcohol in the first place. Examples include feeling respected in their communities; having activities that are meaningful and engaging, such as sports, arts and jobs; having mentors and positive adult role modeling in families and extended friend groups.
This sort of primary prevention is something he's really focused on now, in part because of the gains in treatment and access to care that he has seen in Vermont.
He notes the profound shift in attitudes toward addiction among a rising generation of medical professionals. "I think younger providers now coming out of medical school and residency training, physician's assistant and nurse practitioner programs, now are seeing this in a different way," he says. "They're less stigmatizing; they've got fewer holdovers from old attitudes."
They immediately embrace the concepts he and his colleagues worked so hard to establish at CVMC. "Our younger providers that come in are just, like, 'Okay, tell me the protocol. I'll do it. I know we've got support here for these folks. Call in the recovery coach; they'll be here in 15 minutes. We've got a care management team behind them. Let's go.'
"The younger providers are just fantastic about this. Because they've heard that it's medicine," he says. "It's practicing medicine."
Find out more about the End Addiction Stigma campaign at EndAddictionStigmaVT.com. If you or someone you love needs referrals for support, treatment and recovery resources, find them at VTHelplink.org — or call 802-565-LINK.