In early April 2013, Adam Hausmann stood facing 56 acres of field and forest, high on a hill in Charlotte, with more than 5,000 mature blueberry bushes in waiting. The berries needed transplanting, and the land, he says now, was wide open.
On a recent morning, the berry farmer stands amid the neat rows of bushes that look like they've been there for years. "Nothing was here," Hausmann says. "It was just a field. It was like, 'Where do you begin?' Where's the first bush go?"
In early 2013, Adam's Berry Farm was located in the Intervale, the low floodplain in Burlington where it had grown for more than a decade. By that summer, the bushes were rooting into a new home 15 miles south. Moving the farm "became a decision of stability, for me and for the business," Hausmann says. At the Intervale, large chunks of his farm would be destroyed by perennial floods that seemed to be increasing in frequency. (Alice Levitt chronicled the stay-or-go dilemma of Hausmann and other Intervale farmers in an August 2013 Seven Days cover story.)
"In the fall of 2010," Hausmann recalls, "I was canoeing through my raspberries thinking, I've got to get out of here." He says he had considered relocating four years before that, after high water claimed much of his harvest. "I had this big push, like, 'I'm leaving the Intervale, maybe I'm leaving Vermont,''' Hausmann says. "Then I settled back into a rhythm, and things were good for a while."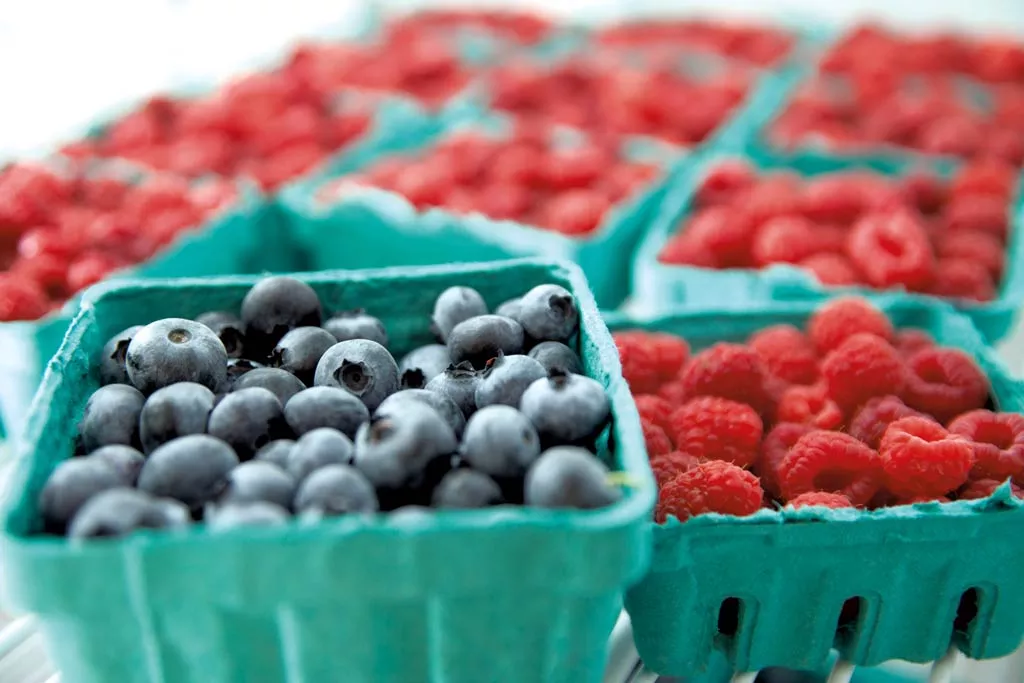 In 2011, the floods came again, and again and again. Then, in late August, Tropical Storm Irene hit.
After a two-year process involving two land trusts, an easement ensuring the land would be farmed in perpetuity and the securing of funds, Hausmann closed on his new property in December 2012. He began digging the following spring.
"We dug for about a month straight, and then we had this whirlwind of planting during the first week of May," he says. At the outset of an unusually dry spring, Hausmann adds, "I was pretty nervous about the whole situation. The blueberries were out of the ground, and we didn't have irrigation set up ... It was a Herculean move."
When the blueberries bloomed despite the move, Hausmann says, he stripped off the flowers so they could direct their energy to rooting rather than fruiting, a short-term sacrifice for long-term stability. "These plants are going to produce for another 30 years," he says, "so it was worth it."
It's not the first time Hausmann has uprooted his plants. The farmer began his operation in Lincoln, Vt., in 2001 with 300 blueberry bushes and no fruit-growing experience. He moved to the Intervale shortly thereafter, where he expanded his blueberry plot to 5,000 plants. After 11 years farming the Burlington lowlands, he headed for the hills of Charlotte.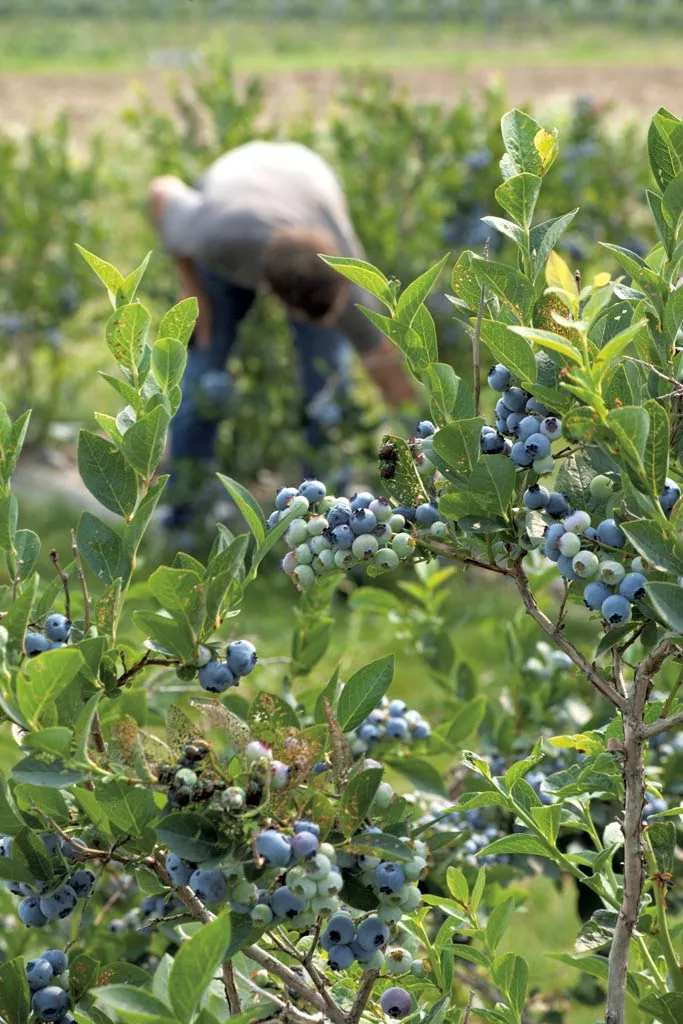 The original plants from Lincoln are now fruiting at the new farm, not far from where Hausmann and I stand. He bends over and pulls a weed from the bed. "Sorry," he says, looking at his hand, which is gripping a hearty spray of grass, and then at me. "I don't need to be doing this right now."
A new location meant building infrastructure from scratch: hoop houses and drip lines to irrigate them, a driveway and parking lot, a new barn and farmstand. A year ago, Hausmann says, "so much of my head was just about the reestablishment and the planning ... I kept having to remind myself that for the first two years I did pick-your-own [at the Intervale], I had an old door, two sawhorses and an umbrella, and that was the farmstand."
But the clean slate renewed his ambition: "I had this vision of what I wanted to create," the farmer says.
Late last October, Hausmann and a friend, who happens to be a post-and-beam builder, broke ground on an expansive new barn for the farmstand, which they would finish over the winter. The barn also houses a sizable farm-kitchen and an airy event space that opens to a panoramic view of the Champlain Valley. The event space stores equipment during the winter months.
"We designed it to be versatile," Hausmann explains. As we walk the farm, he mentions events, classes, retreats, conferences. "We are trying to think about income that's not necessarily crop-based ... We've talked to restaurants about having dinners down here; we thought about doing weddings," he adds. "But the idea is to build in stability" — to cast a wider net and anticipate calamities such as crop damage.
"That's the fear, coming from the Intervale," Hausmann continues. "You never know when you'll suffer a loss of, say, all your strawberry blossoms one season because of frost ... So whatever you can do to stabilize it gives you an ability to plan more, employ people longer during the year. Slowly diversifying more, and doing more products, means having things we can fall back on."
But first and foremost, Hausmann is, and intends to remain, a berry farmer. He'd hoped to host four events this year, he says, but when production season started, he realized he had a lot to learn about growing berries in a new place.
Halfway through his first hill-farm harvest, Hausmann is enjoying a healthy production season, even as the plants recover from transplant. The blueberries have bounced back beautifully; Hausmann says he lost only three plants to the move, when he'd anticipated losing up to 1,000.
The strawberries — planted last summer as the operation straddled two farms — yielded a decent haul, and the raspberries, planted in hoop houses to protect them from the elements, have far exceeded expectations. "We've had a beautiful crop," Hausmann says.
These are the first summer raspberries that the farm has harvested since 2010. 2011's crop was washed away in the early-season deluges, even before Irene waterlogged the Intervale. "We were underwater five times that spring," Hausmann recalls. "I lost acres of raspberries."
The farm also cultivates dozens of different strawberries, grapes, gooseberries and currants. "[Crop] diversity and taste have always been big things for us," Hausmann says. "I kind of equate it to the apple; everyone knows the difference between a Fuji and a McIntosh and a Red Delicious, but ... people just think a blueberry's a blueberry." He points to subtleties of flavor, growth habits and seasonality: Patriot berries are larger and tend toward tart, while the smaller Northland berry is sugar sweet.
Both (among other varieties) are ripe on the canes now. Two weeks ago, Hausmann opened the Charlotte farm for its inaugural pick-your-own harvest, after taking last summer off to complete the move.
Hausmann welcomes the opportunity to meet his patrons directly. "It's a chance to engage with people," he says. "It's one of the things I love most. You forget how much you like it. But then ... hearing kids out in the fields again, and families, seeing loyal customers come back, it just touched me in a way I hadn't anticipated. Part of our goal is connecting people to the agricultural landscape."
After spending last summer split between the Intervale and the new farm, Hausmann is happy to hunker down a bit. With the bushes becoming more established by the day, he's enjoying a newfound sense of permanence.
He stands at the crest of the hill, which runs cleanly north to south and divides two watersheds: Lake Champlain to the west and the LaPlatte River to the east. In the valley, patchwork fields roll toward the shimmering lake, delineated by rows of trees and shrubs, until they reach the water. Beyond it, the Adirondacks loom blue in the morning haze.
"[Being here] forces a whole new thought process," Hausmann says, "and a vision for the future in a way I couldn't have known. And creativity," he adds, "knowing this is my life's work."
INFO
Adam's Berry Farm, 985 Bingham Brook Road, Charlotte, 578-9093. adamsberryfarm.com
The original print version of this article was headlined "Blueberry Hill"