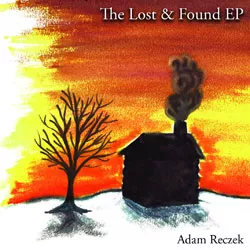 (Self-released, digital download)
The five songs that make up Adam Reczek's latest release, The Lost & Found EP, serve as something of a history lesson — an extremely personal history lesson. The handful of songs contained here, two of them instrumentals, were all penned by Reczek between the ages of 15 and 18, a span of years that can seem infinitely distant even to a twentysomething. One might wonder why a singer-songwriter with two full-length albums (2009's The Window Seat and 2012's Buttoned From the Bottom Up) already under his belt would be inclined to dig so deep into the vaults for material to record. Reczek's reasoning is simple: He "felt compelled to give [these songs] a home." Now, pulled from the lost and found, they have been reimagined and given that home.
The EP opens with "Rocks," a short instrumental piece built around a simple chord progression and an acoustic guitar. There's a subtle loneliness inherent in the song's minimalism and a certain charm in its unassuming delivery. If you listen for adolescence in the context of this introduction, you're likely to find it. And if you know nothing of the EP's backstory … well, it serves as a pleasant opening track.
On "Open Window," Reczek aims for a bigger sound and accompanies himself on bass, drums and harmonica. The rhythm section is steady but simple and leads the listener's attention straight to Reczek's guitar work and vocals. Here Reczek's teenage self truly comes to life. With lovelorn lyrics such as "There's nothing quite like passing time / When you're not around" and a timid, understated vocal style, an audible pang of youth resounds throughout the song.
The same is true of the EP's following track, "Know Who I Am." Few individuals are as painfully sincere as your average teenage singer-songwriter, and Reczek is/was no exception. You know he means/meant every word.
The Lost & Found EP's greatest achievement is the instrumental track "In the Somewhat Recent Future." Here, over a drum machine and another simple acoustic chord progression, Reczek jam-battles on banjo and mandolin. Demonstrating his skill on both instruments, he creates a mood and atmosphere similar to that produced by the instrumental versions of Sufjan Stevens' songs in the movie Little Miss Sunshine. There's likely some overlap in history.
Reczek's skilled performances and mature production breathe fresh life into each one of The Lost & Found EP's tracks. But it's hard not to listen for the teenager who originally composed them. If you do go looking for that precocious youth, you'll undoubtedly find him sulking about the hallways of each of these songs.
The Lost & Found EP by Adam Reczek is available at adamreczek.bandcamp.com.