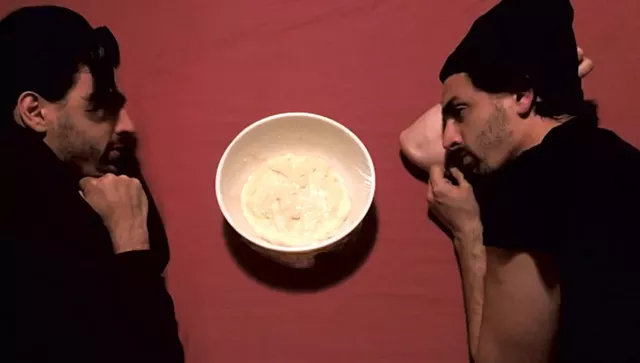 Courtesy Of Jacob Tischler
Jacob Tischler and his doppelgänger sharing a moment over a bowl of rising sourdough
At the beginning of March, 29-year-old actor Jacob Tischler moved to New York City and got a job as a bartender at the Belasco Theatre in Times Square. On Thursday, March 12, his second and final day of work, Broadway suspended all performances amid growing concerns about the spread of the coronavirus, and the Belasco went dark.
That Sunday, with no job prospects on the horizon, Tischler left his apartment in Queens and set out in his Toyota Prius for his parents' house in Williston, where he has been rusticating ever since. To cope with being unemployed and sequestered at home, he began filming short sketches of life in hermitage and uploading them to Facebook and Instagram.
In most of the videos, he performs both as himself and his doppelgänger, with whom he quarrels, processes his anxieties, and plays the occasional game of rock, paper, scissors. In one sketch, Tischler One stumbles upon Tischler Two fishing in a pond, using his headshot and résumé as bait. "Someone's gonna bite!" Tischler Two insists, his voice quavering a few notes below hysteria.
In another, Tischler One and Two sit across from each other at a picnic table, eating almonds and arguing about whether actors should be considered essential workers. To drive home the point that actors do not, in fact, save lives, Tischler Two pretends to choke to death on an almond while Tischler One drones on in an impassioned defense of theater. A mischievous little banana peel of a jazz ditty, reminiscent of the "Curb Your Enthusiasm" theme, drifts along beneath the dialogue.
Over the past few weeks, his daily posts have gained a devoted following. "I'm honestly living for these right now," one person wrote in response to the fishing video. "I don't have the power to make you an essential business," reads a comment on the picnic table sketch, "but I will let you know that you (and your posts) have become an essential part of my day."
Tischler is five-foot-nine-and-three-quarters, with dark, extremely healthy-looking hair. His Instagram bio proclaims him "the slowmo high-fiver from Broad City's 'Fattest Asses' episode." When he appeared as the showman Cosmo Brown in a Maryland theater production of Singin' in the Rain, the Washington Post called his performance "a lung-bursting display of sheer vaudevillian prowess."
Tischler got his theatrical start at age 8, at the Circus Smirkus youth camp in Greensboro. He returned every summer and toured around the Northeast with the troupe until he left Vermont to study acting at Carnegie Mellon University in Pittsburgh. Among the skills he lists on his current résumé, lately repurposed as fishing tackle, are advanced juggling, pillow spinning and balancing a chair on his face.
Since he graduated from college in 2013, Tischler has performed with theater companies throughout New England and the mid-Atlantic. He gravitates toward roles that demand a certain degree of antic flamboyance: In 2017, he played Tony Manero, also known as John Travolta's character, in a Philadelphia theater company production of Saturday Night Fever; that same year, he appeared on the stage of the Highland Center for the Arts in Greensboro as Nick Bottom, the quintessential Shakespearean fool in A Midsummer Night's Dream.
"With Tischler's background in clowning, he knows how to connect with an audience," said Josh Shack, director of programming and alumni relations at Circus Smirkus, who has known Tischler since his Smirkus days. "There's an element of acknowledging that it's a live performance, that what you're seeing is happening in the moment," he added.
That sense of authentic, disheveled spontaneity happens to be a key ingredient in a successful social media presence, particularly at a time when vast swaths of the population haven't zipped themselves into a pair of skinny jeans in at least a month. Anyone who appears to have had a professional haircut probably isn't practicing social distancing and, therefore, should not be trusted. Tischler, who was clean-shaven when he began his quarantine sketches, now sports a compulsory scruff, his razor long forgotten in Queens.
When he started posting his self-isolation content in mid-March, Tischler had about 1,800 Instagram followers; since then, he's gained at least 600 more. But he doesn't like to think about the videos as a vehicle for his personal brand.
"I feel like it's dangerous for anyone to enter the social media world with the aim of growing their audience and seeking validation," he said. "Honestly, my biggest success so far is that I haven't run out of new ideas." His ideas seem to possess a caffeine-like potency: Tischler said he's been waking up at 6 a.m. every day without an alarm, his nerves jangling.
In a phone interview in early April, Tischler said that making the quarantine videos has effectively become a full-time job, an expenditure of physical and mental resources that he deems "dumb." "It's the best worst job ever!" he exclaimed. "Never in my life have I created this much in such a short period!"
In the absence of the familiar rhythms of work and rehearsals, he's poured his energy into the high-wire act of making art to get himself from one day to the next. Given the increasingly bleak outlook for industries that rely on human gatherings for revenue, Tischler can't help but worry that he might not have a career on the other side of this pandemic.
"I have phone appointments with my therapist every Friday at 10 a.m., and whenever we try to discuss that, we realize that there is literally zero point in talking about it," he said. "I don't like the idea that every single investment I've made toward my career has been for naught. I don't like the idea that I'm still paying $1,000 a month for my apartment.
"So we talk about day-to-day strategies — how to stay connected to people, how to exist with my parents in this confined space," Tischler continued. "And the weird dialogue that goes on with me is that I have moods, things that I'm justified in feeling bad about, and I don't want to impose them on my parents."
Creating videos has become a sort of life raft. Each morning, Tischler writes songs and sketches, then spends the day filming and editing them on his iPhone; if he gets a call or text in the middle of recording, he has to start all over again.
One of Tischler's recurring bits is a barbershop quartet, which he dubbed the Barnies in honor of the New London Barn Playhouse in New London, N.H., one of his theatrical alma maters. Multiplying himself by four requires painstaking work: A recent Barnies number, one of Tischler's original compositions, took nearly five hours to shoot and edit. He filmed separate takes for each member of the quartet, taking care to position himself so that an elbow or a shadow wouldn't disappear into the crease between the frames when he spliced them all together.
(In fact, Tischler has harnessed this technological void to artistic effect: Another of his videos features Tischler One vanishing into the great in-between, then reemerging, panicked and shirtless, as Tischler Two looks on in horrified disbelief.)
Each of the Barnies has a distinct persona, from an agreeably stoned-seeming dude in a jean jacket to an anxious overachiever in a short-sleeve white button-down. The latter is usually the bane of Tischler's existence. "The guy in white is really my worst self," he admitted. "I kept messing up his part, because whenever you're trying to be someone who's obsessed with not messing up, you mess up the most."
That introspective tendency lends Tischler's work an intimate, almost therapeutic quality. But he also has a self-deprecating streak, which keeps his material from becoming shtick. One of his recent productions was inspired by an episode of real-life self-flagellation: He embarked on a recipe for a red-wine-braised pot roast, only to discover that he had accidentally defrosted a pork shoulder. He spiraled. His mother, seeing his agony, piled on in jest: "'How could you have done this!'" Tischler howled over the phone, imitating her faux disgust. "'This is the worst thing that's ever happened! You're not worthy of life!'"
A few days later, he turned this harangue into a sketch, which features Tischler One unsuccessfully attempting to juggle while Tischler Two lounges in a chair nearby. When Tischler One drops his juggling pins in despair, bemoaning his ineptitude, Tischler Two begins to castigate him. "You know what? You're right. You're actually right," he says, pointing to his chest. "I hurt here." His parents join the mockery, yowling their disappointment.
That scenario offers a peek into Tischler's proclivity toward perfectionism, which this period of retreat has allowed him to mine for his art. In New York, he said, he existed in a perpetual state of worry, a sense that he was always staving off failure.
"I say that with a great amount of gratitude, because I know how fortunate I am to have the opportunities I've had," he said. "But honestly, I'm really enjoying myself here, and I feel incredibly lucky to have had this time to exercise my creative muscles."
When Tischler eventually does go back, he hopes that New York will be an entirely different city — a place where, just maybe, he can stop being so hard on himself.