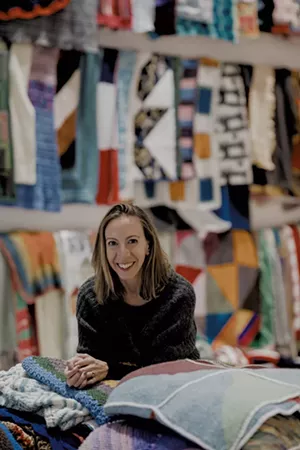 Courtesy Of Jamie Kelter Davis
Jayna Zweiman
Jayna Zweiman has a knack for uniting sizable swaths of the global population in a common cause. In 2017, she launched Pussy Hat with Krista Suh, giving an indelible image and symbol to the January 21 Women's Marches around the world that year in protest of misogyny.
Since then, Zweiman has launched Welcome Blanket to rally support for immigrants, refugees and migrants arriving in the U.S. The project collects blankets handmade by volunteers — knitted, crocheted, quilted, tie-dyed or any mode the maker chooses. The makers attach welcome notes describing their own family history with immigration and advice on living in the U.S. The blankets are shown in museums to raise public awareness, then gifted to the newly arrived.
The latest host for the national project is an uncharacteristically small one: the Heritage Winooski Mill Museum. The one-room museum is currently exhibiting 70 blankets of all types, and more are still being completed, director Miriam Block said during a recent Seven Days visit. A cozy riot of color and design, the installation displays blankets folded over stands, hung from walls and windows, and fanned across tables.
Those creations are among more than 6,500 blankets that have been collected nationwide and shown in such venues as Museum of Design Atlanta and the Smart Museum of Art at the University of Chicago. Welcome Blanket's website includes photos of gifted blankets and a free, easy-to-follow pattern for a 40-inch-square blanket provided by Kat Coyle, the knitting instructor and pattern designer for Pussy Hat.
Zweiman, who lives in Los Angeles, is coming to Vermont courtesy of a Vermont Humanities Rapid Response Grant that Block received to sponsor her travel. On Thursday, February 2, Zweiman will sit down with blanket makers for a "craft-along," then give a public talk about craft and activism.
"I'm coming because Miriam's amazing and she figures out how to make things happen," Zweiman enthused during a phone call. "You see blankets on the wall, but she's really creating this network of welcome that extends beyond the Mill Museum. Miriam is really flexing her activist muscle."
Block partnered with the Association of Africans Living in Vermont, a nonprofit that helps new Americans from all parts of the world transition to living in the Green Mountains. The Mill Museum will collaborate with AALV to distribute the blankets after the exhibition ends. She also engaged eight local craft stores around the state as suppliers and drop-off sites, including Must Love Yarn in Shelburne, Green Mountain Yarn & Fiber in Rutland and A Quilter's Garden in Montpelier. (Yarn in Waterbury donated two big boxes of sample yarn.) Block also partnered with AALV case worker Irene "KeruBo" Webster's Women's Café to facilitate a group of 25 women refugees making blankets themselves.
Courtesy Of Heritage Winooski Mill Museum
Welcome Blankets
Many of the women had never knitted or crocheted before, so Block procured a Spark! Connecting Community grant from the Vermont Community Foundation to support instruction from knitter Elin Melchior and crocheter Emily Gauthier, as well as purchase knitting needles, crochet hooks and yarn. The planned six classes turned into 11 because of the women's enthusiasm, Block said.
The Women's Café participants created one knitted and one crocheted blanket. For the knitted one, each made a 10-inch square that they felted with personal designs and joined with others into a blanket. The welcome note's section about immigration is written in Swahili; under "Words of welcome and advice about living in the U.S." it reads, "We are here together with you."
Other blanket makers include Barre resident Marianne, who was born in Indonesia and arrived in the U.S. via the Netherlands. Her advice: "I hope you can maintain some of your own customs and your language as you blend into American life." Her blue, yellow and white quilt is embellished with yo-yos, or rosettes made from circles of fabric.
Carmella Cyr, who will lead a yo-yo workshop on February 12 at the Mill Museum, contributed two blankets from recycled materials. On one tag, she wrote that her maternal side emigrated from Sicily and her paternal side descended from Native American Abenaki. She advises, "Ask as many questions as you need."
Erica Donnis, special collections director at Champlain College, knitted a rust-colored blanket that is "super cozy and comfortable," she said during a phone call. "It's got a really nice texture to it, and it's something I can imagine on the back of my couch." (Welcome Blanket has only three parameters, Zweiman said: Blankets should be 40 inches square, easy to care for and "hard to give away.")
Donnis, who was the historian for the Mill Museum's "Mill to Mall" exhibition during spring and summer 2022 in honor of the City of Winooski's centennial, suggested to Block that the museum host Welcome Blanket. Donnis first heard about the project on social media and contributed a blanket she knitted with friends and family to a 2018 exhibition at the Museum of Design Atlanta.
Not only was Welcome Blanket a "great matchup of things I'm passionate about — knitting, making things for other people, wanting to show my support in a very meaningful, tangible way for newly arrived Americans," Donnis said — but it was a perfect fit for the Mill Museum. It's housed in Champlain Mill, a 1912 building originally built for American Woolen. The woven-textiles mill relied on immigrant labor and drew workers to the area from Canada, Europe and the Middle East.
Courtesy Of Heritage Winooski Mill Museum
Welcome Blankets
The Welcome Blanket exhibition includes a blanket by Essex Junction resident Kathy Fitzgerald, who wrote that her maternal grandmother and her daughters worked in the Winooski mills after their ancestors moved to Vermont from Québec.
Zweiman said by phone that she is an Ashkenazi Jew whose grandparents came from "the old country" — an area that includes Germany, Poland and Belarus.
"I am the product of the American dream, fully, and I'm totally aware of it," Zweiman said. "I grew up in awe of the ability to survive and thrive in a new land. When I see people coming now, I see someone else's future grandparents."
Both Pussy Hat and Welcome Blanket were the activist's responses to former president Donald Trump's actions: respectively, his denigration of women before the election and his announcement that he would build a 2,000-mile border wall. (Welcome Blanket's original scope, long surpassed, was to use 2,000 miles of yarn to create blankets.)
But, like many, Zweiman also thinks about world migration.
"The scope of displacement globally is so big and overwhelming that I think a lot of people wonder, Where do you even focus?" she said. Welcome Blanket focuses on those who have made it to the U.S., she said, and on a specific, loving way to help them.
"We all have so much to learn from one another," Zweiman declared. "I want an 11-year-old boy working on this so that, in the next wave of xenophobia — because we know it's coming — he'll remember through muscle memory how much we're all connected."