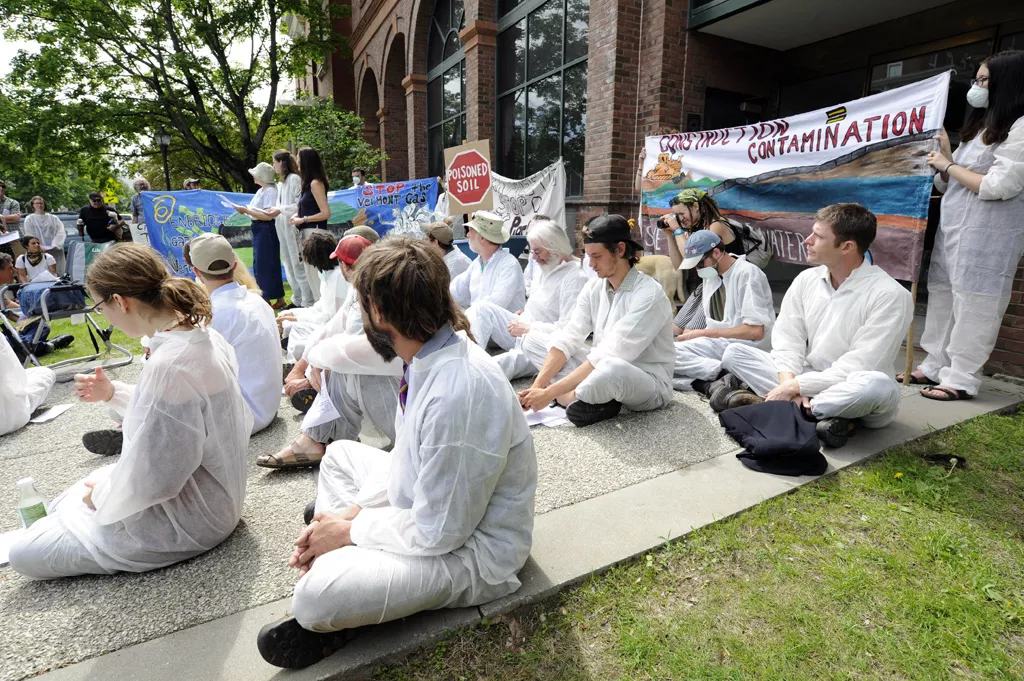 Jeb Wallace-Brodeur
Activists outside the Public Service Department in Montpelier on Monday
A crowd of banner-toting, song-singing activists camped out Monday morning in front of 112 State Street in Montpelier, the home of the Public Service Board and Vermont's Public Service Department.
Wearing white jumpsuits meant to highlight the concerns about soil and water contamination, the protesters had trekked to Vermont's capital to object to the imminent construction of a natural gas pipeline to Addison County. They waved signs, made speeches and raised their voices: "We shall not give up the fight," the protesters sang out. "We have only started."
It's more than a catchy lyric. Organizers behind the growing pipeline opposition say that they'll be engaging more and more in so-called "direct action" protests. That means street theater, demonstrations, marches and banner-waving — and yes, occasionally risking arrest in nonviolent acts of disobedience.
The goal? Drum up media attention, be a thorn in the side of Vermont Gas and hopefully put an end to a pipeline on which construction is scheduled to begin this month.
Vermont Gas spokesman Steve Wark said the possibility of more protests didn't come as a surprise to the company. He declined to specify which steps it's taking to prepare for further protests, or to comment on who Vermont Gas has consulted for advice moving forward, saying both would be "counterproductive."
"Civil disobedience, as long as it doesn't injure somebody or break the law — we're fine with it," said Wark. "We look at it as a type of dialogue. However, breaking the law is where we draw the line."
He was referring in part to an incident on May 27, during which 31-year-old Sara Mehalick was arrested for chaining herself to the front door of the Vermont Gas headquarters in South Burlington. The gas company has claimed an employee was assaulted in the process — an allegation protestors deny.
At least in theory, these protesters will be better prepared next time. Monday's rally was the capstone event of a weekend-long camp designed to train organizers in the techniques of direct action — including how to deal with media, de-escalate tensions with police, and keep protesters and the public safe.
"There's roles; there's practice that goes into this," said Keith Brunner, a volunteer organizer with Rising Tide Vermont, the grassroots environmental group that organized Monday's protest and also gathered more than 40 participants on a sunny hillside in Charlotte to study up, and forge connections, for those to come.
The weekend was part summer camp, part academic conference. Panel discussions ("Local Resistence: Stories from the Campaign to Stop the Fracked Gas Pipeline") and workshops ("Putting Our Bodies On the Line: Intro to Blockade Tactics") took place alongside campfires and art projects. Volunteer medics gently reminded the participants to wear sunscreen and drink plenty of water. Abundant meals appeared at regular intervals from a makeshift, open-air kitchen.
Brunner admitted that, to more mainstream onlookers, the protesters might appear like "a bunch of hippies." After all, how many gatherings routinely start with participants introducing themselves by clarifying the gender pronoun by which they'd like to be addressed?
Their ages spanned decades. There were twentysomethings in Earth First! T-shirts alongside middle-aged parents. Brunner said pipeline proponents tend to paint all of the activists as "extremists" or "outside agitators" — a spin that works, he said, but isn't accurate.
Rising Tide Vermont, Brunner said, is dedicated to using "all the tools in the toolbox." That means continuing to engage in so-called "indirect" action — lobbying legislators and participating in the regulatory process, for example. But direct action is important, too, he said, as "a form of power."
Henry Harris, a fellow Rising Tide organizer, agreed. "Regular working-class people don't have a lot of resources" to engage in the regulatory process, said Harris, especially compared to their adversaries in the corporate world. "They're only left with a couple of tactics to outpace them."
Harris chatted en route to a tent where he was scheduled to lead an intro to direct action workshop in a few moments. Contrary to allegations that protesters are merely "dangerous" or "violent," he said, most participants in direct actions have hours of training under their belts. Though Harris' workshop started off on a silly note — with Harris pantomiming driving a backhoe, and another workshop leader urging the participants to stop the make-believe destruction of someone's land — it was serious-minded. Participants dissected quotes about direct action from thinkers such as Martin Luther King Jr. and Audre Lorde — for instance, picking apart the layers of meaning in one excerpt from King's "Letter from a Birmingham Jail," in which he writes that nonviolent direct action must "create such a crisis and establish such creative tension that a community that has constantly refused to negotiate is forced to confront the issue."
"It's preparation, it's decorum, it's about the adherence to the plan," said Harris.
"It's a serious thing that needs to be treated in a serious way," said Brunner.
The activists said that was the mindset they took into the May 27 action. Bubbling beneath the surface at the weekend camp — in conversations between panel discussions — was frustration at how that protest in South Burlington played out. Rising Tide maintains it was a peaceful event, and accuses Vermont Gas of leading a "smear campaign against the nonviolent activists."
Last week South Burlington police were still seeking information about three male participants: two who entered Vermont Gas' headquarters, ascended to the roof, and unfurled a banner in protest; and one wanted for questioning about the alleged assault.
The police turned to Facebook for leads, posting a surveillance photo and a snapshot from the day and asking for the public's assistance in identifying the three men.
South Burlington detective Ron Bliss said that based on statements and video footage from the protest, the police are confident an assault took place. "In their haste to do what they were doing, they pushed the employee aside," said Bliss, who alleges that the protesters started "swinging a chain" and stuck a Vermont Gas employee. "She was hit with it. She was injured. It is that simple," said Bliss.
Two of the protesters in question stepped forward late last week in a news conference at the Monkton home of Nate and Jane Palmer, whose farm lies on the proposed pipeline route. Harris and Will Bennington hung the banner from the gas company headquarters.
"We did not break any laws and we are proud of what we did," said Harris and Bennington in a statement on Friday. "The real criminal is Vermont Gas, who continues to lie about the events of that day, and violate the rights of communities from Alberta to Vermont."
Direct action campaigns have precedent in Vermont. In 1984, 44 Vermonters waged a sit-in in the Winooski offices of Sen. Robert Stafford in protest of the senator's support for selling arms to Nicaraguan contras. The "Winooski 44" were arrested on trespassing charges, but ultimately acquitted on a "necessity" defense that found they were justified in breaking the law.
More recently, environmental activists waged a decades-long effort against the Vermont Yankee nuclear plant. More than 130 were arrested "calmly and without any confrontation" at an event in 2012, according to an Associated Press report, "with obvious signs that protesters and police had worked out the logistics beforehand."
"Every successful social movement in history has depended on direct action," Brian Tokar, director of the Institute for Social Ecology and a lecturer in environmental studies at the University of Vermont, told the activists in a Saturday morning panel discussion.
"What's exciting about this generation of activists is they're super smart and have really taken the time to understand the lessons of past movements," he said.
Controversial as it might be, activists say that breaking laws is occasionally necessary to ramp up their fight against what they see as environmental injustices. Maeve McBride, the coordinator of the Vermont chapter of the environmental group 350.org, was one of more than 1,300 arrested at the White House in 2011 during two weeks of protests against the Keystone XL pipeline.
The arrest "was a cakewalk," said McBride. By that point in the days-long action, the police and protesters had established a routine: Protesters went into a police vehicle, headed down to National Park Police headquarters, paid their fines.
So why even go through the motions?
"In doing an action — in Sara taking a risk at Vermont Gas — you don't know what kind of domino effect that's going to have," said McBride, "or who is going to see that and be inspired to take action themselves."
There weren't any police or arrests at Monday's protest in Montpelier. "We're really rallying to support the people who are on the frontlines of this in Vermont," Brunner said. On that particular morning, Monkton residents Maren Vasatka and Selina Peyser were appealing to the PSB to suspend construction of the pipeline until adequate soil testing can be done along the proposed 21-mile route.
Peyser wrote the PSB more than a month ago about the issue and got no response. So Peyser and Vasatka, surrounded by a gaggle of reporters, asked permission to go upstairs at 112 State Street to talk to the PSB directly. Instead, the board sent down a representative — general counsel June Tierney, who listened politely but couldn't offer much in the way of answers.
While Vasatka and Peyser spoke with Tierney, the protesters waited in front of the building. Among them in a polished navy blouse and crisp capris was Lisa Flood of Woodbury. The 50-something didn't fit the stereotype of an environmental activist, and she said she'd never engaged in a protest before. Yet she'd turned out for the training camp.
"I feel very strongly about the pipeline," said Flood, hanging on to the corner of a large, painted banner. "I can't believe that we could consider investing $60 million in fossil fuel infrastructure in light of climate change."
Flood said she'd learned a great deal over the weekend. Be prepared. Be careful. Don't make decisions about protests lightly.
"It is scary, it is," she said, acknowledging that direct action isn't within most people's comfort zones. But that wasn't going to stop her. "I have three kids. I feel I have to set an example."