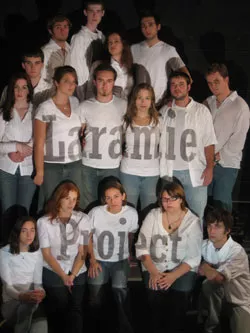 St Michael's College's cast of The Laramie Project
Vermonters who attend performances of The Laramie Project at St. Michael's College will likely be horrified anew by this dramatization of the 1998 murder of Matthew Shepard, a young gay man. But even in what Director Peter Harrigan calls "little lefty Vermont," the play raises disconcerting questions about local homophobia and its potential consequences.
"You might go to the show thinking it's an indictment of Wyoming, but you might come away with the realization that hate is present in every community — that it just escalated in Laramie," Harrigan says.
Shepard was a 22-year-old student at the University of Wyoming in Laramie when he was severely beaten by two men, allegedly because of his sexual orientation. He was left tied to a fence until discovered by a passerby 18 hours later. Shepard died of head injuries on October 12, 1998, and his two assailants were subsequently sentenced to life imprisonment for the murder.
Moisés Kaufman, the son of a Holocaust survivor, wrote The Laramie Project with other members of his New York-based Tectonic Theater Project. It's presented in a documentary style based on news reports and interviews conducted by the troupe in Wyoming. The play premiered in 2000 and has since been performed in theaters and schools all over the country; Kaufman wrote a book, also called The Laramie Project, detailing the interviewers' experiences in Wyoming. HBO commissioned a video version of the play in 2002. (Kaufman was nominated for a Tony Award for his directing debut, of I Am My Own Wife, in 2004.)
Harrigan, a theater professor at St. Michael's, says the current staging of The Laramie Project grew out of his interest in "plays that tell stories about divisive issues." For the students involved in the production, he suggests, the play "can go beyond being a line on a resume and become an experience that can shape their entire lives."
The show may have special resonance for the half-dozen or so actors who are also gay. The full cast consists of 16 student performers in a total of 32 roles.
"It's very empowering for me," says Kyle McElheney, a sophomore who plays four characters in The Laramie Project. "I also feel completely drained after a rehearsal because the show has so much emotional power and personal meaning."
The murder of Matthew Shepard has even more immediacy for cast member Josh Bardier. He transferred to St. Michael's this year from Providence College after being beaten by three men who called him "a fag who deserves to die," he recounts. Bardier was hospitalized with jaw injuries following this attack, which occurred in downtown Providence as he was walking back to his dorm.
To Bardier, a particular strength of The Laramie Project is that "it shows something like this can happen anywhere at any time. I never thought I'd be the one it happened to," he says, "but it only takes a single person acting on hate."
Burlington itself is hardly free of homophobic hatred, Harrigan notes. Two weeks ago, the entrance to the Hunt Middle School in the New North End was spray-painted with antigay slurs and a swastika. And R.U.1.2?, Burlington's gay, lesbian, bisexual and transgender community center, has been the target of several acts of vandalism this year, Harrigan points out. He warns that bias of this kind could metastasize and take on even more aggressive forms in the coming months as the Vermont Legislature addresses the issue of gay marriage.
Harrigan has direct experience with Vermonters' attitudes on such matters. He and his partner, Stan Baker, were among the three same-sex couples who initiated the 1997 lawsuit that culminated in the legalization of civil unions. Vermont was the first state in the country to extend that right to gays and lesbians.
Harrigan recalls those events with a mixture of pride and dismay. The debate revealed deep-rooted and widespread prejudices that continue to fester, he says, though Vermont's tradition of tolerance ultimately prevailed — in the Statehouse, at least.
Harrigan believes that ethic of acceptance makes it less likely that a Matthew Shepard-like murder would happen here. But the odds against such an occurrence would be even greater, he says, if well-intentioned Vermonters learn from The Laramie Project that more must be done to combat antigay sentiment in the state. The play may inspire audience members to ask, "Are they writing letters to the editor, voting in every election, donating time and money to organizations that need help in this area?" Harrigan posits.
Tracey Tsugawa, a civil-rights investigator for the Vermont Human Rights Commission, emphasizes the importance of outspoken advocacy. Antigay epithets are common in schools around the state and must not be left unchallenged, she says.
"Remaining silent when something like that happens will give permission for the small minority to ratchet it up to the next level. If you don't intervene in time," Tsugawa adds, "you do get to a situation that can lead to a Matthew Shepard murder."
Seeing The Laramie Project at the McCarthy Arts Center could make a decisive difference for some audience members. "The 18-year-olds here probably wouldn't have been watching the news in 1998," Harrigan notes. "It's particularly important to tell the Matthew Shepard story to them."
The play is sure to spark "communication and conversation, which are always good things," Bardier says. "Maybe it will make some people think what they're saying when they call someone a homo or a dyke, or when they say, 'Oh, that's so gay.'"
As an institution, St. Michael's takes a strong stand against homophobic bias, Harrigan notes. Even though the Catholic Church regards homosexual acts as sinful, administrators at this Catholic college — including members of its founding Edmundite order — "have on a number of occasions expressed support for gay and lesbian professors and staff," he says. And while The Laramie Project does depict religion "in a harsh light," Harrigan adds, "one of the most compassionate characters is a Catholic priest."
McElheney, 19, agrees that St. Michael's practices what it teaches regarding tolerance. He notes that the student government was "110 percent supportive" of his effort earlier this year to strengthen the gay-straight group on campus, formerly known as Ally. Now called Common Ground, the organization has added several active members, McElheney says.
Describing himself as a practicing Catholic, McElheney says he has little trouble integrating his religious beliefs and his sexual orientation. "Homosexuality isn't an everyday topic in the Church," he says. "It's not like you're going to Mass and they're saying that gays are going to hell."
Although Bardier says he no longer considers himself a Catholic, he offers a similar perspective. "A loving God is one who accepts all his children," he says. His two months at St. Michael's, Bardier adds, represent "the first time in my life I've felt truly at home."
Broadening the scope, Harrigan says that "straight America" generally seems more accepting of lesbians and gays today than at the time of Shepard's murder. "Certainly you can see this in the entertainment media," he says.
Additional evidence includes passage this year by both the U.S. House and Senate of a bill extending federal prosecutions for hate crimes to include acts based on a victim's actual or perceived sexual orientation, gender, gender identity or disability. Known as the Matthew Shepard Act, the bill may not become law, however: President George W. Bush has threatened a veto on the grounds that the legislation is "unnecessary."