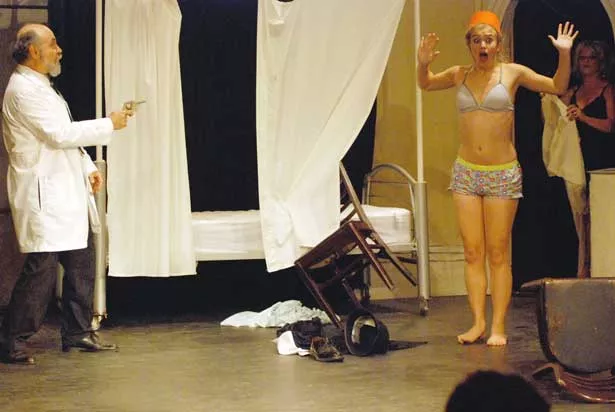 To appreciate English playwright Joe Orton, a dark sense of humor helps. In the half-dozen or so plays that make up his life's work, Orton wields a rapier wit - acerbic, often profane and always dripping with sarcasm. He gleefully despoils the graven images of British society, such as church, state and family. And he mines taboos - incest, rape and pederasty - for laughs.
Shocking? Yes. But funny. In his final play, What the Butler Saw (1969), he lampoons psychiatry, marital fidelity, sexual preference and Winston Churchill, among other targets. In a current production at East Calais' Unadilla Theatre, the talented cast ably captures the spirit of the frisky farce.
Orton biographer and theater critic John Lahr credits the playwright for reviving "the outrageous and violent prankster's spirit of comedy" on the English stage. Indeed, Orton first gained public notice not for his theatrical works but for an elaborate bit of criminal mischief. He and his partner Kenneth Halliwell stole more than 1600 plates from library books to decorate their apartment, altered almost 100 other volumes, and spied on patrons as they discovered the doctored captions and pictures in the stacks.
The trial brought Orton notoriety, a six-month jail sentence and his first extended separation from his often overbearing older lover. Prison crystallized Orton's sense that something was rotten about British society. "It was a revelation of what really lies under the surface of our industrialized society," he wrote. Like his 19th-century counterpart, Oscar Wilde, Orton revels in exposing hypocrisy.
Orton also shares Wilde's talent for crisp bon mots. In fact, the prison experience seems to have liberated Orton's writing. Within a year of his release, in September 1962, his career took off. His pranks continued, although he stayed above the law. One gem: He wrote scathing letters-to-the-editor as Mrs. Edna Welthorpe, a prim theatergoer outraged by the scandalous plays of Joe Orton. Her missive to the Daily Telegraph, in response to Entertaining Mr. Sloane, read in part: "I myself was nauseated by this endless parade of mental and physical perversion."
In What the Butler Saw, a simple moment of bad timing kicks off a hilarious circus of accusation and innuendo, if not actual perversion. Dr. Prentice, a psychiatrist, is conducting a job interview with a nubile neophyte secretary, Geraldine Barclay. The final step involves a faux medical exam, the doctor's ruse to disrobe and seduce her. When his wife walks in, Geraldine hides and Dr. Prentice attempts to conceal the girl's clothes and fend off his wife's suspicions.
Mrs. Prentice mistakes Miss Barclay's dress for one of her own and puts it on. She misplaced her garment at the Station Hotel after a close encounter with a debauched young page, Nicholas, who soon arrives demanding blackmail for photos of their brief rendezvous.
A marital maelstrom is brewing between the sniping spouses when the officious Dr. Rance arrives to inspect the clinic. The Commissioner of Her Majesty's Government unleashes his wildly inaccurate diagnostic acumen and finds complex psychiatric syndromes everywhere he turns. As the chaos escalates, Rance's relentless logic leads him to certify as insane nearly everyone around him. "Simple explanations are for simple minds," he intones. "I've no use for either."
A daft but earnest bobby arrives in pursuit of the page, who is wanted for unseemly acts with a hotel room full of schoolgirls. Serial clothes switching ensues as characters swap genders and identities to escape arrest or psychiatric commitment. Misunderstandings and lies mount. Will the sane, on lockdown together in the crazy clinic, survive the insanity?
Director Bill Blachly blends the cast of veteran actors and teen newcomers masterfully. Orton's witty lines, like Oscar Wilde's barbs, require clear articulation and expert pacing. The dialogue must flow rapidly, yet leave enough breathing room for the audience to absorb its impact and laugh. Blachly's ensemble dispenses Orton's arch banter with ease, highlighting its absurdity with deadpan delivery. Even when the actors tripped over an occasional passage in an early-run performance, they recovered their timing quickly.
The dueling doctors - Clarke Jordan (Rance) and Brooke Pearson (Prentice) - are a delight. Jordan uses sharp gestures and suspicious looks to underscore Rance's blend of professorial and investigative qualities. He pontificates Rance's intricate theories of insanity with gasbaggy gusto: sniffing, shaking his head, raising his eyebrows, and sucking on his lower lip to emphasize key points.
Pearson conveys beautifully how frustration drives Prentice's increasingly desperate actions. He shows the confusion, disbelief and outrage simmering beneath Prentice's tense surface, with strangled sotto voce asides, absentminded hand-wringing and red-faced reactions to some of the wilder charges leveled against the doctor.
As the buxom, boozy Mrs. Prentice, Mary Wheeler energetically plays the randy foil to the straightlaced docs. Clad in a black-lace slip for much of the action, Wheeler captures the unhappy wife's liquor-fueled rollercoaster of emotional and sexual neediness. She veers from perky to slumped, aggressive to coy, while keeping her vocal delivery sharp and snappy throughout.
In the smaller role of Sergeant Match, David Klein gives a somewhat less nuanced performance than the rest of the ensemble. But his baffled bobby is entertaining nonetheless. He inhales steeply to stress the earnestness of his character's pronouncements and engages heartily in the physical comedy, dressed only in Union Jack boxers for some of it.
The two teens hold their own admirably alongside their more experienced cast mates. As Nicholas, Julian Kasow shows fearless aplomb and a game spirit. Wearing a leopard-print halter dress as the page tries to escape the authorities, stubble-cheeked Kasow teeters hilariously in high heels and feigns a girlish falsetto. Meredith Grubb plays the much-abused secretary with charm, creating a Miss Barclay who is ditzy but not dumb. Beneath her wide-eyed eagerness and gullibility, she rouses a fighting spirit when circumstances put her character in peril.
Blachly handles all of the technical elements for this production. The costumes especially add to the comedy. If you have to run around in your underwear during a farce, make it funny. While the policeman parades his patriotism on his patootie, Miss Barclay wears bright floral boy shorts and Nicholas sports unicorn boxers.
The set is the office and treatment room of Dr. Prentice's clinic, and features three doors for multiple entrances and exits. Two ivory-painted gothic arches flank either side, and a large French door (leading to the garden) pierces the back wall. The key piece of furniture is a central curtained couch, where characters - usually in various states of undress and sedation - manage to hide from the others just inches away.
Even though the stage at Unadilla is not large, Blachly furnishes it smartly and choreographs his actors' movements well, so that the action never feels cramped or confined. The lighting for this production is one minor weak spot: bright at the front of the stage, but washed out a bit at the back corners.
Orton's outrageousness divided the critics, but audiences kept coming and the playwright enjoyed stirring the pot. What the Butler Saw turned out to be the merry prankster's greatest success. Sadly, Orton never lived to see it produced. Kenneth Halliwell grew increasingly jealous of his lover's burgeoning career. On August 9, 1967, he bludgeoned Orton to death with a hammer, and then killed himself by swallowing sleeping pills. The playwright was just 34.