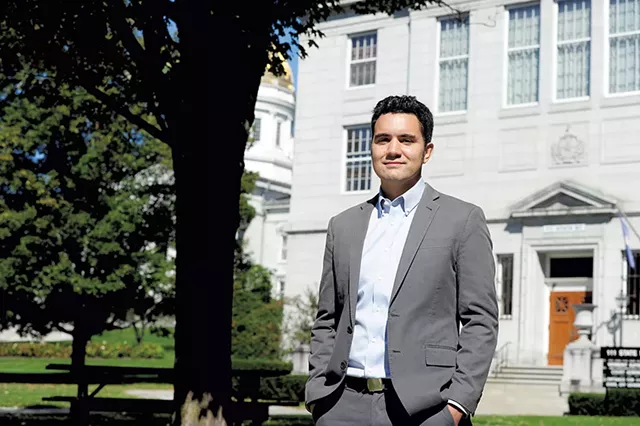 Jeb Wallace-brodeur
Jay Diaz
U.S. Border Patrol officials met privately with Vermont college administrators on September 14 to talk about why agents had boarded buses and questioned passengers, including international students, about their legal status.
Though he hadn't been invited, Jay Diaz, staff attorney with the American Civil Liberties Union of Vermont, learned of the meeting at Champlain College and convinced the organizers to let him attend. He was one of the first people to address John Pfeifer, chief patrol agent of the Swanton sector, and posed a hypothetical question.
"What if I said, 'Sorry, officer, it's none of your business?'" Diaz asked. Nervous laughter broke out around the room.
Diaz's brash approach has become increasingly typical of the ACLU of Vermont as it expands its presence thanks to unprecedented financial and volunteer support.
For much of its 50-year existence, the ACLU of Vermont didn't even have an attorney on staff. Now, for the first time, it has two and by year's end will employ eight people, including a community organizer, a communications director and a policy director.
In the last eight months, the Vermont affiliate's membership ranks swelled from 2,000 card carriers to upwards of 8,000, and donations have soared.
President Donald Trump is largely responsible. Since his election last November, the president has stirred fears of a crackdown on civil liberties, prompting an outpouring of support for ACLU chapters across the country. (The national organization reaped $24 million in donations in the two days after Trump announced a travel ban on seven Muslim-majority countries in January.)
After the president called for more aggressive immigration enforcement, multiple undocumented Vermont farmworkers — including migrant rights activists — were arrested. For the first time in years, U.S. Border Patrol agents have boarded buses miles from the border, looking for passengers who lack legal status. Naturalized citizens have been detained for hours at the U.S.-Canadian border and forced to turn over their cellphones to be searched.
Meanwhile, open signs of intolerance seem to have escalated. Faisal Gill, the Muslim chair of the Vermont Democratic Party, received anti-Muslim emails in July telling him to "get out of my Green Mountains." Later that month, someone painted the word "nigger" in a bathroom at Burlington's public library; and, in September, swastikas were spray-painted on a West Glover dairy farm.
The ACLU of Vermont's executive director, James Lyall, described Trump's election as "a threat of historic proportions, not just to our values and to the issues we care about, but really to the system of government that we have."
But the ACLU, he said, is "going to have a lot more firepower, a lot more capacity, and we're going to be able to be more proactive in really setting the agenda ... We're just getting started."
While Lyall leads the ACLU of Vermont, Diaz has become the de facto face of the organization.
He was in the news in mid-September, threatening legal action against the Burlington Police Department for allegedly violating the First Amendment rights of several people of color. The week before, he sparred with Burlington Police Chief Brandon del Pozo — on Twitter and Vermont Public Radio, and in Seven Days and other newspapers — lambasting the chief's proposal to incarcerate people who repeatedly commit minor offenses as an effort to "criminalize poverty."
"To be honest, I feel a need to say these things because I don't see them being said elsewhere," Diaz said. Since the election, "we [at the ACLU] have a bit of a louder microphone that we should use."
Diaz, who was hired in 2015, is soft-spoken and courteous, but he's neither shy nor afraid to upset people. He hadn't just talked his way into the closed-door Border Patrol meeting; he'd also invited a Seven Days reporter, unbeknownst to anyone else in the room.
Favoring leather desert boots and slim pants, Diaz doesn't dress like a typical public-interest lawyer, but his work quarters are certainly befitting of one. Located in a musty brick house on Elm Street in Montpelier, his office could be mistaken for a storage closet. Diaz shares the small space with a computer server and stacks of boxes holding papers that aren't his.
The 33-year-old lawyer from Hillsdale, N.J., quickly made his mark when he came to Vermont five years ago. Already, the Boston College Law School graduate had done pro bono paralegal work at the Rikers Island prison in New York City, gone to bat for Boston residents facing foreclosure and advocated for the rights of immigrant domestic workers in New York.
Diaz said he was drawn to immigration work in part because his father has Latin American roots.
Alan Minuskin, a Boston College associate law professor, recalled during an interview that Diaz "was one of the rare people in law school these days who seemed to have the urge to help people in his DNA."
A two-year Vermont Legal Aid fellowship brought him to the state after college. Diaz gathered data showing that Vermont schools disproportionately disciplined students of color and students with disabilities. After he began talking about his findings, the Burlington School District put new policies in place and began providing more teacher training. "Jay was undoubtedly a force behind that," Burlington School Board member Stephanie Seguino said. "He made us recognize this was really a more serious problem than we understood."
Vermont Legal Aid hired Diaz when his fellowship ended in 2014. "I would be running up against systemic problems every day, and that got to be extremely frustrating," he recalled. "These were bigger issues than I could handle on a case-by-case basis."
In the summer of 2015, he sought to tackle those problems when he applied for what he calls his "dream job."
The ACLU of Vermont had hired its first full-time staff attorney 10 years earlier, but the post had fallen vacant. Choosing among the candidates proved so difficult that then-executive director Allen Gilbert ended up hiring two lawyers — Diaz and Lia Ernst — bringing the staff to five.
Ernst, 42, gravitated toward civil liberties work in part because she grew up witnessing her brother, who was adopted from Mexico, endure a prolonged struggle to get a green card.
She's less comfortable in the spotlight than Diaz but does an equal share of the work; they act as a legal team on every case. "I, by nature, am a behind-the-scenes person," Ernst said. "Jay is out there. He's networking, he's connecting, which is so critical to our work."
The ACLU lawyers' workload has grown since Trump issued an executive order calling for more aggressive immigration enforcement. "We're spending a significant amount of time on immigrant and refugee rights — those communities are feeling so targeted," Ernst said.
They're also handling seven lawsuits and soon plan to increase their caseload to 10, Diaz said.
The pair is appealing one case to the Vermont Supreme Court. The ACLU is arguing that a state trooper violated the constitutional rights of Greg Zullo, an African American man from Rutland, by searching and seizing his car without good reason. The trooper, Lewis Hatch, was fired in 2016, and a Department of Public Safety memo documented his history of unwarranted drug searches.
The ACLU is also suing the Bennington Police Department for racial discrimination on behalf of Shamel Alexander, whom the lawyers allege was stopped by local police in 2013 because he was African American. In May, a federal judge rejected the police department's motion to dismiss the case.
Without going to court, Diaz led an effort that shut down the state Department of Motor Vehicle's facial-recognition program by persuading the attorney general that the program, used at times to assist local and federal law enforcement, was illegal. The ACLU of Vermont has also exposed instances in which DMV officials fed information about noncitizens to federal immigration officers, despite a state policy that discourages such collaboration.
Not everyone is ready to praise the ACLU's emboldened approach. DMV Commissioner Robert Ide refused to discuss the ACLU of Vermont for this story, but he previously has criticized Diaz for bringing his complaints to the media rather than to the department.
Chief del Pozo suggested that the ACLU of Vermont is sometimes unnecessarily confrontational. "I just lament that many times, when we engage in these back-and-forths, it's always framed adversarily when there's a clear precedent for another way to relate," he said.
When the ACLU sends him a legal brief, del Pozo said, it forces him to start "immediately building up defenses" rather than working toward a solution. His request: Come have a conversation before threatening legal action.
That said, the ACLU's role is "more important than ever," the chief acknowledged.
Many Vermonters apparently agree: Their donations to the national and local chapters of the ACLU have quadrupled since the election, according to Lyall.
While opposing Trump anytime he undermines civil rights is the ACLU's top priority, Lyall is adamant that the president won't drive the group's entire agenda.
In April, Lyall hired Chloé White, a 2015 graduate of Georgetown University Law Center, to be the ACLU's policy director. White will work full time in the state legislature, leading efforts to overhaul Vermont's public records law and limit the use of surveillance technology.
In August, Lyall hired Nico Amador, whose position as a community organizer entails mobilizing volunteers around the state to advocate for ACLU causes. Fifteen hundred Vermonters have already signed up to join the People Power campaign, an initiative to combat Trump policies.
A communications director will begin work next month. To accommodate the additional staff, the ACLU will leave its cramped Elm Street quarters early next year for more spacious accommodations in the center of Montpelier.
"The bottom line is, the incredible support we've received has allowed us to grow, and that growth is going to translate into a huge impact, for the better, on this state and this country," Lyall said.