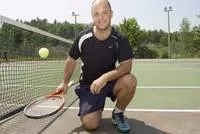 Forget business casual. Andrew Chmura's office attire on a recent Wednesday afternoon is strictly Andre Agassi, circa 1989: orange Nike shirt, black shorts and matching Nike sneakers. An orange Head racquet rests on a chair near his desk in his home on Stowe's South Main Street.
Chmura's outfit is understandable, as are his tightly coiled energy and his frantic answers to calls on his handheld. As the president of travel company Grand Slam Tennis Tours, Chmura is about to depart for Wimbledon. When he returns, his company will help stage the Fed Cup at Stowe's Topnotch Resort and Spa on July 14 and 15. Chmura cuts short a call from an employee and returns to the subject at hand: where he sends people who sign up for Grand Slam tours. "New York City, Paris, London, Melbourne," he says. "They're really sexy places to go."
When it comes to tennis, Stowe is also pretty sexy. Once the site of the prestigious Head Classic, the town boasts some 360 tennis courts, or about one for every 13 residents. On the eve of hosting this month's Fed Cup between the U.S. and Russia — it won the bid for the tournament in May — Stowe has fully shed those frumpy ski-town layers for a game that begins with love. Local enthusiasm for the Cup is overwhelming, Chmura notes. "We could have built the stadium three times bigger."
"People think about Stowe and they think about skiing," admits Milan Kubala, the tennis director at Topnotch, whose tennis academy has been rated number one in the Northeast by Tennis magazine. "But tennis is huge — everybody in Stowe plays tennis," he insists.
In the 1980s, such tennis hotshots as Ivan Lendl and Jimmy Connors strolled through town on their way to play in the Head Classic, which was held for several years at Topnotch. Last week, Fed Cup officials began dusting off that court and building a stadium that will hold more than 4000 spectators. Also last week, the American roster was made public, so the fans know they'll be watching Serena and Venus Williams, Lisa Raymond and Vania King take on Team Russia (whose players have not been announced).
The Fed Cup is a team competition dating back to 1963 — as opposed to an individual competition like Wimbledon. Originally called the Federation Cup, it was launched to celebrate the 50th anniversary of the International Tennis Federation. It now includes entries from 82 nations. On the same weekend that Italy plays France on the former's home turf in Castellaneta Marina, the U.S. and Russia will play a semifinal round at Stowe.
"It's a competitive bid situation when the Fed Cup comes about," says Jeff Waters, executive director of the U.S. Tennis Association New England. He declines to reveal which sites lost out to Stowe. A number of factors helped the Lamoille County town, Waters explains: enthusiastic organizers and sponsors, the Stowe tennis community, and the history of tennis in the Green Mountain State. "There's a great track record of events selling out in Vermont, which was a big draw," he adds.
Indeed, tennis aficionados snapped up the initial run of 3000 tickets in just a few days — one of the fastest such sellouts in history. The USTA added more seats wherever it could, coming up with a total of 4100. More than 100 Stowe residents are now scrambling to oversee stadium construction, finalize orders for food and drink, and house the players. (Sorry, Serena and Sharapova fans — those locations are undisclosed.)
The majority of ticket holders are Vermonters, Waters says. Among them is Adi Barnett of the Stowe Tennis Club, who scored box seats from early USTA sales. When the Head Classic was in town two decades ago, Barnett watched every single game. Now 70, she plays tennis 200 days a year. "Everybody is very excited," she says. "We can't believe our luck to be able to see great tennis here in our own backyard."
Even more surprised by the tennis madness in the mountains are the players themselves. During a press conference last week, USA Fed Cup captain Zina Garrison recounted her shock at hearing the stadium would be expanded to accommodate more people. "I was like, 'What?'" she said. "I was really excited. It was just great."
Russian players may feel as welcomed as the American ones. Paul Richardson, the Montpelier-based editor of Russian Life magazine, points out that Soviet novelist Aleksandr Solzhenitsyn chose to spend his exile in Vermont. The state now claims several Russian businesses — including the magazine itself, which is published bimonthly in English. Richardson also notes that the Fed Cup will be played just 2 miles from Moscow . . . Vermont.
For Chmura, who helped land the Fed Cup and whose Grand Slam Tennis Tours is a sponsor of the event, July 14 and 15 will mark a departure from his typical routine of flying thousands of miles for a major match. Growing up in Pittsfield, Massachusetts, he played tennis for his high school and then for Notre Dame before spending two years as a pro. "I'm a failed professional tennis player," Chmura says. "But I had an awesome experience — I got to travel all over the world and play tennis."
In 2003, after stints working at a travel agency in New York City and as a tennis instructor in Stowe and Berlin, Chmura figured out how to take his game global again. He bought Grand Slam Tennis Tours from Dave Kenny of Denver. With Kenny now playing tour host, Chmura's company packages hard-to-get tickets for tournaments, including the four Grand Slams — the Australian Open, French Open, U.S. Open and Wimbledon — along with swanky hotels, exclusive dinner parties and tennis lessons. This all-in-one exclusivity is unique, according to Waters. It's also pricey — up to $11,850 for Wimbledon, not including plane fare. A tennis ticket, Chmura concedes, "is expensive."
So, with tickets sold out for the Fed Cup, are there any spots outside Topnotch where you can catch a glimpse of the glamour? Kubala declines to reveal any out-of-bounds viewing areas, but he hints at an event planned for Burlington's Church Street next Wednesday, July 11. Plus, he says, you can still volunteer to help out some of the players. "Will you get to sit down and watch three hours of tennis?" asks Kubala. "Probably not, but you'll get to rub shoulders with some pretty interesting people."