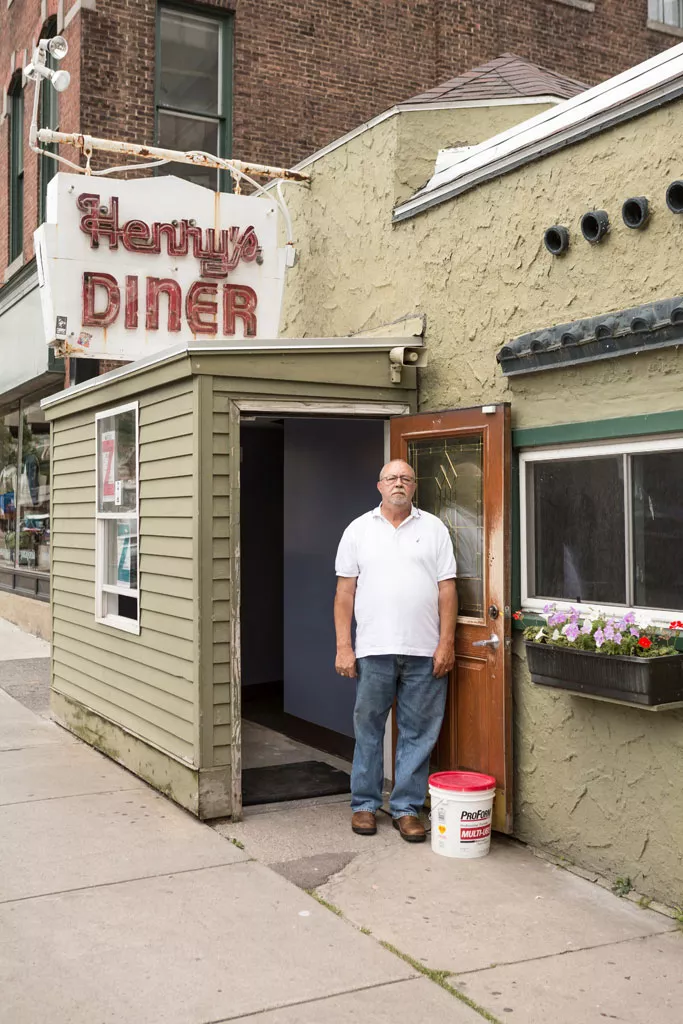 Oliver Parini
Bill Maglaris outside Henry's Diner
Nothing's been over easy for Henry's Diner this summer. The Burlington restaurant has been closed since mid-July for a makeover that will make it accessible to people with physical disabilities.
Among them: Brad Stephenson, who has muscular dystrophy, a degenerative genetic disease that landed him in a wheelchair seven years ago. The 42-year-old somehow managed to negotiate the old, narrow entrance at Henry's, but then a server decided his wheelchair should wait outside.
Stephenson interpreted it as discrimination, so he filed a complaint with the Vermont Human Rights Commission. The 24-year-old Americans With Disabilities Act requires that public spaces, as well as private businesses open to the public, remove physical barriers for people with disabilities. New buildings must meet these standards, but establishments that predate the law only have to comply if it's "readily achievable." The local branch of the U.S. Department of Justice enforces the federal law, while the commission upholds the state equivalent.
A letter from the Human Rights Commission got the attention of Henry's Diner owner, Bill Maglaris, who said he hadn't been aware his 89-year-old building was out of compliance. "What's really hard for those of us that aren't handicapped is we don't realize how much of a burden it is." When it reopens, Henry's will have a new entrance ramp, an accessible restroom and the front door will open at the push of a button.
It's been almost two years since the civil rights division of the Department of Justice came after a half dozen Burlington bars and eateries that violated the ADA. Church Street Tavern, Leunig's Bistro, Three Tomatoes, the Scuffer Steak & Ale House, and Ken's Pizza and Pub all agreed to make necessary upgrades rather than pay fines or face legal action.
Most of those earlier enforcement actions were prompted by random inspections of local businesses, rather than from actual citizen complaints, according to Nikolas Kerest, an assistant U.S. attorney and the DOJ's civil rights coordinator in Burlington.
Recently, a small group of Queen City residents, including Stephenson, has initiated a more activist approach to the problem. They concede Burlington is pretty navigable for people with disabilities — especially given the number of old buildings — but it's not perfect.
"We've still got some work to do," says Ron Redmond, executive director of the Church Street Marketplace Commission. Redmond says only three of the 100 doors that open onto Church Street aren't yet accessible.
Stephenson moved to Burlington from San Antonio two years ago. A lawyer by trade, the Texan transplant has been politely informing businesses — usually by letter — when, in his judgment, they've run afoul of the law. So far, he's focused on problem areas on Church and Main streets. He also alerted the Department of Justice about the lack of handicapped parking at Centennial Field. The DOJ sent a letter to the University of Vermont, which owns the property, and quickly addressed the situation, according to Stephenson.
Backing Stephenson up is the city's resurrected Advisory Committee on Accessibility, which meets monthly to help guide city policy and to remove barriers — ranging from the "architectural" to "attitudinal" — for people with disabilities.
Ralph Montefusco, whose wife has multiple sclerosis, chairs the committee. One of its big achievements, he said, has been working with the First Night organizers to make the city's New Year's Eve celebration more accessible. Montefusco also points to less tangible feats — improving awareness, for instance, among city officials.
Still, missing curb cuts, deteriorating sidewalks and inaccessible restrooms remain problematic. And the biggest barrier is money.
The Department of Public Works estimates that 48 percent of the city's sidewalks are "deficient." During the last several years, DPW has replaced roughly one mile of sidewalk annually, although the department's director, Chapin Spencer, said he expects to "far surpass" that figure during the current year. Sidewalks require replacement every 35 years, according to Spencer, and Burlington has 127 miles of sidewalk.
Cleary Buckley, a partner at Burlington-based Smith Buckley Architects, appreciates the costs and design challenges associated with making a place accessible. "All architects, not just disabled ones, are pretty actively engaged with accessibility issues," he said. "I firmly believe it's important. It is a civil right. But I also understand that it costs a lot of money to put in an elevator."
Buckley, 50, has been using a wheelchair since he broke his back at age 20. His 5-year-old son is starting kindergarten at the Edmunds Elementary School in a few weeks. When he and his wife went to meet the principal several months ago, they realized the three-story building doesn't have an elevator, making them question their school choice. "I want to be a part of his education. I want to be able to go to the school and see the principal and do all the things that parents do," Buckley said.
Buckley brought his concerns to the principal and other school district officials, and he's been told they plan to add an elevator within two years. Edmunds Middle School added an elevator in 2011 after a years-long advocacy effort.
"The thing that is a little worrying," Buckley said during an interview in his spacious Pine Street office, "is it's dependent on a bond, and right now asking for more money for the schools is a hard thing to do."
Maglaris can also appreciate the price of accessibility. Henry's has been closed for five weeks and he estimates the lost business and the upgrades have cost him $200,000. He could have done it for less, Maglaris said, but rather than risk getting another complaint, "we decided we might as well go all the way in."
The best defense may be a good offense. Lawyers in states such as New York and California have taken an aggressive — and sometimes brazenly profit-driven — approach to enforcing the law. A 2012 New York Times story described a lawyer who sued 200 businesses in less than three years, drawing on a "regular group of people with disabilities" to find plaintiffs. Under the ADA, plaintiffs can't sue for damages, but judges can order businesses to pay the legal bill.
Stephenson has been putting that "readily achievable" clause — the "magic language," as he calls it — to test, in part because he's hoping to start practicing ADA law in Vermont.
But he's taken a very different tack — despite being a lawyer, he has yet to file suit. "We have this conversation in our community about the carrot and stick. We want this to be a collaborative process ... On the one hand we want to compel businesses to comply with the law ... but we don't want to be perceived as a thorn in their side."
Buckley, too, said he "works hard at being reasonable about accessibility." Taking a litigious approach could backfire in a place like Burlington. Referencing the legal tactics in New York, he pointed out, "It's a much bigger pond. You don't have to get along with everybody quite as much as you do in a small community."
Both Buckley and Stephenson have stepped up in response to barriers that have thwarted their personal activities, but they each take care to point out what they're doing goes beyond self-interest.
"I'm not completely comfortable with being the face of the Edmunds Elementary elevator project," Buckley said. "I'm happy to sort of add urgency to it, but really in my opinion, the school needs an elevator for a lot of reasons, and not least of which so that kids who are disabled can go to school there."
"I didn't really set out to be an advocate," Stephenson said, sitting in Leunig's Bistro & Café, which added an automatic door, among other changes, after being on the receiving end of the DOJ's enforcement action two years ago. But, he continues, "It's not like we're asking them for a favor. This is federal law."
The original print version of this article was headlined "When It Comes to Accessibility, Not All of Burlington Measures Up"