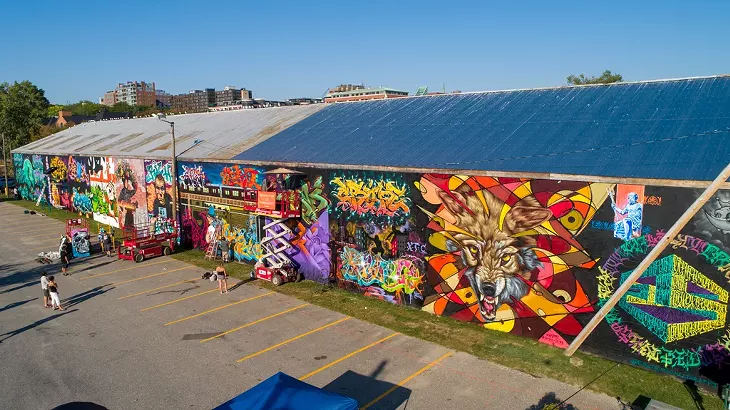 11 slides
If you haven't been on a Burlington ferry recently, or hung out at the Spot on the Dock, you may not realize that some of the most dynamic art in the city — arguably in Vermont — is within view of the Burlington-Port Kent ferry dock on King Street.
That art is the showcase of graffiti works on the west-facing wall of a long building owned by Lake Champlain Transportation. It is one of the first things passengers disembarking the ferry will see (though that route is now closed for the season), and out-of-state visitors in particular might be surprised at the urban style — nary a cow or bucolic landscape in sight. There is a lake monster, but it's not exactly Champ.
The current murals are the result of the second annual Above the Radar festival, which took place September 14 through 16. Organized by local "aerosol technicians" Anthill Collective and artrepreneur Jill Badolato, the event featured more than 50 artists, 20 DJs, break-dancers, food trucks and communal vibes for hundreds of attendees. Last year's artwork was painted over, in black, to give this year's artists a clean slate.
While the fleeting life span may contribute to graffiti's appealing sense of urgency, the art's disappearance from the wall was still a bummer for LCT employees, according to CFO Dale Arango. But everyone is just as thrilled with the new batch. "This year I was there [at the festival] with Dominique and Trey [Pecor, LCT owners], and they both absolutely loved it," Arango said. "The Pecors are extremely supportive of the event."
Arango had high praise for Above the Radar's organizers, too: "They did an incredible job — it was hassle-free. And the artists are just great." She noted with amazement that the artists are not paid for this event, though out-of-towners are provided with hotel rooms, and all get swag bags, paint supplies and plenty of water throughout the fest.
"The artists say they've never been to an event where they were so well taken care of," observes Anthill's Scottie Raymond. "It's a beautiful place, and everyone is so nice."
That may be one reason so many artists returned this year — about 70 percent of last year's group, according to Raymond. They came from Boston, Maine, Rhode Island, New York, Montréal, Connecticut and New Jersey, as well as Vermont. Some arrived with different collaborators or new team members. All of the artists working the western wall were pro painters — some internationally renowned.
In that group were the 123KLAN, a French husband-and-wife team based in Montréal, whose graffiti-meets-graphic-design aesthetic has generated a worldwide roster of clients and an online product store. 123KLAN's section of the wall, in vibrant greens, orange and black, prominently features a cartoonish squirrel holding a spray-paint can.
Beside it is a mural titled "Migration," both the most painterly of the group and the most resonant with current global realities. Painted by Monk.E and Ankh One, well-known Montréal street artists, it depicts a black-clad woman carrying bundles of flowers on her head. The background is a crumbling, bombed-out cityscape in which families in Middle Eastern garb are ostensibly fleeing.
Will "Kasso" Condry, formerly a street artist in Trenton, N.J., and now an artist-in-residence at Middlebury College, along with Trenton artist Leon Rainbow, painted a portrait tribute to the Philadelphia rapper Rich Quick, who died earlier this month at age 30.
One particularly urban scene, a collaboration of the UW Crew, pays homage to that staple "canvas" of big-city graffiti artists: the train. Two characters — one shouldering a boom box — appear in the foreground in front of a chain-link fence as the train runs overhead; the work is finished with extraordinary, elaborate tags. The UW Crew consists of Aves (Boston), Helz (Burlington), Mad1 (Rhode Island) and Vase (the Bronx).
And that lake monster? The demonic-looking creature with glowing eyes, and vibrant tags in purple, electric blue and gold, were painted by the Hi Crew of New Haven, Conn.
The less gargantuan eastern side of the building, facing the bike path, was given over to 15 emerging local artists; Badolato noted that the youngest was 12. Another six artists painted on seven 8-by-8-foot wooden panels during the festival.
With styles ranging from fierce to video game-esque to kind of adorable, Above the Radar's artists exhibited mad skills and fortitude on what turned out to be an unseasonably hot weekend.
Raymond is quick to credit Badolato with her efforts to find funding for the event — sponsorship dollars as well as gifts for the swag bags. But he and partner Brian Clark worked countless hours to make Above the Radar a reality, as well. According to Arango, the Pecors are on board as long as artists want to show up and paint their walls.
"It's beginning to feel like we'll have to turn people away, but we'd like to accommodate as many people as possible [in the future]," said Raymond of the artists. "Community is the underlying theme of the whole thing," he added. "Graffiti jams are like family barbecues."