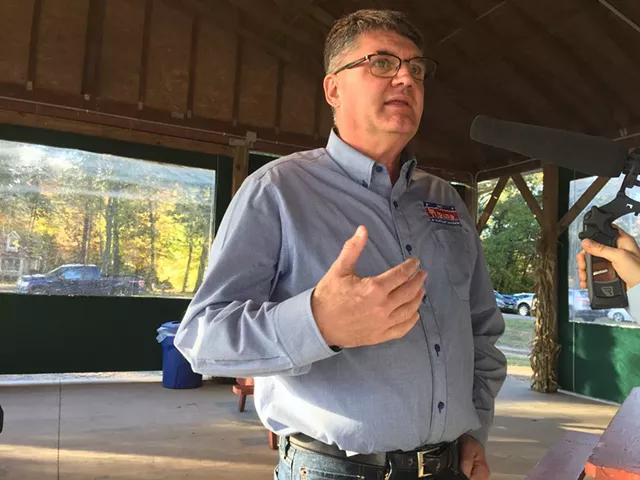 John Walters
Rep. Don Turner
On Saturday afternoon, House Minority Leader Don Turner (R-Milton) brought his campaign to become Vermont's lieutenant governor to the grounds of Sam Mazza's Farm Market in Colchester. It was his third event of the day, which happened to be his 34th wedding anniversary. He did plan to spend the evening with his wife, he said, "to make sure we have a 35th."
Turner is committed. He's run a spirited campaign. He's raised far more money than Progressive and Democratic incumbent David Zuckerman. At the Colchester event, Turner gave his full attention to every person in attendance, engaging in lengthy, earnest conversations. "He's done everything right," said Mike Donohue, chair of the Chittenden County Republican Party.
But will it make a difference?
The stakes are high — for Turner, but also for the Vermont Republican Party. It could really use a victory in a statewide race. That is, a statewide race that doesn't include GOP Gov. Phil Scott.
In the last five election cycles, there have been 33 contests for non-gubernatorial statewide offices: U.S. House and Senate, lieutenant governor, attorney general, secretary of state, treasurer, and auditor. Republicans have won only five times. Scott accounted for three of those five, with his successful bids for lieutenant governor in 2010, 2012 and 2014. The other two non-gubernatorial Republican wins were Brian Dubie's reelection as lieutenant governor in 2008 and Tom Salmon's reelection as auditor in 2010. (Salmon had won in 2008 as a Democrat and switched parties between elections.)
Party leaders are anxious to show that Republicans other than Scott can compete on a statewide level. And they are making no real pretense of contesting the other four offices. The party didn't even choose candidates for U.S. House, Senate, attorney general, auditor and treasurer until late August. Its nominee for secretary of state is perennial candidate H. Brooke Paige. Those six hopefuls have raised little or no money. The party has put all its eggs in the Turner basket.
"It's extremely important to capture that seat," said VTGOP chair Deb Billado.
"Lieutenant governor is a stepping-stone to the governorship," explained Donohue. "It's important in establishing the next generation of leadership."
There's also the "God Forbid" consideration. "If something were to happen to Phil Scott, Don Turner would provide a smoother transition than David Zuckerman," said Senate Minority Leader Joe Benning (R-Caledonia). Sure, if you mean ideologically "smoother."
Turner is waging an uphill battle against Democratic dominance in these statewide contests. He's also fighting an almost insurmountable incumbent's advantage. Only once in the last 10 years has a challenger defeated an incumbent. That was in 2008, when then-Democrat Salmon defeated Republican auditor Randy Brock. On five occasions, the incumbent has stepped aside voluntarily, sometimes to seek higher office. The other 18 times, the incumbents won easily.
This week brought the first independent poll of Vermont's general-election season, and it wasn't good news for Turner. Zuckerman had a 17-point lead in the Vermont Public Radio-Vermont PBS poll, with 47 percent support to Turner's 30 percent. Another 20 percent were undecided.
Turner's senior campaign adviser, Darren Adams, isn't fazed by the results. "We are confident the polls we're doing internally are much more accurate," Adams said. "Our polls show a very tight race." He declined to share specific results.
Turner has engaged the party's true believers, which is important in itself. Some of Scott's positions have created distance between the governor and the conservative base. In contrast, "the Republican grassroots are really excited about Don," noted Donohue. "He's providing a lot of energy for party activists and volunteers."
That could make a difference in some down-ballot races, but it's unlikely to carry Turner across the finish line. "No Republican can win on the Republican base alone," said Adams. "You have to appeal to independents and moderate Democrats."
That's the Phil Scott Secret Formula. Can it work for Turner? After all, he spent the last six years as the Statehouse's most prominent spokesperson for Republican orthodoxy, fighting the majority on a broad array of issues including multiple budgets, paid family leave and a higher minimum wage. He also hewed the conservative line in this year's gun debates.
The Colchester event showed no sign of crossover appeal. Mazza's parking lot was overflowing with cars, but virtually all the people were visiting the market. Few entered the area next door where Turner and other Republican candidates had gathered for a meet and greet. Those who did were solid Republicans already.
Party leaders express optimism about Turner, but qualifiers are often attached.
"He can give David Zuckerman a run for his money," said Benning. "If he can pick up the base and convince some in the middle ... he could win."
Could.
More cold comfort: "I don't want to count him out," said Donohue. "Don has all the qualities we say we want."
Turner may be the VTGOP's best-case scenario. He's a skilled politician and fundraiser, a hard worker with a genial personality. He's proven to be a natural campaigner. If he can't win — or at least come close — that would be bad news for Republicans hoping to build toward a future that, someday, won't include Scott.
#MeToo and the Media
As Deborah Lee Luskin watched the Brett Kavanaugh confirmation hearings before the U.S. Senate Judiciary Committee, she made a big decision. For a half century, the Newfane writer had concealed her memories of being sexually abused as a child. Now, she believed, it was time to tell her story.
As a regular commentator on Vermont Public Radio, she had an outlet. She wrote a short essay relating her own experience to that of Kavanaugh's accuser, Christine Blasey Ford. On September 25, Luskin submitted it to VPR producer Betty Smith-Mastaler. Luskin's script identified her long-dead grandfather, not by name, as the abuser. Smith-Mastaler responded quickly, asking if Luskin could record the piece that same day.
Then somebody hit the brakes. Instead of a recording session, there followed a nine-day sequence of emails between Luskin and station staff. On October 4, Luskin withdrew her commentary. The experience left her feeling "re-abused by VPR ... They expressed enormous concern for my abuser."
The emails covered a variety of issues, but in the end "it came down to one word: grandfather," said Luskin. "I was told I couldn't use it."
VPR suggested alternatives, such as "close male relative." There's a bitter irony in that: VPR was willing to besmirch every male member of Luskin's family, but not a long-dead grandfather. VPR news director Sarah Ashworth understood the implication but could offer no alternative. The organization was unwilling to "point to a single individual," she said, even if that individual was not a public figure, was not named and was long dead.
"We worked through several ideas with Deb," Ashworth explained. "We didn't want to silence her voice, but journalistically it wasn't something we were comfortable with."
On October 3, VPR sent Luskin a series of questions seeking more information: Have you told your family about this? Are there any living relatives who might have objections? Is there a person or two who might be willing to corroborate?
"Verification is critical," Ashworth said, citing a basic tenet of journalism.
Luskin answered the questions but was unsettled by their intrusiveness. The following day she withdrew the commentary. "You say you have complete trust in my personal integrity, but frankly, you have not acted that way," she wrote in a letter to Smith and VPR executives. "Your concern for my abuser has been paramount from the start of this discussion."
Luskin has formally severed ties with VPR and discontinued her financial support.
A few days later she wrote a new essay entitled, "He Was My Grandfather," which recounted her abuse and her experience with VPR. She submitted it to the Commons, a weekly newspaper in Windham County. Its editors consulted with a libel lawyer, who told them that no one can sue for libel on behalf of a dead person. The Commons published the piece on October 10.
"I went on my gut instinct when she shared her decision to pull the piece from VPR rather than bowdlerize it," said Commons editor in chief Jeff Potter. "Publishing it struck me as the right thing to do."
A week after publication, Luskin took to her blog to thank people for "the outpouring of support" that she called "as astounding as it's been affirming."
Was VPR wrong? "It's a balancing act," said Traci Griffith, associate professor of media studies at Saint Michael's College. "There's no hard-and-fast rule. VPR is a statewide news organization affiliated with a national organization. Its approach might be different from a community newspaper."
Journalists' standards are there to ensure fairness and accuracy. In this case, the rules had unintended consequences. Perpetrators cover up their crimes. Survivors are shamed into silence. Is it their fault that their experiences don't meet journalists' desire for proof? When news organizations deny a platform to people such as Luskin, aren't they effectively providing cover for abusers?
"I don't want to think of it that way," said Ashworth.
Luskin does. "I'm tired of sanitizing my words," she said. "They're treating their listeners to the same silence that survivors of abuse have imposed on themselves."
"These are questions and issues we're talking through and working out," said Ashworth. "This definitely gives rise to new questions and how journalists answer them."
In this case, VPR's time-tested standards caused pain to an abuse survivor and blocked her from telling her story. Is this what news organizations really want to accomplish?
Media Notes
And now for a much less fraught item about VPR. The organization recently entered into a news-sharing agreement with VTDigger.org, the Vermont news and politics website.
"We're providing them with three to four stories of 60 to 100 words each," said Digger's founder and editor, Anne Galloway. Those brief versions are meant to fit into radio newscasts. Digger receives a payment, plus on-air credit. It has made a similar agreement with Waterbury-based WDEV radio.
The Associated Press has long been the primary source for radio newscasts. The AP sends summaries of local stories to member stations. However, as the AP's Vermont bureau has gotten smaller and smaller, its radio service has suffered. "We help fill the void," said Galloway.
"As a radio station, we must be relevant daily," said Ashworth. "Newscasts are an essential part of our service. This might help reporters free up more time to work on long-form stories."
This deal is especially noteworthy because the two entities have often had a prickly relationship. In July, Galloway told Seven Days that VPR had "spurned us for six years" whenever she proposed collaborations. She now says that VPR's new president, Scott Finn, "has taken the organization in a different direction."
The current arrangement will expire at the end of this year, when Ashworth and her colleagues will decide whether to extend it.