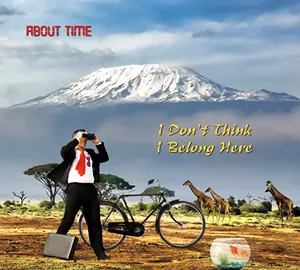 About Time, I Don't Think I Belong Here
(Self-released, CD, digital)
About Time know a thing or two about the art of the slow burn. The busy Chittenden County jazz-funk-pop band spent more than five years working together, playing countless gigs and writing the material contained in its debut, I Don't Think I Belong Here. Within it, splendid songs burst with life and acute insights about humanity and relationships, each taking plenty of time to fully unfurl. There's a play on words somewhere in there involving the band's name, but I'll spare you.
Recorded at Meadowlark Studios in Williston, I Don't Think I Belong Here succeeds all around. The thick roster of players, including cofounder and keys player John Brien, harmonica virtuoso Steve Fontaine and saxophonist Stephanie Jacobs, to name a few, outfits tunes with fully realized arrangements and nimble technical skills. A huge part of the band's appeal is lead singer and cofounder Lauren Kelley. Warm and inviting, her amiable alto captivates throughout.
Beginning with a nasty combination of slap bass, searing drums and punchy organ, "3 A.M. Friend" opens the record with sass and confidence. Though bouncy and whimsical in composition, the tune contains dark themes: "If the most that you can do / Is not the best that can be done / I and maybe others can / Help you put away that gun." Kelley clarifies that "gun" isn't literal but a stand-in for self-destruction. Further along, the song bubbles over into a scat-sung, bluesy jam.
"Capstone Thought," a ridiculously catchy swing number, shines especially brightly. From its bold piano riff to Jacobs' slick sax melody, the tune oozes flair. Amid double-time tempo shifts, Kelley expounds jazzily imbued sentiments about seizing the now and living without regret. Its pop-forward tendencies are reminiscent of another jazz-lite Burlington group: smalltalker.
Though firmly planted in the realm of funk and jazz, About Time experiment with form throughout, occasionally mixing in pinches of other genres. "Stir the Pot" has a near-punk edge, with Kelley spitting lyrical fire over thrashing drums. And "Angry Red" is a strobe light, mirror ball and several beats per minute away from disco.
The record closes with "Heart Strings," a downtempo piano jam. Small, bursting beats punctuate the desperate plea for love.
About Time present a lively collection of tunes in a genre that can often sound stale. The band consistently pleases on all fronts, particularly through Kelley's understated yet commanding presence.
I Don't Think I Belong Here is available at abouttime802.bandcamp.com. About Time perform on Wednesday, July 17, at Hinesburg Community School.