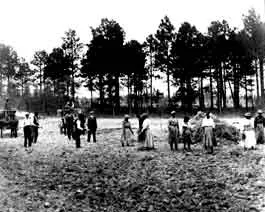 Louden Langely was born in Huntington, Vermont. He wrote letters to the editor, owned land in Hinesburg and was a farmer until he volunteered for the 54th Massachusetts Regiment in 1863. If you saw the 1989 movie Glory, you know the unit was composed of African-American soldiers who fought in the Civil War. Langely was one of 152 black Vermonters — out of a total 709 in the state at the time — who joined the Union Army.
Langely's story appears in James Fuller's recently published book, Men of Color, To Arms! Vermont African-Americans in the Civil War. Its stories have never been told before. That Fuller, a police officer in the Winooski School District, documented them is something of an accident. In 1997, he took an extended sick leave from his job as a parole officer. While unable to work, he found a hobby: researching a documentary on Vermont monuments. Examining a Veterans Monument in Coventry, he noted that four of the names — brothers Andrew, Charles, Edward and Sylvester Mero — were Civil War veterans who had volunteered for the 54th Massachusetts Regiment.
Having heard little of black Vermonters' service in that conflict, Fuller was intrigued. He contacted the town clerk, who admitted she didn't remember any black people ever living in Coventry. And actually, the Mero brothers didn't live there; they were from Woodstock. Fuller suspects that their uncle, a farmer and property owner in Coventry, contributed money to the monument with the stipulation that his nephews be included. That might be how the Mero brothers became the only black Civil War veterans named on any of Vermont's monuments. All the others seem to have been forgotten, or ignored — despite Vermont's reputation as the first state to outlaw slavery and its alleged role in the Underground Railroad.
Fuller is a white man — a talkative, gray-haired, very curious white man — who spent four years producing a book about black men. "It was an absolutely fascinating trip, reading all this stuff," he says. While he admits he may not truly understand what these men experienced in the Civil War, Fuller believes it shouldn't matter what color he is. "If there's nothing written about them, I guess there should be something," he explains simply.
After his visit to Coventry, Fuller tried to find out more about the Meros and others who might have served with them. He went to the Special Collections room at the Bailey-Howe Library at the University of Vermont. No luck. He eventually found a six-page pamphlet published by the Rutland Historical Society. "It dealt with maybe half a dozen men," he says.
Fuller combed through George G. Benedict's 1400-page tome, Vermont in the Civil War: A History of the Part Taken By the Vermont Soldiers and Sailors in the War for the Union. "It's the definitive work," he declares. "If you want to know anything about Vermont in the Civil War, that's where you go."
But Benedict, too, proved disappointing. "There's only one sentence that even mentions them," he says incredulously. In a description of a battle at Fort Harrison — in which another Vermonter, General George Jennison Stannard took part — "there were some black soldiers holding the road. Well, where do you think that road went? It was an access road!" exclaims Fuller.
Fort Harrison, in Petersburg, Virginia, was a three-sided structure. In the incident Benedict recorded, the Union forces were inside the fort facing the open side, through which the Confederates attacked. General Lee himself was commanding the troops. The black soldiers defended the road leading into the fort from the outside. Both sides sustained heavy casualties, but ultimately the attackers were rebuffed.
This kind of exclusion from historical records is extremely pervasive, according to Fuller. "There were black Vermonters at Lee's surrender at Appomattox," he says. "After they were allowed in, African-American Vermonters fought at every major engagement on the Eastern Seaboard. But do you ever see black men in any of the photos?"
Fuller says he struggled to come up with the few photos he included in the book. He found only one image of a black Vermonter in a Union uniform, and that man was unidentified. There are no photos of Louden Langely, or of Charles "Old Duke" Wentworth, a Woodstock barber who enlisted at the age of 45, or of Charles Nelson, a Bristol farmer who was killed at the Battle of Oulstee in Florida. But Fuller manages to chronicle all 152 veterans' stories, drawing mainly from government records of enlistment and family filings for military benefits.
He theorizes that the lack of information is due partly to the disinterest and prejudice of white historians and record keepers, and partly to the fact that many of the men left Vermont after their time in the service. Langley, for example, moved with his family to Beaufort, South Carolina. "Where were the jobs?" asks Fuller rhetorically. "This was still a state where the cows and sheep outnumbered the people."
Ironically, his book was subject to the same forces — national publishers weren't interested because of its narrow focus. Tired of accumulating rejection slips, Fuller released it through iUniverse.com, an Internet publishing resource that offers print-on-demand books. Men of Color, To Arms! is available in local bookstores; Borders has a copy displayed in its Church Street window in honor of Black History Month.
"None of these guys surrendered," Fuller observes, noting racist policies in the Army prevented black soldiers from becoming officers. They also earned less money, and did more manual labor, than their white counterparts. "They would do anything to join the Army and fight. I think it says a lot about their character. And I think the vast majority of Vermonters would have been content to let them all stay home." m
James Fuller will be discussing Men of Color, To Arms! at the South Burlington Community Library on Wednesday, March 13 at noon. Info, 652-7080.
---
Against all odds, a group of black settlers and a couple of white abolitionists tried in the 1840s to establish self-sufficient freedom farms in the Adirondack wilderness, 40 miles due west of Vergennes.
This little-noted noble failure is chronicled in an exhibit, called "Dreaming of Timbuctoo," at the Brooklyn Central Library through the end of February, Black History Month. And the engrossing, affecting show will be on view this summer at the Adirondack History Museum in Elizabethtown, New York — a half-hour car ride from the Essex-Charlotte ferry.
Although the story told by curator Amy Godine is set in the mountains of northern New York, it makes mention of the tradition of tolerance and the antislavery agitation that spanned the Champlain Valley. "The lake wasn't a barrier in those days, but a vast highway that made one cultural region out of the villages on both sides," Godine says. "The story of Timbuctoo can't be fully understood without taking into account the influences and relationships with Vermont."
Timbuctoo was the name given to a collection of hardscrabble homesteads hacked out of the Adirondack forests in Franklin and Essex counties. The settlers were African-Americans who had had enough of the "Negro-hate" rife in mid-19th-century New York cities, both upstate and downstate. Barbers, cooks, housepainters, laborers and lecturers left their urban homes and came to Timbuctoo in hopes of winning the right to vote, which was denied black New Yorkers who did not own at least $250 worth of real property.
No trace remains today of those settlers except in property deeds and town documents unearthed by Godine and other researchers. Some of the families that stayed on Timbuctoo lands after the Civil War eventually died out, while the descendants of others moved away from the region. The presence of the best-known participant in the experiment, the radical white abolitionist John Brown, is commemorated, however, at a New York State historical site in North Elba, near Lake Placid. That's where John Brown's body lies a-mouldering in the grave.
He was hung in 1859 after leading a raid on a federal arsenal in Harpers Ferry, Virginia. Brown had hoped to ignite a race war that, in his biblically apocalyptic vision, would sear away the sin of slavery.
---
Timbuctoo began around 1840 when a wealthy white landowner, Gerrit Smith, decided to give away 120,000 acres of Adirondack forest to African-Americans. A militant abolitionist ashamed of his riches, Smith sought the help of black agents in Manhattan, Brooklyn and upstate cities in recruiting 3000 settlers who were to be deeded 40-acre plots.
Learning about these agents, many of whom were based in black churches, was one of the most exciting aspects of the three years of research that Godine devoted to "Dreaming of Timbuctoo." The African-American agents represented "the big secret room" of the story, she says. "The overall history of Timbuctoo isn't well known, but almost nothing was known about the agents."
Frederick Douglass, a former slave and eloquent advocate of African-American emancipation, urged readers of his Rochester-based newspaper, The North Star, to put down roots in Timbuctoo. "The sharp axe of the sable-armed pioneer should at once be lifted over the soil of Franklin and Essex Counties and the noise of falling trees proclaim the glorious dream of civilization within their borders," Douglass wrote in the February 18, 1848, edition.
Only about 150 African-Americans heeded such calls and moved to North Elba, and to nearby hamlets that acquired names such as Blacksville and Nigger Hill. But the presence of this small group was enough to lure John Brown and his family, who established their own farm in 1849 on a parcel of the Smith lands. It was Brown's efforts to assist the black settlers and Smith's Jeffersonian faith in the redemptive power of land ownership that led Godine to describe Timbuctoo as "a model of interracial cooperation."
Brown, a skilled farmer, helped the former city dwellers in their struggle to scratch out sustenance from the stony Adirondack clearings. And the Browns were always willing to open their "meal bin" to the black settlers when the struggle proved unavailing. Brown himself was often away from North Elba in the service of the abolitionist cause, but members of his family tutored local black children and worked as conductors on the Underground Railroad that had one of its main depots at the Brown farmstead. The surviving members of the Brown family remained in North Elba until 1863, when they too moved away.
Timbuctoo was envisioned by its most fanciful dreamers as a North American counterpart to the semi-legendary West African city, which has become a metaphor for remoteness. Timbuktu — the currently standard spelling — is situated on the Niger River in the present-day nation of Mali. In the mid-19th century, it was becoming known through the dispatches of European explorers as a center of learning and commerce. That was the association the settlers of the Smith lands had in mind.
But Timbuctoo, New York, would never fulfill those dreams. The Adirondack climate and soil were unforgiving to inexperienced would-be farmers — many white settlements as well as black ones in the region went bust within a few years. One black transplant from Manhattan froze to death, and many other settlers withdrew in the face of harsh conditions.
African-Americans also felt isolated and exposed in the thinly populated Adirondacks, especially after enactment in 1850 of the Fugitive Slave Law. Black people — whether free-born, emancipated or actually on the run from Southern slavers — were all vulnerable to capture or beatings by white bounty hunters empowered by the law to dragoon suspected fugitive slaves. Consequently, some of Timbuctoo's inhabitants decamped for Canada.
Many more African-Americans in Manhattan, Brooklyn, Syracuse, Troy and other New York cities would doubtlessly have taken advantage of Smith's offer of free land had they the money to finance their move and to invest in farming. Racism in urban New York was virulent in the first half of the 19th century. And hopes of winning equality gave way to black despair in 1846, when a referendum was defeated that would have extended to African-American men in New York State the same automatic suffrage rights enjoyed by white males. Franklin and Essex Counties voted heavily in favor of abolishing the property test for black men, while whites in Manhattan and Brooklyn opposed the reform by a 6-1 margin.
---
Godine, who moved from New York City to Saratoga Springs 12 years ago, became interested in the story of Timbuctoo after researching the history of Jews in the Adirondacks for a magazine article. She soon realized that little had been written about other minorities in the region, including French-Canadian trappers and river drivers and Polish, Hungarian and Italian miners. "It was quite an amazing omission," she says.
Undertaking the commission for the "Dreaming of Timbuctoo" exhibit, Godine admits she was skeptical at first that there would be much to narrate other than the story of John Brown's North Elba homestead, told in a widely read fictionalized version by Russell Banks in his 1998 novel, Cloudsplitter. "But the more we dug, the more we learned that this wasn't John Brown's story at all," she remarks. "He was a participant — an important one — but not the prime mover and shaker of that community.
"What's most inspiring," Godine concludes, "was seeing how Timbuctoo represents a vision of the entire Champlain-Adirondack region as standing for freedom and racial justice."