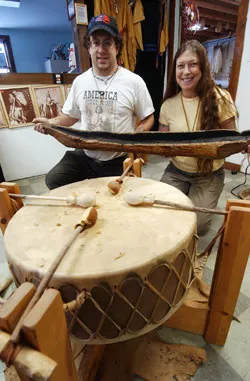 Jeb Wallace-Brodeur
Todd Hebert and Shirley Hook
Were it not for Todd Hebert's Geronimo T-shirt, beaded-and-fringed buckskin jacket, and ball cap that reads, "Native American," most people would take the goateed, 36-year-old Persian Gulf vet for a native Vermonter. Of course, by definition he is: Hebert is one of some 5000 Abenakis in the region. He is also the curator of the new Ndakinna ("Our Land") Cultural Center and Museum on Rt. 2 in East Montpelier, through which he's determined to educate visitors on all things indigenous.
"What happened is, when I realized my [Abenaki] heritage a couple of years ago, I got interested in researching, and I found it was very hard to do," says Hebert, who also goes by the name Red Fox. His grandmother told him he had "Indian" in his background, but wouldn't elaborate.
The reason, Hebert discovered, was that Abenakis were among those sterilized in a eugenics program led by Henry Perkins of the University of Vermont. Five of Hebert's grand-aunts were sterilized, he says, and so his people did their best to keep their native heritage under wraps.
Red Fox, on the other hand, has embraced his newly discovered Abenaki roots. The museum and gift shop are his way to tell visitors the Abenaki story, and to ensure the culture continues with future generations of Vermonters.
Hebert's humble museum/gift shop occupies the previous home of Danforth's Sugarhouse, once a popular tourist destination for the sugar-on-snow crowd. The well-stocked Craft Cooperative and Gift Shop upstairs still sells a few of the "white man's" wares — maple syrup and other Vermont-made products, along with bumper stickers and T-shirts.
You won't find rubber tomahawks or dyed turkey-feather headdresses, however. The Native American items here are genuine — Hebert makes the sun catchers and beaded necklaces and sells a variety of herbs and botanicals. His business partner Shirley Hook (a.k.a. Shining Eagle), also of Abenaki descent, is an artist specializing in Native American-inspired jewelry.
Not all the items in the shop are Abenaki, but that, Hebert hopes, will soon change as the craft cooperative recruits more Vermont members. Twenty-five percent of all gift-shop sales go toward operating expenses. Hebert himself draws no salary, and he's applied for nonprofit status for the business.
The downstairs museum is free, though donations are welcomed. Hebert confesses it's still a work in progress. Still, visitors can get a cursory sampling of Abenaki lifestyle and culture. On display are baskets woven from black ash dating to the 1800s, which, Hebert says, were most likely sold to tourists. There's a photograph of a label from a mid-1800s elixir with the delightful name "The Great Indian Blood Remedy," manufactured in St. Albans by an enterprising Abenaki. A few garments, including a ceremonial jingle dress, hang on the wall. The Smithsonian it's not, but what the museum lacks in substance Hebert makes up for with his enthusiasm.
The center, he says, will offer classes and workshops that promote Abenaki and Native American cultures. He's already held a drumming circle and plans to host a drum-making workshop. Once the snow melts, Hebert aims to build a wigwam nearby.
He's clearly a man on a mission. "I felt like I needed to follow my heritage," Hebert says. "I felt that people need to know, and they need to have a resource to do that. That's why I decided to do this."
The Abenaki museum is open Thursdays and Fridays, 9 a.m. - 6 p.m., Saturdays and Sundays, 10 a.m. – 4 p.m. For more info, visit www.Ndakinna.org.