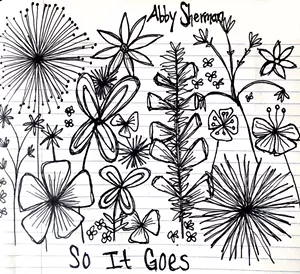 (Self-released, digital download)
A desire to escape Burlington seized me last week, so I fled to the mountains for a few hours. Speeding down the interstate, I saw a flock of birds hightailing it, all but flipping me off with their murmuration. Summer is over, human. Head south, they seemed to say, even as I headed the opposite way.
Pretty much at that moment, Abby Sherman's new record, So It Goes, arrived in my inbox. Stopping to download it, I equipped myself with a most appropriate soundtrack to the onset of autumn. As Sherman's voice — a clear vessel that can fill with both whimsy and gravity — came over my car's speakers, I made a sort of peace with the departing summer.
The Morrisville-based singer-songwriter released her debut, Finding Hope, last year. The raw, autobiographical record established the 27-year-old's presence in Vermont's robust folk scene. Her sophomore effort retains much of the same energy, though clear moments of evolution are on display.
"I took a jump into the dark with my faith and endless aspirations," Sherman sings on "Come With Me," a frolicking country number suffused with joyful resolve. She's a believer in the dream, carrying the torch for her craft, and it comes across in her songs.
Part of Sherman's charm as a songwriter is her lack of pretense. "A Mother's Love," an ode to her daughter, doesn't mince words or go for metaphor. Instead, it speaks directly to her child of the fears Sherman initially felt while pregnant. The beautifully direct love song is one of the few moments on the LP where she is purely solo.
Otherwise, Sherman is ably abetted on So It Goes. Bassist Nick DeNoia is the only returning band member from the first record. Burlington folk musician Ben Slotnick contributes some choice mandolin and acoustic guitar licks. Nate Gusakov and Katie Trautz provide banjo and fiddle, respectively, while Mr. Versatility, Sean Preece, handles the record's percussion. This fine band takes to Sherman's songs with as much passion as precision.
Those songs are lights unto themselves. Yet on "Hand With the Devil," Sherman shows her darker side; the gothic ballad seems right out of Appalachia as Trautz's fiddle soars mournfully over Sherman's lament, "For you, I weep." Country rocker "Wasting Time" picks up the pace. "Dreamy Moonlight" balances jazz and country wanderlust, a great song to listen to while staring at an early fall sky.
The versatility of this record doesn't compromise Sherman's musical identity so much as magnify it. Her spirit, reflection, determination and empathy infuse her songs. As I drove north on that Vermont highway, feeling a hint of chill in the wind, So It Goes delivered a measure of comfort. Sherman knows who she is and what stories she wants to tell.
So It Goes is available at abbyshermanband.bandcamp.com. She celebrates its release on Saturday, September 21, at Moogs Place in Morrisville.