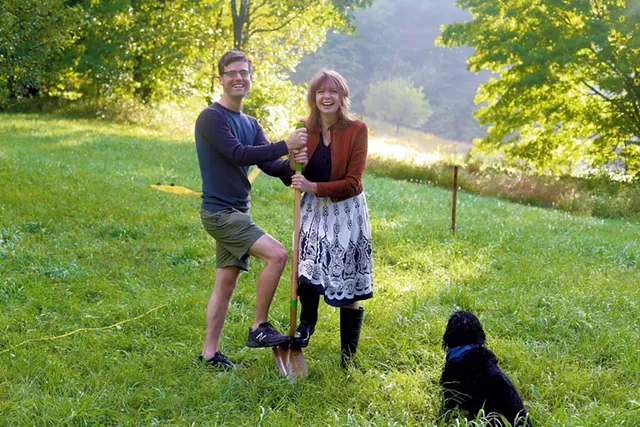 Courtesy Of Sarah Priestap And Jeff Porter
Jeff Porter and Sarah Priestap at the groundbreaking for their home
Sarah Priestap and Jeff Porter knew they were really living in the country last winter: One snowy day, a car went off the steep dirt road to their house in Tunbridge and remained in the ditch for weeks. "They couldn't get it out until spring," recalled Priestap.
The hazards of driving aside, the young couple is happy to be ensconced in a 1,600-square-foot timber-frame house that they built mostly by themselves. It sits in an old orchard surrounded by deep woods. State leaders worry that Vermont — especially rural Vermont — is not attractive to young people, but these two clearly didn't get the memo.
Priestap, a 28-year-old wedding photographer, and Porter, a 32-year-old house builder, are homesteading in a fashion that is both forward-thinking and old-fashioned frugal. Their light-saturated house has oversize, triple-glazed tilt-and-turn windows, a heat pump, and heavily insulated 12-inch walls. It's an energy-efficient abode with none of the drafts that rattle through the old clapboard farmhouses in Tunbridge, population 1,309.
That's the modern part. But the couple used the timeworn traditions of thrift and resourcefulness to build the house within their $273,000 budget. That included $56,000 for the purchase of their 12-acre lot on a narrow road with a covered bridge at the bottom.
Courtesy Of Sarah Priestap And Jeff Porter
The kitchen at Jeff Porter and Sarah Priestap's home
The couple scoured the internet for deals, paying $3,500 in a Black Friday bargain for their stove, fridge, dishwasher, washer and dryer. They drove to Rhode Island to pick up their woodstove after finding the $3,500 model they wanted priced at $1,200 on Craigslist. Porter built the timber frame and did most of the other construction, working on weekends and at night after his other home-building jobs. Together they blew in insulation, tiled the bathroom and put the plaster finish over the drywall.
The couple struggled to get the mix and timing right with the plaster — many early batches hardened before they could get it on the walls, and, when they did, the first results were "terrible," according to Porter. But they wisely started in a cubby space in the loft, and, by the time they made it downstairs to the first floor, the results were good. The light, textured surface complements the home's exposed beams.
Tunbridge sits in the valley of the first branch of the White River. Its claim to fame is the Tunbridge World's Fair, which began in 1867 and still draws hordes every September for ox pulling, contra dancing and beer drinking.
The town seemed like something out of Charlotte's Web, Priestap and Porter thought. They purchased their lot in 2015.
They started building in September 2016 and moved into the loft of the partially finished house the following March. "There was still no running water, no heat for a little bit," recalled Priestap. "We just got to know a lot of friends really well by showering in all of their houses."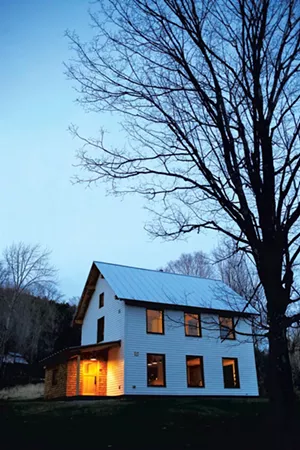 Courtesy Of Sarah Priestap And Jeff Porter
The big, southern-facing windows look out onto a slope filled with gnarled apple trees
Today, the setting seems idyllic — especially after their years of living in creaky rentals with dank basements. (The pair agreed they didn't want one in the new house.) Sometimes when Priestap wakes up in the airy master bedroom, she can't quite believe the place is theirs. "I walk down the stairs every day and think, Holy crap, this is my house," she said.
The home's thick walls create deep windowsills that accommodate Priestap's collection of houseplants, from fiddle-leaf ferns to ponytail palms. "I'm the plant hoarder," she confessed. "I have 42."
Friends gave her most of them, but she occasionally buys new specimens. Porter, who gets that it's one of his wife's simple pleasures, is encouraging. "If it's, like, a terrible day, I'll say, 'Go buy a plant,'" he explained.
The kitchen in the open, L-shaped first floor is simple but handsome, with a double copper sink, a walnut countertop that Porter hand-planed and a drain board that slopes to the sink. He also made the open cherry shelving.
The big, southern-facing windows look out onto a slope filled with gnarled apple trees. At the edge of the woods, Priestap's shaggy Icelandic stallion, Glaumur, grazes in a small pasture.
Even 27-year-old Glaumur was a deal, acquired from a former a landlord who was ready for the horse to go to a new home. The couple's property doesn't have a full barn yet (though it does have a run-in shed for Glaumur), so Priestap's saddle sits in the spacious mudroom of the new house. "I just tie him to the front porch and get him ready there," she said of the horse.
Priestap grew up in Erie, Penn.; Porter was raised in Frederick, Md. The two met in 2008 when both were students in the photojournalism program at Rochester Institute of Technology in New York. They were skateboarding in a college parking lot when conversation started, and many adventures together ensued — including a cross-country trip to Alaska after graduation.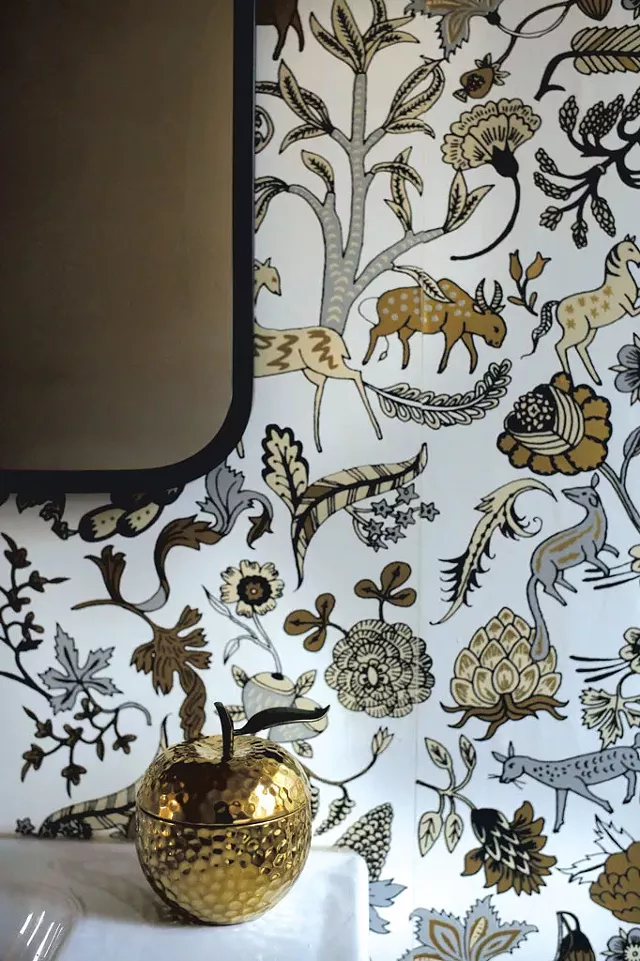 Courtesy Of Sarah Priestap And Jeff Porter
Nature-themed wallpaper
During that journey, Priestap and Porter realized that they missed Vermont, where both had done photo internships at the Valley News, the Lebanon, N.H., newspaper that covers communities on both sides of the Connecticut River.
So they made their way back to Vermont and lived in various rentals. She worked at the Valley News while he launched his own business as a timber framer and woodworker. At first Priestap did wedding photography on the side; now she's left the newspaper and made it her full-time gig. Porter puts down his tools to help her shoot some 20 weddings annually.
The couple admits they've had to get used to certain aspects of country living, such as driving 30 minutes to buy groceries. They've noticed that their friends in Brooklyn seem to want to move to the Vermont countryside whenever they visit. And then they don't.
But Priestap and Porter have gotten to know many local young farmers and craftspeople, as well as neighbors who have lived in the area for decades. They look forward to one day adding on to their house to make room for children. Overall, country living is good. Said Priestap: "The pros totally outweigh the cons."