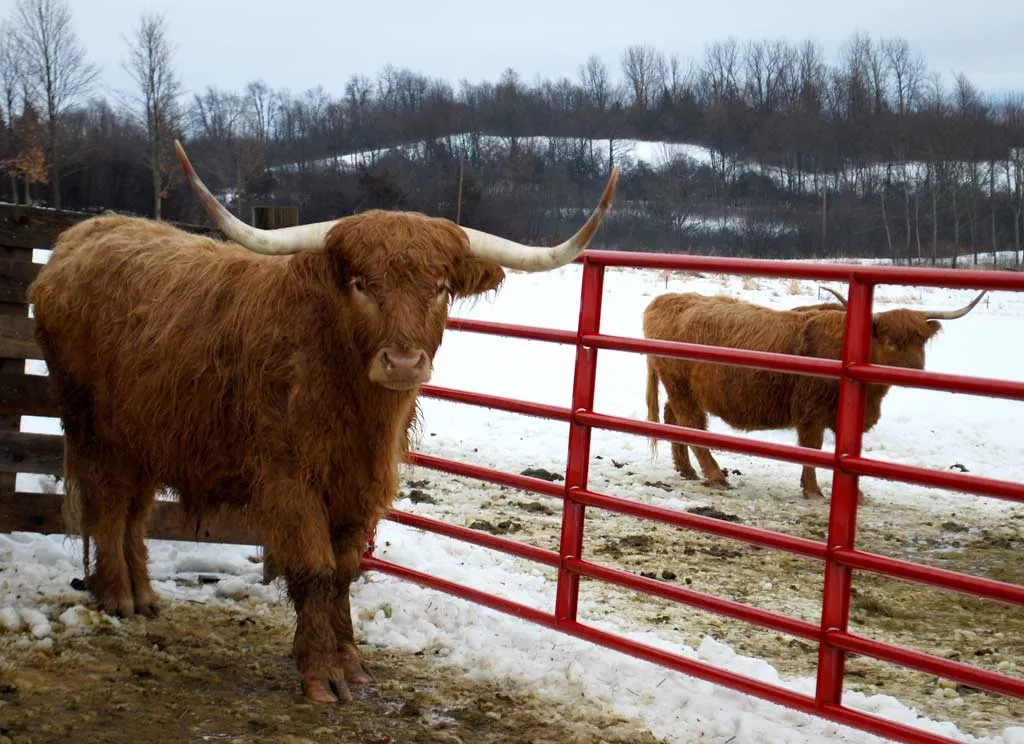 courtesy of Kathryn Flagg
Slightly more than three years ago, one bull, five cows and two calves arrived at the farm in Shoreham where I live with my husband, Colin Davis. In the years since, our herd has grown to 17. We — and here the credit falls almost entirely to Colin and his father — built fences and unloaded hay. We learned how to drive cattle, to rotate pastures, to undo the mistakes made when someone (me) let the cows escape their fences. We filled water troughs and bottle-fed the occasional sick calf. And on a recent Friday, we slaughtered the first four animals from our herd of Scottish Highland beef cows.
We did it on the farm, thanks to a visit from Vermont's first large-animal mobile slaughter unit.
A year ago, slaughtering these animals on our farm would have meant hiring an itinerant butcher, who likely would have carved the meat as a carcass hung from the bucket of a large tractor. It would have meant the final cuts, wrapped in white butcher's paper, would have borne the stamp "Not for Sale" — in other words, only for consumption by friends and family, or for sale on the black market that many ag officials acknowledge exists.
Instead, a U.S. Department of Agriculture inspector looked on as butchers from New Haven's Green Pasture Meats slaughtered three steers and one bull. The butchering happened inside a 36-foot trailer with its own generator, kitted out with clean water and electricity and heavy metal winches. In the afternoon, the meat headed to Green Pasture Meats, where it will hang and age for two to three weeks. And it most certainly will be for sale.
Just a few years after state officials and farmers bemoaned processing capacity as a major bottleneck in Vermont's flourishing food landscape, the mobile slaughter unit — along with new slaughterhouses slated to go in across the state — is speeding traffic along.
"I think, just like we need a diversity of farms, it's great to have a diversity of scales and models of meat processors," said Chelsea Bardot Lewis, an agricultural policy administrator at the Vermont Agency of Agriculture, Food and Markets. "There have been some great, positive steps forward in terms of increasing capacity."
The Green Pasture Meats trailer is the state's first mobile slaughter unit intended for large animals — cows, lambs and pigs. Vermont previously experimented with mobile poultry slaughtering. In 2008, the state pooled $85,000 in legislative funding with private foundation money to purchase a custom-built, 36-foot trailer for a total cost of $93,000. The plan was to create demand for the service and then entice an entrepreneur to take over — so the state put the unit up for auction in early 2012. It went to Tangletown Farm's husband-and-wife team of David Robb and Lila Bennett for $61,000. Last year, the farmers slaughtered 7,000 birds — mostly chickens and turkeys, but also some guinea fowl and ducks. This year they're offering farmers custom processing under inspection.
The man behind GPM's mobile unit in Addison County is Mark Smith, who entered the meat-processing world without much butchering experience. Smith, who'd grown up in Vermont and worked on farms, was seeking to branch out into a new business after work at his construction company slowed down. While visiting a friend who raises grass-fed beef in Colorado, Smith started thinking about the meat industry. He daydreamed about an "old-time butcher shop" where he could sell Vermont-raised beef, pork and lamb from a walk-up counter.
The dream would become GPM. But Smith quickly realized that to control the quality of meat coming into his shop, he'd need to control the slaughter and butchering, too.
"Straight-up common sense tells you that on-farm slaughter, where the animals aren't being transported long distances ... is a lot less stressful for the animals," Smith said. He researched mobile slaughter units — MSUs, in industry shorthand — and settled on a design used in Washington State, often to slaughter livestock on islands in Puget Sound that don't have slaughterhouses of their own.
Last May, Smith's custom unit — a $225,000, 36-foot-long trailer — hit the road. Since then, Smith and his employees have focused primarily on slaughtering animals that they sell under their own label at GPM. They buy directly from farmers, mostly in Addison County, and sell the meat at a Route 7 storefront just north of Middlebury. Everything in their meat cases — with a few exceptions such as bacon and smoked meats — comes through their own slaughter unit.
A few months ago, the company started taking on other customers — such as Colin and me — who were looking to have a few animals slaughtered and didn't want them trucked to another location. The MSU has also switched from state inspection (which meant meat could be sold only in Vermont) to USDA inspection.
"We're in totally uncharted territory in terms of the process," Smith said. He noted that the state's meat-inspection officials have been helpful along the way, but for everyone involved, he said, "It's been a huge learning curve."
You could say the same is true at our farm. For several weekends, Colin and his dad, Mike, spent hours running our cows through our small corral, hoping to get the Highlanders comfortable with what would be asked of them on slaughtering day. As with every other aspect of farming, we're learning as we go.
And, I'll admit, I was nervous. I'd already seen animals killed and butchered, including two goats we raised a few summers before. A little more than a year ago, I'd tagged along with itinerant butcher Monte Winship when he slaughtered a steer at a Middletown Springs farm. I was horribly queasy — and six weeks pregnant, news I blurted out to Winship after the smell of the freshly slaughtered steer nearly did me in. I wanted my friend the butcher to chalk up my nausea to hormones, not city-girl squeamishness.
This time around, I knew I couldn't blame hormones if the day's slaughter turned my stomach. And this time I knew the cows by name: Magic, Stevie, Mike and Paul.
It was apparent early on that both the novice farmers and our much-cared-for cows were in good hands. The butchers arrived early and were ready to begin by 8 a.m. We stood in the slushy, damp barnyard waiting on the USDA inspector, who'd gotten lost en route to the farm. Once he pulled up, the team was in constant motion. Theirs is hard work.
Taking the helm was Jeff Nichols of Rutland. The butcher has owned three slaughterhouses in the region in his long career; he now works most days at Eagle Bridge Custom Meat and Smokehouse in New York. Nichols wore a leather apron that extended to his ankles. Around his waist was a belt-like chain, from which dangled his knives and knife sharpener. Working alongside him were Greg Cousino and Dylan Barrows of GPM.
courtesy of Kathryn Flagg
We got off to an easy start. First up was Stevie, our blind steer. He had a rough start in life, when Colin and I had to snake an esophageal feeder down his throat to get milk replacer into his belly. We kept him alive, but not before an early infection left him blind. We made a few attempts at integrating him into the herd, but he was always bolting through the electric fence and so mostly stuck to the corral. He only ever learned to make left turns.
At just a year and a half old, Stevie was younger and smaller than our other steers — but he was living on borrowed time. Barrows and Cousino guided him into the squeeze chute they had brought to the farm. He went easily, docile and unconcerned. Then, matter-of-factly, Nichols shot him between the eyes with a pistol; Stevie went down immediately. The team jumped into action — moving him from the squeeze chute, hefting him up with a tractor to bleed out over a large plastic tub, and then quickly transferring the carcass into the mobile unit itself.
At the tail end of the trailer, the animals were skinned and cut into halves. The meat went into a large cooler space at the vehicle's front. All told, it took about an hour to slaughter and process a cow.
The morning was not without its problems. Mike the cow, skittish among new faces and wary of the chute, jumped the fence with surprising ease for a steer his size. Mike the man, my father-in-law, scrambled to build up the corral's fences with scrap lumber. Nichols, Barrows and Cousino all slid into the pen at various points to move the cows expertly and calmly.
Our massive bull, Magic, seemed too large for the chute — but in the end he made it through the narrow lane, and my father-in-law fed him an apple just before Barrows pointed a high-powered rifle at Magic's head. That was the hardest kill to watch; Magic was a wise, gentle bull, our longtime favorite.
For the past three years, when I tell people that I raise beef cattle, they've asked me, "Is it hard?" Meaning: Is it hard to kill the animals you care for? Is it hard to eat them?
"I don't know yet," I would answer. We always destined these animals to become beef; they're most certainly not pets. Yet it's impossible not to care for them. They're beautiful, shaggy and red, with great, elegant horns. When we snowshoe or ski through the woods in the winter, they watch us curiously from the pastures. In the springtime, they toss their heads and frolic when we turn them into new, green-gold fields. As calves, they're playful; as mothers, they're watchful and diligent. I wake up to a view of the cows most mornings, and they bring me great pleasure.
So, was it hard? Yes. Yet, after bidding farewell to Nichols, Cousino and Barrows, I reminded myself that these animals had a good life. We strive, as farmers, to give them that much. When it comes time for slaughter, we can give them a good death, too.
The original print version of this article was headlined "A Gentler Exit"