Within three hours of leaving Burlington, I had cast my Old Town canoe off the shores of Lower St. Regis Lake and embarked upon one of the Adirondack's most famous waterborne routes: the Seven Carries Trip.
My mission? To expand my horizons beyond the Winooski and Lamoille and find the perfect Adirondack voyage for the Vermont weekend warrior.
Behind me stood the faux-rustic architecture of Paul Smith's College, whose dormitories and dining halls self-consciously aped the Great Camp style of the Gilded Age. Ahead of me, across the rippling water, appeared a perfectly varnished Adirondack guide boat piloted by a small, fit old man.
"Hello!" the man called when our paths finally crossed.
"Hello!" I replied.
Having said all there is to say to a stranger on the water, we both observed a brief silence as he continued rowing toward Paul Smith's and I paddled on toward the opposite shore.
"There's a bald eagle," the man said as the distance between our boats grew.
"Where?"
"The slough!"
"The what?"
"Do you know these waters?" he said with a look of disdain.
"No, not really," I admitted.
"There's a river that connects two lakes," he said.
That much I knew. My route had me paddling from Lower St. Regis south to Spitfire Lake and on to Upper St. Regis Lake — each body of water nominally separated by narrow channels — before I would portage into the St. Regis Canoe Wilderness.
"He's in there," the man continued, nodding toward the first of these channels. "You'll see him."
Sure enough, as the open waters of the lake gave way to a shallow maze of reeds and lily pads, a white-headed bird appeared above the spruce-fir canopy lining the starboard shore. Its wings outstretched, the eagle charted a course opposite mine, soaring in the direction of Paul Smith's — or perhaps toward the gentleman in the guide boat.
Already, my brief journey to the Adirondacks was worth the drive.
Into the Gilded Age
"I've tried to paddle in Vermont," says Grace McDonnell. "But I've got to say, the Adirondacks are much better."
For 25 years, McDonnell and her husband, Brian, have operated MAC'S Canoe Livery near the southern terminus of the Seven Carries Trip in Lake Clear, N.Y. From there they rent boats to out-of-towners like me and shuttle clients' cars from one end of a trip to the other.
"When you come to the Adirondacks, you are in lake country. There are thousands of bodies of water accessible with portages, which is something you don't get in New Hampshire and Vermont. And a lot of it is quiet water," McDonnell says. "I hesitate to call it a 'wilderness experience,' because we're not talking Alaska here. But these are quick immersion trips — and you're not going to see a lot of people right on top of you."
Indeed, after parting ways with the eagle whisperer, I wouldn't hear another voice, save that of a loon, until the following day.
That's not to say I was deep within the untrammeled wilderness. Far from it.
When I emerged from the marshy slough into Spitfire Lake, I found myself in the thick of old-money America. Nestled inconspicuously in the trees were great palaces of studied modesty, still championing the mores of the Adirondacks' patrician past.
On the northern shore stood one particularly expansive "camp," whose cabins were connected to one another, and to a boathouse, by a covered bridge evoking the Swiss Family Robinson. On a porch in front of one of the cabins, high above the water, an old woman dozed in a rocking chair.
I lingered for a moment below, halfheartedly hoping someone would notice me and invite me in to chomp on a cigar and survey the grounds.
At the turn of the 19th century, these lakes were populated by Vanderbilts, Rockefellers and Morgans. They were drawn to the area by the legendary hospitality of Paul Smith, a Vermont-born woodsman-turned-entrepreneur who in 1859 built a hotel that would play host to presidents by the name of Harrison, Cleveland, Roosevelt and Coolidge.
One by one, Smith sold his guests parcels of the 30,000 acres he'd collected nearby — and then sold them the lumber to build their own camps.
"Paul Smith's woodland resort is rather a high-toned institution — a sort of sylvan Long Branch; a forest Newport," wrote George Washington Sears, one of the Adirondacks' early literary lights, in a letter to Field & Stream in 1883.
At the time, the Seven Carries Trip linked Paul Smith's Hotel to the Saranac Inn, 10 miles by water to the south. Wealthy "sports" would typically hire a guide to row them and their duffel from one hotel to the other. The help also carried guide boat and gear along the portage paths between lakes.
But Sears, who went by the pen name "Nessmuk," was ahead of — or behind — the times. At the age of 61, the diminutive writer paddled 266 miles of lakes and rivers from the southwestern corner of what would become the Adirondack Park to Paul Smith's and back — all under his own power in a 10.5-pound canoe called the Sairy Gamp.
Nessmuk's letters contributed to the late-19th-century Adirondack boom, but their greater legacy was to popularize modern, guide-free, wilderness canoeing.
"The Adirondacks have such a deep history going back to the turn of the century, not only using paddling as a means of transportation, but just as a means of recreation and enjoyment," says Walter Opuszynski, trail director of the 740-mile Northern Forest Canoe Trail.
For a couple more miles, I traced Nessmuk's route south toward Upper St. Regis Lake. Ahead of the next slough, I passed tiny Rabbit Island, where Dr. Edward Livingston Trudeau conducted tuberculosis research on a colony of floppy-eared Leporidae subjects. Fearing infection, I declined to disembark and inspect the bronze tablet erected in his — and their — honor.
Into the Wild
At the southern shore of Upper St. Regis, I reached the end of my Gilded Age tour and the beginning of the carries from which the route draws its name.
Fearing long slogs from lake to lake, I'd packed light, but the woodland walk to Bog Pond hardly qualified as a portage. Just 150 feet separated one body of water from the next. I regretted not packing a cooler of beer.
Bog Pond was more puddle than pond. Before I'd paddled a dozen strokes through its marshy channel, I'd reached the other side. One by one, I crossed Bear Pond, Little Long Pond and Green Pond — each feeling slightly more remote than the last. The sounds of carpentry and motorboats that had occasionally pierced the stillness of the St. Regis chain now dissipated entirely.
To Mike Lynch, an outdoor writer and photographer for the Adirondack Daily Enterprise, it's this easily attainable variety of experiences that makes the region unique.
"You have areas where you can pond-hop and go brook trout fishing. There's rivers you can paddle down to go to waterfalls. There's big lakes where you can take big, long day trips and visit islands," Lynch says. "I could do a different thing pretty much every day of the week in a boat. And there's so much paddling here that, if you want to, you can find areas where there aren't other people and have the place to yourself."
The 5.9-million-acre Adirondack Park owes its variety as much to its patchwork land-management rules as it does to differences in topography, hydrology and dendrology. Just 43 percent of the land within the park's boundaries is owned by the state, and a little less than half of that is designated as wilderness.
With the portage to Little Long Pond, I'd entered one of the most protected sections of the park, the 18,400-acre St. Regis Canoe Wilderness. Largely purchased by the state in 1898, these lands are no longer logged and are free of motorized vehicles.
Only a few hours had elapsed by the time I reached St. Regis Pond, the penultimate body of water on my route. The Seven Carries Trip is just 10 miles long and can easily be completed in a day, but I'd budgeted a day and a half, so I resolved to set up camp and take it easy.
Adirondacks Lakes and Trails Outfitters manager Jason Smith calls St. Regis Pond "the heart of the Seven Carries" — and for good reason. At 400 acres, it's really more of a lake — one that's renowned for trout fishing. Lined by spruce, balsam and white pine, it boasts four islands, one of which I called home for the night.
Not long after I beached my canoe, pitched my tent and cooked dinner, the low, gray clouds that had lingered overhead all day let loose a light drizzle. I responded by fixing myself a canoeist's cocktail of hot chocolate and whiskey and sipped it on a rock at the foot of the island.
As a solitary loon cackled in the distance, I hummed an improvised tune to a couplet Nessmuk penned at the start of his first Adirondack letter of August 1880, soon after acquiring his first custom-built J.H. Rushton canoe.
"She's all my fancy painted her, she's lovely, she is light," he wrote. "She waltzes on the waves by day and rests with me at night."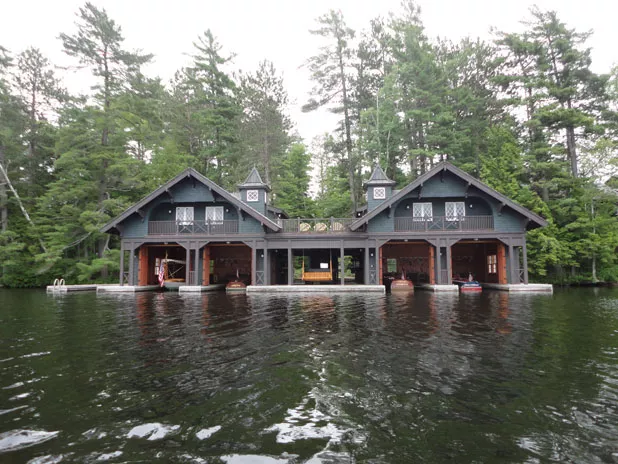 Homeward Bound
After breaking camp the next morning, I took an extraneous paddle to the western end of St. Regis Pond and jogged the portage trail to Ochre Pond, leaving my canoe and belongings behind.
On the path I once more encountered humanity, if you can call it that: a gaggle of teenage boys, who seemed too busy complaining about the carry and the bugs to notice me. Exhibiting a dearth of portaging prowess, the gangliest among them found his forward momentum halted when the paddle he'd tied horizontally to his backpack became lodged between two trees.
Back on St. Regis Pond, I paddled south to the longest carry of the trip: a measly 0.6-mile stroll to Little Clear Pond, which features a state fish hatchery, a ban on camping and fishing, and a correspondingly healthy population of loons. By the time I reached the parking lot and the conclusion of my paddle, some half dozen of the submerged, flightless birds had crossed my bow.
The wise canoeist stages a second car at the end of his paddle, or hires an outfit such as MAC's Canoe Livery to shuttle him back to his car, but I always like a good hitch. So I stashed my gear under my canoe at the side of the pond and stuck out a thumb on Route 3, the scenic east-west Adirondack corridor known as the "Olympic Byway."
Twenty minutes later, a real estate agent pulled over and drove me to the next intersection, halfway to my destination — but my second hitch was long in coming. Finally, a gray Honda Civic came to a screeching halt just before a bridge. Its driver was a robust woman with short gray hair. She was wearing a T-shirt, basketball shorts and a white bandana.
"My name's Sister Carol," she said, explaining that she'd picked me up because I, too, was wearing a bandana.
Sister Carol careened down the road with one hand on the wheel and the other holding a glass of iced coffee. Country-western music played on the radio and a figurine of St. Francis was glued to the dashboard.
A former Catholic schoolteacher, the Adirondack nun was now assigned to the Catholic Churches of the Mountains and Lakes. She spent her days, she said, taking her congregants on errands and looking after the parish's four churches.
And canoeing — ever since one churchgoer, Mr. Carillon, passed away and bequeathed to her his canoe.
When we reached Paul Smith's College, where I'd left my car the previous day, Sister Carol veered across the road and pulled off on the opposite shoulder. I thanked her for the ride and got out of the car.
"Wait!" she said. "You forgot your tip!"
Sister Carol picked up a bowl from the console and extended it toward the passenger-side window.
"Have a strawberry!" she said.
All photos by Paul Heintz.
The original print version of this article was headlined "Paddle Power"