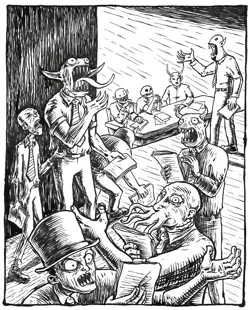 On the day I allegedly stabbed a man named Skittlez through the heart, the biggest surprise was not that he came back to life, or that there is a person named Skittlez, but that I liked it.
I'd deliberately avoided coffee that gray September morning before my audition at Nightmare Vermont — an annual haunted-house event in Burlington — because such dastardly work requires a steady hand and stomach. Instead, I tossed back some whiskey before hoofing it out of Winooski, across the bridge to Burlington and into the Chace Mill.
In a midsize dance studio deep inside the old brick structure, I found a crowd of 20-odd people milling about. Some were completing registration forms, while others were demonstrating strangulation techniques they'd learned over the summer. Most were dressed casually, but it didn't surprise me to find one girl clad in black platform boots, pink kneesocks and a floral miniskirt. She had biked past me on my walk over.
As I filled out my paperwork by the studio door, my would-be stabbing victim was the first to acquaint himself. "I'm Skittlez," he said, extending a friendly hand.
Two of the event's organizers, Jana Beagley and Bob Fishel, then came over to ask my name. Before long, they had sat everyone down in chairs on one side of the mirrored space. Even with two ounces of liquid courage, I had trouble keeping the butterflies at bay as Beagley launched into her pep talk.
"We've had people leaving unconscious because they fainted. We've had people screaming. We've had people leave with wet underwear — and not in a good way," she explained semi-cheekily, before providing an overview of the afternoon's events and passing the baton to Fishel.
"Just to give you guys a little bit of a heads up, I might say 'thank you,' which doesn't mean I don't like you or you got the role. It just means I have gotten a sense of the way you read it," Fishel explained. "We'll go through everyone, and if you have a role you'd like to read, we can do that and bring in some people to help you."
Without pause, he then looked directly at me: "So, Charlie, did you have something you were interested in reading?"
To the uninitiated, Nightmare Vermont may resemble your run-of-the-mill house of horrors. Many of its actors wear Halloween makeup, and this year's production relies on such tried-and-true scare tactics as the chain saw and a claustrophobia machine (two nylon pillows that close in on patrons).
As Beagley's speech at the audition made clear, those cheap thrills haven't been for naught: The Nightmare team has literally scared the bodily fluids out of at least two patrons. Coproducer Pat Murray doesn't exactly consider that a badge of honor, but it does give him some encouragement.
"I'm the straight man in this partnership, and I'm not super happy with urine-soaked patrons going through [the haunted house], but I can't argue with the effectiveness of the scare," says Murray, who cowrote this year's Nightmare script with Beagley.
Still, thrills aren't all Nightmare is about. Several weeks after the auditions, that much is clear as Murray, Beagley and Fishel sit in the Starbucks on Williston Road and tell me what separates their scream factory from the rest. In a word: drama.
Each production of Nightmare is a short, moving play about the paranormal. For five nights this week, a volunteer cast that has been rehearsing for more than a month will deliver the same lines, bust out the same fight scenes and witness the same horrified facial expressions on upward of 30 groups of guests. Moving between about 10 rooms in Burlington Memorial Auditorium, each Nightmare experience takes close to an hour.
This year's production is titled Nightmare Vermont: Birthday Cake. Its plot revolves around Derek, a teen protagonist who has been abducted and presented to a girl named Janey as a gift on her 16th birthday. Six separate actors play Derek, walking guests through the different chapters of his escape. It's what might have happened if Ridley Scott adapted Carrie as an off-Broadway play.
The point of the integrated storyline, the show's creators explain, is to tease out deeper societal fears. "One of the things I like about Nightmare is that we're not afraid to touch themes that are real for people," says Beagley. She defines this year's theme as "reverse-gendered stalking, where males are kidnapped by females."
By comparison, she incorporated the issue of reproductive health into last year's production — a dark fairy tale that Murray describes as a cross between Hellboy II and A Midsummer Night's Dream — by writing a scene about a creature growing inside one character's body.
"It kind of played off that fear of someone losing control as someone does something to their body," Beagley explains. "It had to be very delicately handled."
Not that "delicate" is a word you'll associate with Nightmare. For the past couple of years, the producers have commissioned Steve Moore as their "violence coordinator." With a background in martial arts and combat choreography, Moore shows all the actors how to deliver convincing blows. Both in character and in real life, many of those actors end up taking a beating and getting a workout over the stretch of shows.
Just ask Fishel, who is directing this year's production. He originally entered the Nightmare ecosystem as an actor in 2011, playing a "mad scientist lizard" who met a violent end after abducting one too many children. "I was punched, thrown across the room, dragged by my hair, uppercutted. I got pistol-whipped and shot," Fishel recalls. "We used a blank gun, of course."
Beagley, who is also performing in this year's show, deserves much of the credit for molding Nightmare into its current form. She began writing the production's scripts in 2004, drawing on her background as both a thespian and a veteran haunter.
"It had always broken my heart that there are haunts that do their theater badly, and there are theaters that do their interactive — actually getting a rise out of people — badly," she recalls. "I was, like, 'I'm going to throw everything I've learned about haunting and everything I've learning about theater into one show.'"
In 2009, Nightmare partnered with the South Burlington Rotary to help stage the shows. Half the profits now go to the Rotary, while 10 percent of this year's will also go to Women Helping Battered Women.
It's clear the three producers enjoy their work. Fishel, who also helps out on the business side of Nightmare, relishes the fact that the upcoming shows take place in downtown Burlington, as opposed to the abandoned properties on Picard Circle in South Burlington they've used for several years.
"For me, personally," Fishel says, "it's awesome that we're bringing the haunt to Burlington."
As for my audition, I stuttered when Fishel asked which scene I wanted to read. I quickly leafed through the scripts and picked one with Derek, the high schooler who finds himself bound, gagged and presented to the female antagonist for her sweet 16th. As I got up in front of almost 30 people, I figured I could channel some my own unease into the role.
The scene picked up after Derek narrowly escapes his hostage crisis by stabbing Janey's father in the heart. Over the course of my reading, I would express horror at the desperate measure, while the now-undead father figure would return to taunt me. After Fishel assigned the role of "Daddy" to Skittlez, we read through the lines once. Then Fishel had me take it from the top.
"I want you to just really take a second and think about the fact that you're a high schooler, 16, and you have just been strapped to a chair and given to this girl as a birthday present by her janitor father," Fishel said. "So take a second, internalize that, and try to show that."
So I delivered the lines again, as I imagined a freaked-out high schooler might: "The police are going to want to know what happened. OK, we need our stories straight first, OK? You were all there. They were going to kill me, I mean, it was self-defense. Jesus. I killed a guy."
Afterward, people clapped. Fishel asked if I'd be OK shaving my beard and cutting my hair. I could shave the beard, I said, but probably not the hair.
The second half of the audition consisted of combat training. The violence coordinator led us through stretches before having us practice a fight routine. My partner, a girl named Kelly, slapped me in the face, kneed me in the groin, kicked my feet out from under me and stomped on my ribcage. I strangled her, and tried to make her abuse look real.
I left the audition feeling unexpectedly exhilarated. I'd decided on a whim to try out after moving to Burlington in August and seeing a flyer for the event. In part, I wanted to do some gonzo reporting. But having done some acting in high school, I suspect some part of me also wanted to get back onstage.
But the exhilaration turned to dread when I got a call that evening from Erin Kirkpatrick, Nightmare's stage manager. She offered me one of the six Derek roles. Over the afternoon, I'd thought about it and decided I wouldn't be able to commit to six weeks of rehearsal. Furthermore, after consulting with my editor, I'd also realized that any involvement with Nightmare would disqualify me from writing about it, which was really my ulterior motive.
So I told Kirkpatrick no, and a little later told Fishel the same. He was cool with it. But I wasn't. Now that I'd had a taste of the twisted fun that is Nightmare, it pained me to turn down an opportunity to bring the haunt to Burlington.
Nightmare Vermont performs October 24 to 27 and October 30 at Memorial Auditorium in Burlington. Times vary and are listed on the website. $10. Tickets can be purchased in advance online, or for $15 at the door. nightmarevermont.org
The original print version of this article was headlined "Scare Tactics"