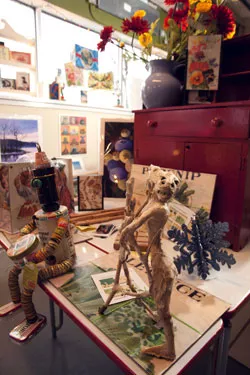 Anyone who has puzzled over the odd imbalance of Winooski's roundabout — one side thriving with restaurants, the other mostly vacant storefronts — will be happy to learn of Winooski Circle Arts. The store, which had its grand opening on Friday, creates a year-round home for the pop-up arts markets that brightened those empty storefronts for a few holiday weeks in 2011 and 2012.
On a recent morning, sunlight brightens the room's dominant feature: two angled columns painted red, reaching from cement floor to lofty ceiling. It's hard to remember why such a space was ever empty.
The carefully chosen selection of fine arts and craft items, most made in Vermont, are grouped by use rather than artist. A kitchen display includes South Hero-based Riki Moss' lamps, whose swirling forms are made from pulped banana leaf. Pin Up Pickles and Crafts jams made by Winooski's Rachel Smith, who grows her own ingredients or picks them from the riverbank, adorn a table.
The accessories corner holds felted-wool "farm fresh hats" made by Stone & Swan Millinery in Brandon, and a locally made nail-polish line called Nail Pattern Boldness; Allison Bannister mixes the shades in her Winooski home. One blue-painted wall displays prints and original art of all styles, from the framed, abstract, black-and-white ink-on-gouache works of Elizabeth Ciano (owner of the former Burlington design store Weller), to ironic holiday cards by Colchester-based print artist Ginny Joyner. "Bad girl," reads one with a picture of a chunk of coal tied up in a bow.
The attractive, homey displays were jointly designed by retail manager Liza Cowan of Burlington and store founder Jodi Harrington, a longtime Winooski resident. Harrington painted faux-tile floors for each display area, and Cowan scoured yard sales and Barge Canal Market in Burlington for the vintage display tables, racks and chairs.
Cowan is an artist and photographer whose "Fake" series paintings in the style of Matisse and Picasso, vintage-cover keepsake boxes and framed photos of her pug Saki are among the items for sale. She "heavily curated" the remaining inventory, she says. Cowan's thorough knowledge of the local art scene led her to such finds as the meticulously woven sweet-grass baskets of Henry Jerome Washington, a Winooski resident whose South Carolina relatives mail him the grass that's been used since slavery days in this Southern traditional art.
What isn't evident from browsing among these gems is that Winooski Circle Arts is an artists' cooperative. Starting after the holiday season, members will pay a fee to cover rent in return for a share of the store's profits. (Until then, they earn a generous percentage on sales of their own work.) Harrington and Cowan weren't merely intent on promoting local artists and artisans, as they had done with the pop-up stores. They wanted to create community, too.
"It's ethical. It's about keeping a healthy, thriving, local economy," says Cowan. "If it doesn't build community, it's just about commercialism, and I'm not interested," continues the frank 64-year-old. Cowan moved to Burlington from New York City in 2001 and owned Pine Street Art Works until closing it in 2010.
Harrington, a native Vermonter whose family dates back many generations, is equally adamant about bolstering her community. The 57-year-old worked for 10 years in cooperative business environments — seven with City Market/Onion River Co-op in Burlington and three with Opportunities Credit Union. She says original discussions about the Winooski store centered on socially responsible business models, such as a B corporation. But "in terms of profit, people, planet — the triple bottom line of socially responsible businesses," she says, "the cooperative is easier because it's all been done."
If Harrington and Cowan incur any risk with the cooperative model, it's for their own jobs. "Five years from now, when this thing is wildly successful, the artists could fire Liza and me," Harrington explains. But that doesn't concern her. "The excitement for us is that we're creating something that everyone owns and has a stake in."
It takes a certain kind of person to approach business so selflessly. Harrington admits that Winooski Circle Arts may only be possible "with people of our age and ilk." But, given both women's experience, the store may well anchor the roundabout's neglected strip and set the stage for more local businesses. Says Harrington, "We like to think we're launching this baby with a lot of advantages."
Winooski Circle Arts, 41 Main Street, Winooski. Info, 399-2670. winooskicirclearts.com