In the living room of a modest family home in Colchester, Michael Rork stares intently at his iPad, flipping through image after image of suggestively posed ladies in various states of undress. Clad in racy garter belts, demure negligées or pin-up-inspired sailor dresses, the women in the photographs pout, wink and smile from the screen.
Internet voyeurism? Nope. Looking at the implied erotic fantasies playing out in these pictures is all in a day's work for Rork; he's skimming the photos for artistic inspiration. He and his wife, Athena, own Winooski-based Zinfandel Photography, the lone photo business in Vermont specializing in boudoir. The word once referred to a woman's bedroom or private dressing room; hence the photographs have a seduction theme, employing the soft, diffuse light of glamour shots.
Boudoir's (usually) female subjects are often photographed in their actual bedrooms — or a studio made to look like one — and costumed and posed in ways that run the gamut from demurely sensual to overtly sexual. The idea of photographing women in underwear may call to mind the impossibly tall, long-limbed models in a Victoria's Secret catalog. But Rork maintains that, with proper treatment, any women can look like a supermodel in her skivvies.
"When [women] look in the mirror, they only see themselves flat-on," he says, and notes that a mirror's unforgiving reflection is unflattering to just about everyone. "But when I put them in front of the camera, and I light them properly and I pose them properly," Rork goes on, "they're able to see themselves the way their husbands see them, the way their girlfriends see them. They're able to see themselves in a way that they don't notice."
At her home on a recent afternoon, Jenna Gonyo-Greenough is having her makeup done. For now, she's casually dressed in jeans, her hair done up in curlers, and she's chatting away with Meg Walsh, Rork's makeup artist and photography assistant.
Gonyo-Greenough is what Rork calls a "curvy girl," with the kind of voluptuous figure not normally seen in the pages of a fashion magazine. She's recently divorced, and notes emphatically that the photos from this shoot are for her alone. (Boudoir photographs are often intended as gifts for a significant other, Rork says.)
The appeal of a boudoir shoot, it seems, is as much about the experience as it is about the final set of images — and Zinfandel's clients certainly get a full-day experience. Gonyo-Greenough, who works night shifts, was up at 10 a.m. to get her hair done. She spent another hour in Walsh's makeup chair. Now she shakes her platinum-blond hair free of the curlers, loses the jeans, and slips into the purple-and-white negligée she bought for the shoot. She's ready for about five hours behind Rork's camera.
"Shoulder in a bit, drop it slightly, pull your chin in — yeah, like that — drop the chin a bit, great," he instructs. "Open smile, closed smile, beautiful! Gorgeous, Jenna."
In an age when Snapchatting risqué pics would hardly make a middle schooler blink, it may seem strange that there's still a market for suggestive professional photography. And stranger still that Rork, a largely self-taught photographer, found such strong market demand in Vermont, where he and Athena moved in 2008 from their native California.
Rork initially launched Zinfandel Photography as a glamour and portrait business. It wasn't until a friend requested a boudoir shoot that he began exploring that genre's lighting, poses and visual aesthetic. Rork added some examples to his portfolio. Then, he says, he began to notice that the boudoir images were getting the most attention — and generating the most requests.
Following this newfound passion, and his wife's advice, Rork refocused Zinfandel on boudoir. Since then, the couple has seen such an upswing in clients that Athena quit her day job to help manage the business full time. Rork recently signed on as Green Mountain Cabaret's in-house photographer, creating professional images for the burlesque performers.
Athena Rork has a straightforward explanation for boudoir's marketing appeal. "Every woman wants to feel beautiful, whatever that means to them," she says. "It's self-validating because their spouse and their friends can tell them they're beautiful all day long, but unless they see it and believe it for themselves, it doesn't feel true."
Michael Rork says that in his experience, women of all backgrounds — and all personalities, from shy to vivacious — can be attracted to boudoir. Some clients come to experience, and to embody, the allure that Hollywood pin-up glamour and boudoir photography gave to classic beauties such as Jean Harlow and Rita Hayworth.
Some of the Green Mountain Cabaret members have requested private shoots in addition to their cabaret head shots. One such performer is "Innocent Ivy," who works by day as a cashier at Lowe's and acknowledges that a shoot with Rork adds up to a paycheck. But she says the experience is well worth it. For Ivy, the appeal of boudoir is similar to that of burlesque: Both offer an opportunity to be expressive, open and creative with clothing and costumes in a way that reveals, rather than disguises, her nature. "The person in the photos is more me than the person at the [cash] register," she says.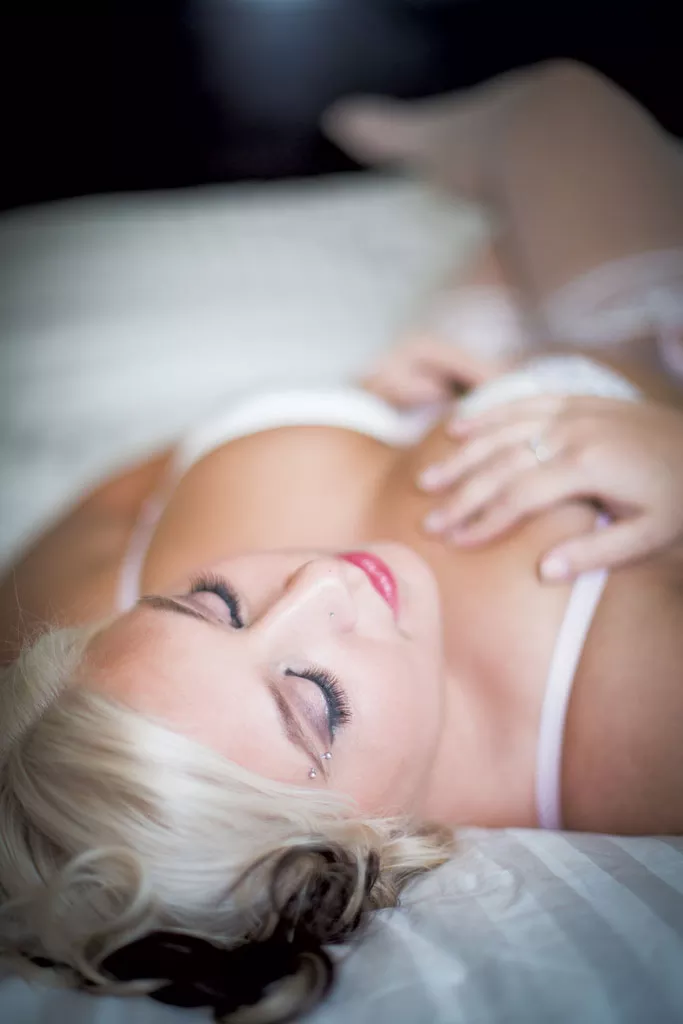 Other clients uphold the tradition of giving a boudoir image to someone special for an anniversary or wedding, or to take overseas while serving in the military. But in the five years that Zinfandel Photography has been in the boudoir business, Rork says, some women have come to him for reasons he didn't expect.
"One of my clients is a survivor of breast cancer, and one of the things she said that really stuck with me was that [after undergoing treatment] she didn't think she could feel feminine again," he recalls. "That's what it's about. It's helping people feel the way they want to feel. It's so much more than 'sexy,' even though that's what we focus on. Because that's what boudoir is visually. But internally, it's about feeling good about yourself."
It's a testament to Rork's skill in putting his clients at ease, as well as his photography, that even a woman in trying physical circumstances can look like an ingénue in her images. One would hardly guess, for example, that Jillian Kirby was suffering from a serious illness at the time of her shoot: The young woman appears in Rork's promotional materials with red-lacquered lips and black garters, kicking her stilettos over the headboard of a plush, softly lit bed.
Kirby, a Winooski resident, was suffering from a crippling bone marrow disease at the time the Rorks were transitioning their business to boudoir. Athena Rork, a friend of Kirby's, offered her a free shoot if she would allow her images to be used on Michael's business cards and website.
"The boudoir shoot happened when I was at my sickest," Kirby remembers. "I was shuffling around in my pajamas, not feeling very awesome. And it was nice. It was a step outside of what I was normally doing. And then," she continues, "when I saw the photos, it was like a reminder that I was still, like, a woman, and not just somebody who was sick."
Kirby did recover — "That's another story," she notes wryly — but her medical experience was difficult in more ways than one. "Being in the hospital, you're walking around in weird little gowns and changing and all that stuff in front of weird people," she says. "I had to drink this radioactive stuff, and people were literally seeing inside of me ... You have to disengage from your body."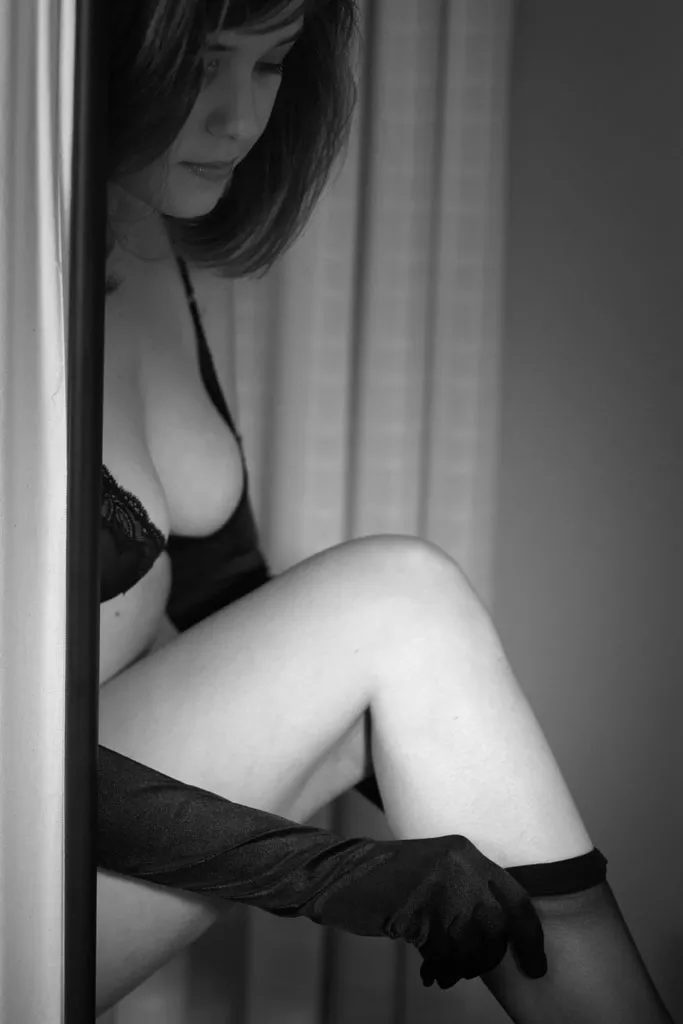 Being in front of Rork's camera, Kirby remembers, was empowering — a reclaiming of the dressing and undressing ritual. And she credits makeup artist Walsh with giving her tips to enhance her appearance during a time when she dreaded hearing the words "Oh, you look so sick."
While his clients' transformations may appear dramatic, Rork stresses that he relies very little on the trickery of Photoshop. Walsh, for her part, sticks mostly to natural looks. The outfits and costumes, too, are entirely a client's choice — women are asked to bring whatever they feel comfortable wearing. Rork does bring along props, such as a white shag rug, a 1950s telephone, red roses and Champagne. The point, after all, is to create a bedroom fantasy.
Fantasy has limits, though. At the end of the day, Rork says, "I want [the clients] to recognize themselves when they see the picture. I'm not opposed to using Photoshop to remove an untimely zit, or something that would go away tomorrow. But if it's a scar, or something else that defines you, I'd rather leave it. It's a part of who you are."
The original print version of this article was headlined "Bedroom Eyes"