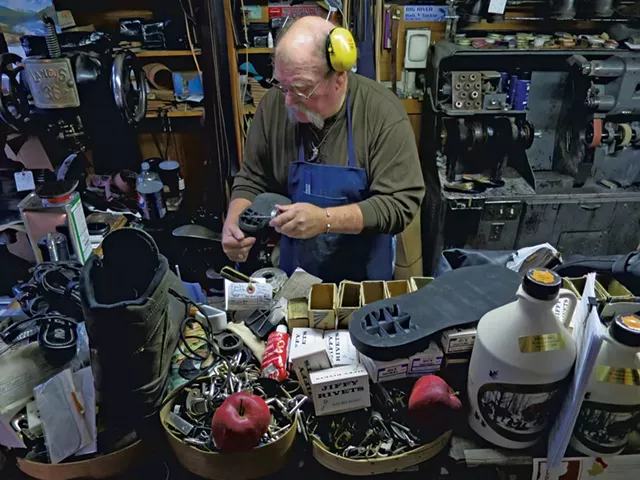 Matthew Thorsen
Steven Hopkins
After 31 years of operating Onion River Cobbler in downtown Winooski, Steven Hopkins wants to sell the business and retire. He doesn't have any children, and none of his friends want the gig, so last year he started spreading the word. With the help of his sister-in-law — Hopkins doesn't "do" computers — he put an ad on craigslist; another friend tweeted the opportunity.
Hopkins, 65, makes it clear that his business is profitable. He gets 4,000 customers a year, he says, and has more work than he wants. Last year he stopped taking new jobs for six weeks in order to catch up on a backlog. Currently, some 300 shoes and boots await his attention.
To sweeten a sale, Hopkins has even offered to stay on for six months to train his successor. Yet, in an economy where good-paying jobs are supposedly scarce, he hasn't received a single inquiry — an outcome that has left him stunned.
"You could have a very good life," Hopkins says. "This place will never go out of business. Never. If it does, you ran it into the ground. Shoes aren't going to get any cheaper, and things are still going to fall apart."
The number of shoe-repair shops in the country is at a record low, according to the Shoe Service Institute of America, which recognizes about 6,000 shops, down from 15,000 in the mid-1990s and 120,000 during the Great Depression.
Shoemaking was one of the first American manufacturing sectors to be depleted by international trade. Cheap, readily available shoes from China and elsewhere made shoes disposable — not something to repair. And some people throw away repairable shoes simply because they're unaware that cobblers still exist.
Yet enough people utilize the service that remaining cobbler shops turn a significant profit, according to SSIA historian Jim McFarland, who also owns a shoe-repair shop in Lakeland, Fla. "I do better than a lot of people I know who went to college and have a degree," McFarland says. "It is a good business if you're willing to learn."
Nonetheless, Hopkins' predicament is not unusual. "I know so many people trying to sell their shops, and it's so hard to find [buyers]," McFarland says. "It's [like] finding the Loch Ness Monster." At the SSIA's annual national convention, McFarland, 51, said he was younger than 95 percent of the attendees. Nowadays the shops close for want of a buyer — not for want of customers.
Cobblers believe people are intimidated by the skills, and the work ethic, required. "You have to work for it," Hopkins says. "We're in a society where people expect to have everything instantly, and in this place it doesn't happen. You have to work. Everybody can't be at the top of the food chain."
Hopkins grew up in New Jersey and opened a leather-goods store there in his twenties. But Vermont was always a second home; he spent most summers fishing at his grandfather's camp near St. Albans. At age 32, Hopkins packed up his truck and made the Rail City his permanent home. He opened another leather shop but struggled to make ends meet in the blue-collar town.
So Hopkins tried his hand in Burlington. First he rented a small space in the back of Sikora's Shoe Repair on Center Street. He made belts and did work that proprietor Harold Sikora didn't want to — repairing boots, backpacks and zippers. In his spare time, Hopkins hung out in the front of the store and watched Sikora repair shoes. (The shop closed when he retired in the mid-1980s.)
In 1984, Hopkins bought his current business from the estate of a Winooski cobbler. "I didn't have a clue whether it was going to work or not," he says. "Only way to find out is to go for it. It's only money." When he started, Hopkins was the fifth cobbler in the Burlington area. Now, he says, only six remain in all of Vermont, his only local competitor being the Town Cobbler in Williston.
One shoe at a time, Hopkins has won a loyal following.
When Seven Days visits the Winooski shop on a gray November day, a steady trickle of customers comes through the door. One woman needs him to expand a pair of too-small boots she picked up at a thrift store. A middle-aged man needs a lift in one of his running shoes. A young hipster asks for three pairs of dress shoes to be shined.
Underhill resident William Tortolano has been patronizing Onion River Cobbler for at least 15 years. That day, he hopes Hopkins can salvage a pair of well-worn loafers that he spilled bleach on. Also, he needs lifts in a pair of dress shoes that he slides out of.
"Twelve dollars," Hopkins tells him.
"OK, I got $12 for you," Tortolano says. "Check OK? My money is good."
"If I have to worry about you writing a check, I've got bigger problems," Hopkins retorts.
But Hopkins is not overly solicitous and can at times be gruff. When a reporter asks how much he paid for the business 31 years ago, he replies: "None of your business." He often rails against the younger generation, which he believes lacks a work ethic, and has no patience for customers who expect immediate results.
"If people don't mind waiting, I don't mind doing the work," Hopkins says. "But I'm not in a rush to do it anymore." In white tennis shoes, blue jeans and a T-shirt, Hopkins pauses to swig from a two-liter bottle of Pepsi before returning to his work.
The shop is ringed with shelves holding boxes of spare equipment and hunting trophies. On the floor sit countless oil tins, many caked in dust. Shoes and boots are strewn about in an order discernible only to Hopkins.
He's been loathe to put a "For Sale," sign in the window, he says, for fear it will prompt his regulars to give him more work than he can handle. He usually shuts down for a week or two in November to go hunting, and most of his regulars plan their schedules accordingly.
In January, he plans to make another big push to find a buyer. Though he declined to divulge his target sale price, the SSIA estimates it costs between $40,000 and $75,000 for a new cobbler to buy the necessary machines and equipment to get started.
Despite being eager to sell, Hopkins doesn't wax poetic about his trade. In fact, he acknowledges that it can sometimes be dull. An avid hunter, he's more eager to show off pictures of a 425-pound bear he killed than to brag about his cobbler work.
Still, pride in his craft simmers just below the surface.
A few weeks back, I strolled into Hopkins' shop toting a 10-year-old L.L.Bean snow boot that had busted along a seam in the heel. When a similar hole had opened in the toe area several years ago, I took it to a cobbler near my former home in New Hampshire who slapped a thick, black piece of leather over the hole. To my untrained eye, it seemed a perfectly fine piece of work. After all, on snowy weekend walks and excursions out to the woodpile, my feet stayed dry.
But when I dropped off the boot, Hopkins scoffed and shook his head in disgust. His work, he promised, would be different, and he was good for his word. The stitching on Hopkins' patch was subtler, the edges scythed down. At first blush, it looked like the patch had been part of the boot all along.
"Put a little care into it, you can see the difference," Hopkins told me. "I try to make it more of an art. Anything worth fixing is worth doing right."