Courtesy Of Finney Crossing
Finney Crossing
A 100-room hotel proposed for Taft Corners is the largest in more than a decade to come before the Williston Development Review Board. But the body's chair, Scott Rieley, won't be weighing in on whether the new extended-stay facility gets built. That's because he's the one who wants to construct it, and the town's conflict-of-interest policy prohibits him from evaluating his own project.
At least one fellow Williston town appointee would restrict Rieley further. "I would like to see him off the DRB," said Mary Jo Childs, a member of the Williston Historic Architectural and Advisory Committee.
Rieley co-owns the land and would be a partner in the hotel business located in a development known as Finney Crossing. The 110-acre, half-populated community on the former Foxwood horse farm is on the north side of Route 2 across from a Shaw's grocery store.
From the first sketches 17 years ago, Finney Crossing was meant to be an alternative to Williston's suburban sprawl, marked by big-box stores and cookie-cutter cul-de-sacs. With a mix of residential and commercial structures, it aims to be pedestrian-friendly with a neo-downtown feel.
Finney Crossing is already home to more than 1,000 people living in apartments and townhouses. When complete, it will have at least 587 housing units and roughly 372,000 square feet of commercial space — most of which has not been constructed.
The DRB approved the Finney Crossing master plan in 2007. Rieley, who was not yet the chair and owned no property there, voted yes. But, since 2011, when construction geared up, Rieley has gradually acquired pieces of Finney Crossing — and a growing financial stake.
He now co-owns four apartment buildings at Finney and a fifth that is under construction, and he has approval to build two more — for a total of about 400 units. Last year, Rieley co-purchased an additional 21 acres of Finney Crossing, including the hotel site, which is now an empty field.
Rieley said he has been up-front with town officials about his acquisitions and careful to recuse himself from Finney Crossing votes or deliberations. He did so on July 25 when the DRB conducted a pre-application review of the three-story hotel. Members made various design recommendations and voted 4-0 to advance the project to the full permit review.
"If I thought there was a conflict, I would resign. So the answer is no, I don't see a conflict," he said in an interview with Seven Days last Friday at his Burlington office, where he oversees a portfolio of several hundred rental units, many occupied by college students.
Childs sees it differently. In her view, Rieley's dual roles — as a developer of the biggest construction project in Williston and leader of the board with the power to green-light it — raise some troubling questions. Are the town's ethical guidelines, designed to prevent officials from benefiting financially from their service on town boards, being followed? Is a board composed of Rieley's colleagues able to objectively review his plan?
Williston's conflict-of-interest policy reads: "The public official involved shall disclose to the relevant board, commission or committee, in an open public meeting, the nature of the conflict of interest, prior to any consideration of the matter."
Official minutes from past DRB meetings show that, since 2011, Rieley has recused himself at least 12 times on Finney votes and other matters. He has been absent from at least 14 meetings.
But he has not reliably revealed his conflict aloud, in public, as the policy requires.
He said he would do so in the future. "It's been pointed out that we need to do that," Rieley said.
Meanwhile, Chris Snyder, Rieley's partner at Finney, has repeatedly appeared before the board to seek permits connected to buildings that Rieley owns or co-owns, without explicitly mentioning the DRB board chair's financial interest.
In 2015, Snyder appeared before the DRB several times to ask for an increase of 177 units at Finney Crossing — a sizable expansion over the roughly 356 units originally approved in 2007. Rieley recused himself from the voting but at one of the meetings joined the audience and participated in discussion — a questionable practice.
Another possible misstep: Childs said Rieley lobbied hard and inappropriately for the additional apartments when her committee — which advises the DRB on the architectural merits of proposed developments — made a site visit to Finney Crossing on November 2, 2015, about a month before the extra units were approved.
Meeting minutes from the committee outing confirm that Rieley spoke to the group in his role as a developer of the project. Childs said she didn't realize he was also chair of the DRB at the time and was surprised and dismayed to discover it later.
"I would like to see the DRB represent the best interests of the community and not the best interests of developers," Childs said.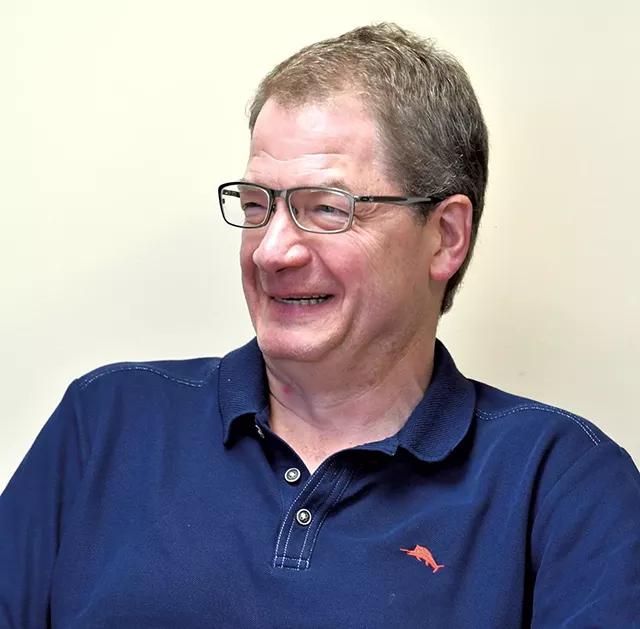 Lee Krohn
Scott Rieley
The selectboard appoints volunteers to the DRB. Selectboard chair Terry Macaig said he hadn't heard any complaints about Rieley and said that he has confidence in the citizen group — including its chair.
"I think he obviously knows that he has a conflict of interest on some things, and he apparently has been recusing himself from those discussions, and I think he is carrying out his duties," Macaig said.
Town planning director Ken Belliveau also expressed confidence in Rieley. Several years ago, Belliveau said, Rieley told him he was buying into Finney Crossing. "At that time, Scott came in to talk to me and said, 'I'm going to become partners with Chris' ... He said, 'What do I have to do?'" Belliveau recounted. "I said, 'You can no longer take part in any discussions pertaining to Finney Crossing. You have to recuse yourself every time.' That's what Scott has done."
Belliveau acknowledged that Rieley might not have been vocal enough about his conflicts, as the town requires. Like Macaig, he suggested all town officials could probably use a "reminder" about that.
It's not uncommon for people with careers in real estate to serve on town land use boards. The seven-member Williston DRB also includes an architect, John Hemmelgarn, and Peter Kelley of DEW construction. They, too, have recused themselves on votes — usually without explanation, according to meeting minutes.
John Bendzunas, vice chair of the DRB, runs meetings in Rieley's absence and said he takes care to be objective. Rieley doesn't influence the discussions, he said. In considering the chair's projects, for example, the board has on occasion asked for landscaping and architectural changes that have resulted in additional costs, Bendzunas said.
"I don't think his status as a board member has any impact on our deliberations as a board," he said. "We rule in the best interests of the town and in the best interests of the community at large."
Macaig said the town looks "for people who have expertise in certain areas," including land use. That real-world experience guides them to make good decisions.
But appointing members with connections to development can lead to controversy. In 2015, a South Burlington resident raised concerns about PC Construction executive Art Klugo serving on the city planning commission. Klugo defended his participation and remains on the board. Last summer, a critic of the controversial Burlington Town Center redevelopment plan said Burlington planning commissioner Yves Bradley, a real estate broker, should recuse himself from a vote related to the project. Bradley declined and defended his role.
The Vermont League of Cities & Towns offers towns a blueprint conflict-of-interest policy. But many towns don't adopt or enforce such policies, observed Brian Shupe, executive director of the Vermont Natural Resources Council, an environmental group.
"There are cases that I'm aware of around the state where people clearly acted in their own interest," Shupe said. "It's more common than it should be. That's not to denigrate the many honest volunteers."
He said he couldn't comment specifically on Rieley's case because he was unfamiliar with the details.
"It's not illegitimate for a developer to be on the board," Shupe said. "You need to represent the entire community. It's just how they act when they are on it."
He offered an example: When board members recuse themselves, they shouldn't talk before their boards — even from the audience, because it can still influence the proceeding, he said.
"A recusal means totally withdrawing from the process. Not participating, not being in the room," Shupe said.
A former town planner, Shupe serves on the DRB in Waitsfield, where he lives. Just as he brings expertise in resource management to the board, a developer might bring valuable knowledge, too, Shupe suggested.
Development is a relatively new endeavor for Rieley, who has lived in Williston for roughly two decades.
Until five years ago, he was a landlord who bought buildings and rented them out. He also ran a retail business. For many years Rieley and his wife, Peg, owned and operated the Alpine Shop in South Burlington before they sold it in 2011.
Rieley volunteered to serve on the DRB for a simple reason: "to serve the town," he said. "That's about it. Give back."
Rieley said he hopes to continue to serve when his term is up in a few years. But it's ultimately up to the selectboard, he said: "If they decide to unappoint me, that's OK."