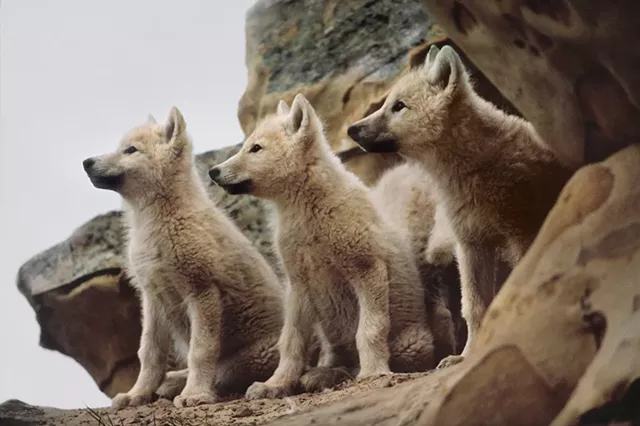 courtesy of Julia Huffman
From Medicine of the Wolf
The gray wolf has not roamed the Green Mountains for centuries. But its cinematic avatar will pay a visit to Vermont this week for an unusual event that combines arts and conservation.
On Sunday, April 10, the Stowe-based advocacy group Protect Our Wildlife will host a Wildlife Social at Norwich's Montshire Museum of Science. Designed as a networking opportunity for conservationists, the free event features a screening of the award-winning 2015 documentary Medicine of the Wolf.
Brenna Galdenzi, executive director of POW, called the volunteer-staffed nonprofit a "watchdog group" that advocates for "compassionate conservation": treating wild animals not as nuisances or hunting trophies but as cohabitants of our environment.
A similar principle guides Medicine of the Wolf. To make the film, director Julia Huffman studied the gray wolf population in Boundary Waters Canoe Area Wilderness, a massive area that spans the Minnesota-Ontario border. There she connected with noted wolf ecologist and author Jim Brandenburg, who became her guide into the world of wolves. The film's thesis is that misunderstanding and fear have driven the animal to near-extirpation.
courtesy of Julia Huffman
Jim Brandenburg
By phone from Los Angeles, Huffman explained that "medicine" in her title refers to the wolf's prominent role in the spiritual traditions of several North American indigenous peoples. But it has a broader significance, too. "When wolves are in an ecosystem, they actually create a healthier system," said Huffman. After gray wolves were reintroduced to Yellowstone National Park in 1995, she said, "The aspens grew back. The grass grew taller because wolves kept the ungulate herds on the move. All these other species were affected in a positive way because the wolf was put back into this ecosystem."
In that sense, Huffman said, the wolf is "the great healer."
"The movie certainly ties into POW's theme and mission of protecting wildlife and of education and outreach," said Galdenzi in a phone interview. The event, she noted, is an opportunity to forge connections among biologists, ecologists and anyone with an interest in conservation — for those "with similar compassions to come together and energize and to think about what we can do here in Vermont for our wildlife."
Said Huffman, "I'm honored that my film would be selected to be one of the conversation points [at the event] ... It makes me feel like I did my job."
The gathering will also showcase brief presentations by several wildlife experts, such as Tré Nichols of Colchester, an outspoken advocate for wolves; and Chris Schadler, a New Hampshire ecologist with the nonprofit Project Coyote.
John Aberth, one of the few certified wildlife rehabilitators in Vermont, will discuss his treatment and release of injured wild animals. He takes a strong position against leg-hold trapping: "To intentionally inflict suffering like that on an animal is just inexcusable in my mind and is something that should be outlawed," Aberth said by phone from his home in Roxbury. "It's not really acceptable, in a society in the 21st century, to allow, essentially, animal torture for sport."
On the current list of Vermont's endangered and threatened animals are six fish, 13 birds and seven mammals, among other creatures. The gray wolf is not among them, having had no Vermont presence in recorded memory. Though its range once spanned the lower 48 states, the canid has been hunted so thoroughly that it is now found only in a few isolated forests in 13 states, mostly west of the Mississippi.
Yet, like the fabled catamount, the gray wolf still inspires reports of Vermont sightings. In a 2014 Seven Days story, Chris Bernier of the Vermont Fish & Wildlife Department said his office receives 50 to 75 "catamount sightings" every year. Officially, the big cats haven't prowled the state since at least the 1930s. Vermonters have also filed a few "wolf sightings" in recent years, notably in Stowe in 2012. That one was never confirmed, but it did spur fears that the animals had returned, according to Bernier.
Such fears are precisely what Galdenzi intends to address by convening the wildlife social. "We have done such a disservice to our predators," she said. "A lot of it is based in fear and tradition and in the competition for game species. I've heard hunters refer to coyote as 'deer poachers,' when the coyotes are just out there trying to survive."
That viewpoint reverberates throughout Medicine of the Wolf. "When we think about the wolf," said Huffman, "we think about this age-old folklore, [like] werewolves and Little Red Riding Hood. It's so ingrained in us that they're the ultimate animal of destruction. My goal is to have people understand where those old ideas come from, and how inaccurate they really are."