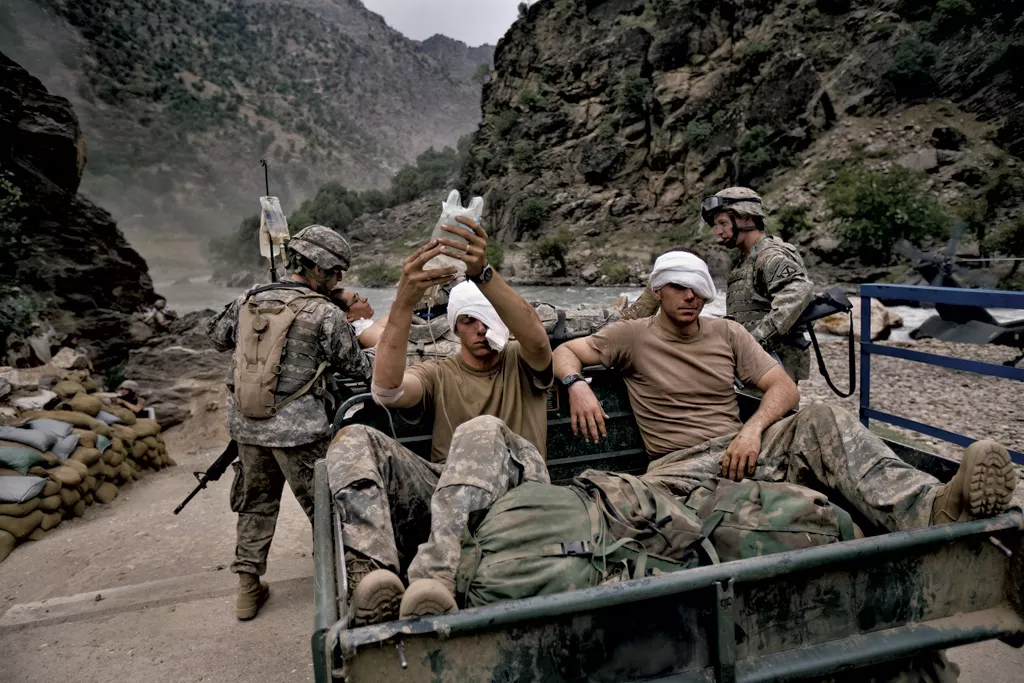 Courtesy of Robert Nickelsberg
Wounded U.S. Army soldiers await evacuation by helicopter from Kamdesh, Nuristan province.
Famed American combat photojournalist Robert Capa, killed in Southeast Asia in 1954, once offered a much-quoted piece of advice to his colleagues and successors: "If your photographs aren't good enough, you're not close enough."
Robert Nickelsberg, who regards Capa as one of his heroes, does get close enough. In a recently published book that chronicles 25 years of war in Afghanistan, the 100-plus photos taken by this part-time Vermont resident rate as better than good enough.
Afghanistan: A Distant War includes the requisite combat shots, but it's Nickelsberg's portraits of individual Afghans that make this beautifully assembled compilation especially memorable. Many of Nickelsberg's pictures are imbued with a certain tenderness — an unexpected and ironic quality in a volume focused on the unending violence afflicting a tortured country.
A 1972 graduate of the University of Vermont, Nickelsberg summers in an unheated Charlotte house that his parents bought decades ago. He and his wife, photo editor Crary Pullen, live the rest of the year in Brooklyn's Cobble Hill section.
Much of the time, however, Nickelsberg is away on assignments. He worked for 12 years in Time magazine's Delhi bureau, making frequent forays as a contract photographer to Iraq, Pakistan, Afghanistan and other unstable places. Earlier, he got "close enough" to the wars in Central America.
It's a dangerous profession, Nickelsberg acknowledges during an interview in his apartment on a tranquil, leafy street across the river from the cacophonous canyons of lower Manhattan. Nickelsberg says the shadow of death has brushed him "several times," and he has seen numerous friends fall dead as collateral damage in conflicts they had been covering. "A lot of it depends on chance," Nickelsberg reflects. "It's a matter of where you are, or aren't, at a certain moment."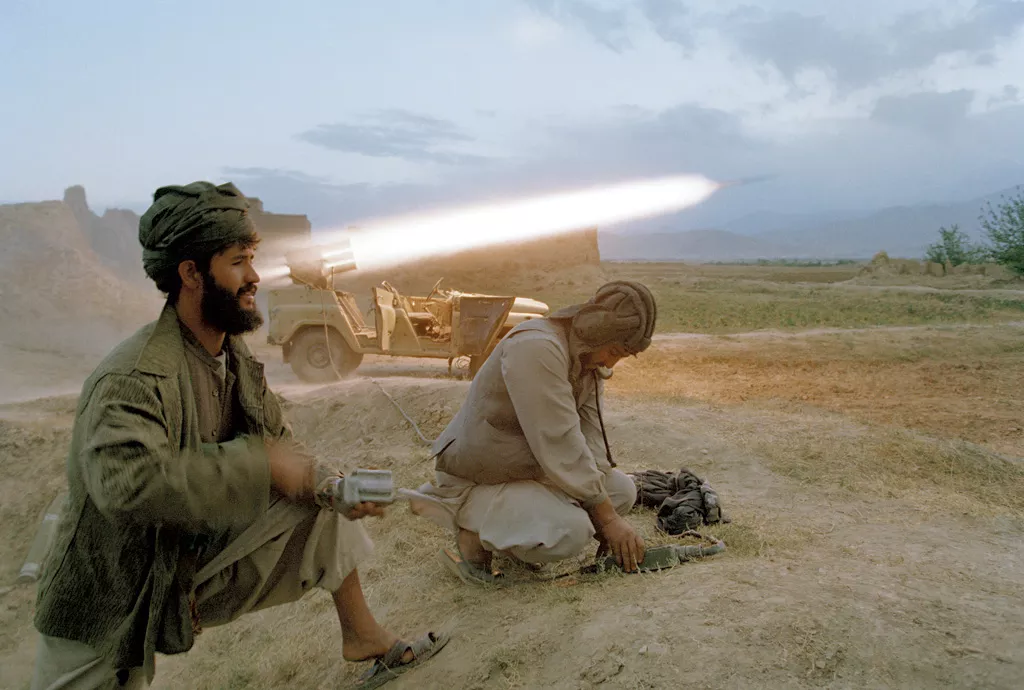 Courtesy of Robert Nickelsberg
Taliban soldiers fire a rocket at retreating forces of the Northern Alliance army north of Kabul.
Starting in 1988, he traveled clandestinely to Afghanistan via the mountainous tribal areas of neighboring Pakistan. With mujahideen chaperones who Nickelsberg describes as "clever and relentless," he scrambled to avoid rocket fire from Soviet Mi-24 attack helicopters. The earliest image in Nickelsberg's book, from May 1988, shows a smiling Afghan soldier clasping the hand of a Soviet soldier who's perched in the turret of a flower-bedecked tank and appears happy to be pulling out of the country that the Red Army invaded in 1979. There follows a chronological sequence of shots of the convulsive civil warfare in Afghanistan that culminated in the 1994 takeover by the Taliban.
The world pretty much forgot about that landlocked, arid land for the next several years. But Nickelsberg regularly returned to Afghanistan, trying to take photos of the country's new rulers, who forbade all photography. Equally camera-shy were the Arab militants who had fought alongside the Taliban and other Islamist warriors to oust the Soviets and the government they had installed.
Nickelsberg describes the Taliban as "highly disciplined, extremely strict, very narrow-minded." Their allies from Arab countries, he adds, were "not kind and were clearly dangerous." These elements swore allegiance to Osama bin Laden, who plotted global jihad from a base in Afghanistan while under the protection of the Taliban. Bin Laden's plans reached a kinetic climax in the September 11, 2001, attacks on New York and Washington, D.C.
Less than two months after that history-shifting day, Nickelsberg was back in Afghanistan, accompanying invading U.S. troops as they pursued bin Laden to a corner of the country called Tora Bora. The al-Qaeda leader wriggled away to survive for another nine years. His escape was the first in a series of failures that came to characterize the now-ebbing American occupation of Afghanistan.
In a symmetrical tieback to its start, one of the last photos in A Distant War shows a contingent of U.S. soldiers trooping out of their base in Afghanistan and heading home in May 2013. The direct American combat role may be nearing an end, but by this point in Nickelsberg's book it's clear that conflict in Afghanistan is going to go on ... and on.
What does Nickelsberg say is causing the longest war in U.S. history to conclude without a clear victory, despite enormous expenditures of blood and treasure?
"The biggest mistake," Nickelsberg suggests, "was Bush's decision to go into Iraq." That invasion in 2003 diverted resources and political attention from the fight in Afghanistan, he says.
"The Bush administration dropped their commitment," Nickelsberg continues. "There was a failure to read the clans, an overall inability to understand Afghan culture and traditions," Nickelsberg says. "It's a complicated, layered place. You can't understand Afghanistan unless you understand Pakistan, and you can't understand Pakistan unless you understand India." And the Bush administration lacked comprehension on each of those fronts, he says.
Nickelsberg was himself diverted into Iraq soon after the start of the war there. Working for the New York Times as well as Time magazine, he photographed Baghdad's Firdos Square as American soldiers pulled down a statue of Saddam Hussein — a symbolically resonant act that critics of the war contended had been staged by U.S. propagandists. Not so, Nickelsberg objects. The toppling of Saddam's likeness in bronze was an authentic expression of many Iraqis' detestation of their dictator, he says.
Nickelsberg spent parts of four years in Iraq, again getting "close enough" to a war.
So what led him to a career utterly devoid of the placid pleasures of a second home atop a hill in the Champlain Valley?
His mother was born in Germany, Nickelsberg relates, and growing up in suburban northern New Jersey, "I was among international people a lot of the time." An interest in current affairs led him to major in economics and history at UVM, which appealed, too, because of his love of the outdoors. Following a sojourn as a ski bum in Vermont, Nickelsberg became interested in photography as a way of combining a passion for travel with his preoccupation with world news.
He moved to Washington late in the 1970s to work for a New Jersey congressman and to cultivate his growing interest in photography. Debates in Congress at that time over the U.S. role in Nicaragua and El Salvador prompted him to travel to those countries, where he worked as a freelancer. Nickelsberg embarked on a path that would wind through Brazil and Southeast Asia as well as over the Hindu Kush mountains and across the deserts of Iraq.
Today, the troubles besetting traditional media have forced the photojournalist to venture in a new direction. With contracts no longer being proffered by the much-diminished Time, the 63-year-old Nickelsberg is working on spec to complete a project on domestic trafficking of U.S. women. Gaining entree to the world these women inhabit and winning enough trust to take their pictures is "particularly difficult for a man," he notes.
Nickelsberg gained awareness of the domestic sex trade by accompanying the LAPD vice squad on surveillance missions in the gangland of South Los Angeles. "It wasn't far for the Bloods and Crips to go from guns and drugs to pimping," Nickelsberg explains.
"There's still a lot of interest in the kinds of stories I work on," he says. "The issue now is finding the funding to do them."
Historical footnote: Bob Nickelsberg is the second great combat photojournalist with a Vermont connection. He was preceded by Dana Stone, a Burlington native raised in Wilder and a UVM dropout who recorded the U.S. wars in Indochina in the 1960s for CBS News and other outlets. Stone disappeared in Cambodia at age 30. He is believed to have been abducted and killed by Khmer Rouge guerrilla fighters whom he was hoping to photograph. Dana Stone also got "close enough."
Robert Nickelsberg talks about his new book, Afghanistan: A Distant War, at the Mount Philo Inn in Charlotte on Friday, May 16. Wine and light fare served at 6:30 p.m. Lecture at 7 p.m. Info, 425-3335.