Jeb Wallace-brodeur
One of the Knights' spiderweb plaques
The official motto of Knight's Spider Web Farm in Williamstown was a no-brainer: "Home of the original web site." But an alternative motto could be "Come for the spiders. Stay for the jokes."
Most of Terry and Will Knight's visitors come because they've heard or read about the artwork the Knights create using real spiderwebs. But once they're there, guests typically stick around to hear a story or two from the garrulous and amply tattooed, 88-year-old Will, who shamelessly boasts about his gift of gab. It's a valuable skill for someone who peddles art that's made out of arachnoid ickiness that most people actively avoid, sweep from the corners or flail through frantically if they accidentally encounter it. (The Washington Post famously dubbed that panicked dance the "arachnoleptic fit.")
The Knights are spider farmers — though they use the word "farmers" loosely. Each spring, they fill their three sheds with hanging wooden-grid structures that resemble window frames without glass. There they "plant" spider-egg sacs they've gathered from the environs of their 110-year-old Victorian house and then wait for the hatchling spiders to do their thing. Will "harvests" a web by spraying it with white paint, then slowly pressing it to the face of a wooden board. Once the web is dry, he covers it with lacquer for preservation.
From the orb spinners' silken creations, the Knights make art that's sought out by tourists from around the world.
"For some reason, they always come here after Ben & Jerry's," Terry Knight observes, referring to the ice cream company's Waterbury plant. That's an odd path, considering that Knight's Spider Web Farm is some 25 miles from Waterbury, at the top of Spider Web Farm Road in Williamstown. Visitors park in a dirt cul-de-sac outside the sheds where, during warmer months, they can watch the spiders busily spinning. (By October, when I visit, all the spiders are dead or in hiding.)
Jeb Wallace-brodeur
Terry Knight
A large yellow sign outside the sheds warns visitors: "Spiders at work — sorry, no admittance past this point." A statuette of a white owl stands guard above, ostensibly to keep other birds from swooping in and gobbling up the Knights' bread and butter.
"It doesn't work," Will says of the owl. "The only thing it scares is itself."
The Knights don't breed specific spider varieties, as the word "farmer" might seem to suggest. The webs they "harvest," from late spring until mid-autumn, come from whichever species of eight-legged crawlers happen to take up residence in their sheds that year, the most common being grass spiders, garden spiders and funnel weavers. The Knights are akin to vegetable farmers who scatter a random assortment of seeds, then reap whatever sprouts.
"I have no idea when I go out there. Whatever's in those frames, I collect," Will explains. "I try to get the perfect web, a web which the spider had no intentions of making."
Directly across from the spider sheds stands the Knights' gift shop. The former 19th-century hay barn has rough-hewn wooden beams and a century-old potbelly stove in one corner that, according to Will, was salvaged from an old post-office railway car. The shop features the requisite assortment of arachnid-related paraphernalia, including spiderweb doormats, postcards and yellowed newspaper clippings of spider-themed "The Far Side" cartoons.
The shop's walls are lined with the farm's primary products: wooden plaques of various sizes, each with a delicate web sealed onto its surface. Because each web can make only one plaque, every one is unique, Will says. The smallest web plaques, which measure about 3 by 5 inches, sell for $20 apiece; larger ones run up to $100. The largest web Will has ever captured is about 10 by 16 inches, its plaque mounted near the front door of the shop.
"That's a big one, eh?" Will remarks. "Very difficult to collect — and impossible to sell."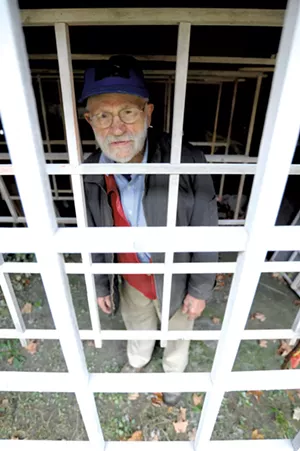 Jeb Wallace-brodeur
Will Knight
The Knights never imagined they'd earn a living from the more than two dozen species of indigenous spiders that call Vermont home. In the early 1970s, the couple was living with their four kids in the Bay Ridge section of Brooklyn, N.Y., when they took a family vacation to Maine, stopping near Rutland along the way. Terry and the kids were so taken with Vermont that they pressured Will to find work there.
Upon returning to Brooklyn, Will, who at the time was employed in real estate, found an ad placed by the State of Vermont seeking real estate appraisers to acquire land for the completion of Interstate 91 from Massachusetts to the Canadian border. He called the number.
"Strangely enough, the lady who answered the phone was from Brooklyn, too," he remembers. "She said, in so many words, 'You come up here, and if you're who you say you are, you'll get the job.'"
Will worked for the state for six years. But once the highway was finished, so was his job. The state promised him another position if one opened up, Will says, but nothing ever panned out.
"There was one opening in the toilet room at one of the rest stops on I-89," he recalls. "I wasn't interested."
For a time, the couple tried their hand at selling wooden cabinets made by Will, but they didn't find much success. In the meantime, the Knights began attending local craft fairs to earn extra cash. Will crafted objects out of wood, which Terry decorated by painting flowers on them.
"I was a frustrated artist," she recalls. "We had a thing going. Not a big moneymaker, but a thing."
One day, Will called Terry into his wood shop to point out a spiderweb that was covered in sawdust. He said to her, "Isn't that pretty?"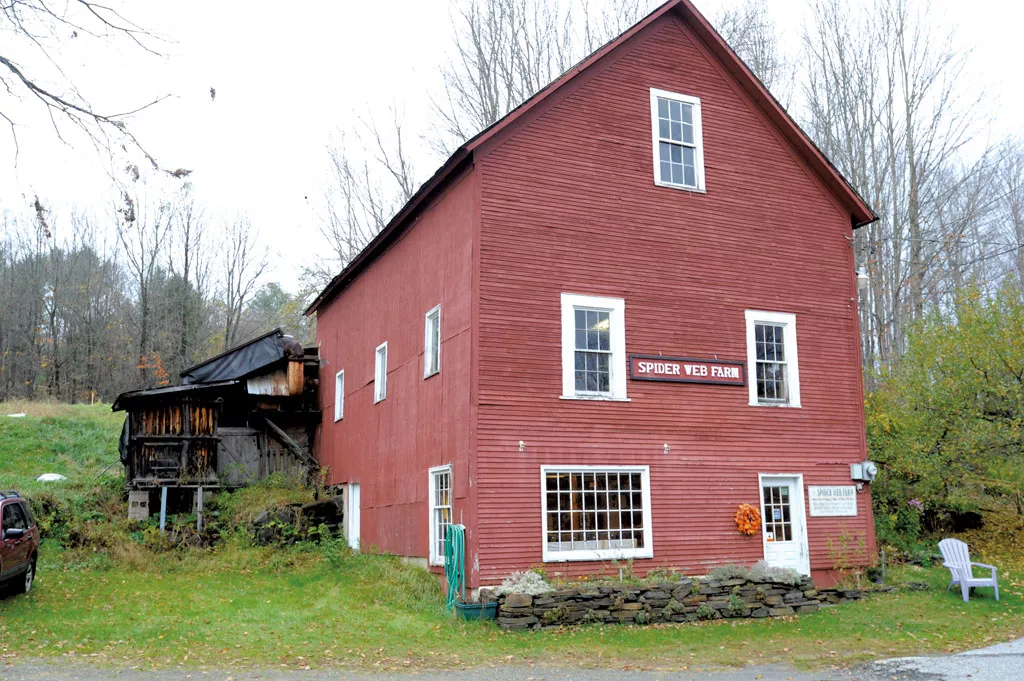 Terry agreed, the couple recalls. Then, while thumbing through craft magazines around the house, she read that spiderwebs could be collected and mounted on paper with hairspray. Using scrap wood from Will's wood shop, Terry started collecting webs from the house and porch. (The latter was so infested with spiders that she refused to sit there anymore.)
"We were always looking for that one thing that was going to hit the jackpot, because carrying the pieces around to craft fairs was very tiring," Terry recalls. "So, we found something."
Indeed they did. The same day the Knights first brought their spiderwebs to a Montpelier craft show, a reporter from WCAX-TV in Burlington featured them on the six o'clock news.
"That was before Faneuil Hall, before the 'Today' show and the New York Times," Terry recalls, referring to the growing interest their art has commanded over the years.
Will groans at Terry's mention of Faneuil Hall. Some time in the 1980s, he reports, two women from Boston's downtown shopping mecca approached the Knights about setting up a booth there. One of the Knights' daughters urged them to attend.
"We filled the car and sold over 300 webs in a week," Will recalls — more webs than they'd sold all year. "But, I'll tell you, I'd rather die than go through that again. I didn't sit down for seven days. It was a continuous line of people going by us at a snail's pace, and I just kept talking."
In the years since, the Knights and their cobweb creations have garnered the occasional flurry of print and TV coverage. Will pulls out a photocopy of a travel guide that recommends the farm, published in Israel and printed entirely in Hebrew. "Knight's Spider Web Farm" are the only English words on the page.
Along one wall of the gift shop hangs a faded map of the United States, with pushpins on places from which their many customers have traveled. Surrounding it, slips of paper list the homes of international tourists who've visited their shop: Amsterdam, Australia, Chile, Thailand, Singapore, the Philippines, South Africa.
Most visitors come during the spring and summer. "You'd think we'd get a lot of people around Halloween, but we don't," Terry notes.
"That's because all our spiders are all dead," Will grumbles.
Of course, not all visitors are enthused by the Knights' eight-legged workforce. Terry recalls one such arachnophobe who rode up with a group of motorcyclists.
"She never got off her motorcycle. She just sat there while everybody else came inside," Terry recalls. "I can respect that. I feel the same way about mice."
Thus far, the spiders have proved harmless to the Knights. Though they harvest three or four webs per day for about 100 days each year, neither has ever been bitten.
Nor has any member of their family, which includes grandchildren and great-grandchildren living all over the country, been bitten by a yen to take over the family "farm."
"There was a time when our youngest daughter was terribly embarrassed about what we do, when she was in high school," Terry says. "Now, whenever she comes to visit, she gets webs for her friends."
The Knights have a grandson and daughter-in-law who have learned to collect spiderwebs, but they now live in Hawaii, and, according to Will, the grandson would "rather watch footbal l."
With or without a succession plan, the Knights say they'll keep spinning their yarns as long as the spiders keep spinning their silk.
"Will gets talking, and people listen," Terry says. "With me, I try to give people some information about spiders — and tell them about some of the crazy things my husband does. But he's the one who seems to make the difference. Most people walk away happy. And most of them walk away with a spiderweb."
INFO
Knight's Spider Web Farm and Gift Shop, 124 Spider Web Farm Road, Williamstown. Open every weekend through Christmas, 9 a.m.-6 p.m. Free. 433-5568.