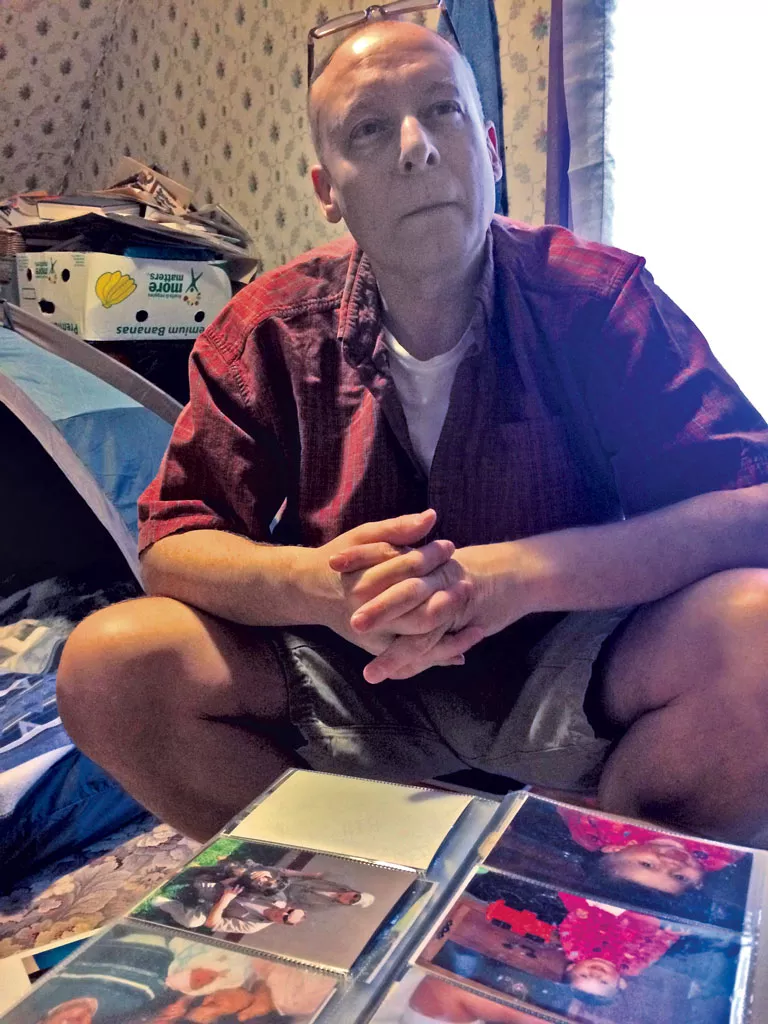 MArk Davis
Richard Laws in an acquaintance's home, where he lives out of a tent
One week after completing a 23-year prison sentence for a violent sexual assault, Richard Laws walked through downtown Burlington on a sun-drenched afternoon — a "free" man.
Major media outlets had covered his release on April 9, and television crews filmed a state van dropping him off in Vermont's largest city. In anticipation, police in Burlington and Winooski printed up flyers of his mug shot with the accompanying all-caps warning: "NOTIFICATION OF NON-COMPLIANT HIGH RISK SEX OFFENDER." In the ladies' room at Burlington City Hall, the notices were affixed to the backs of every bathroom stall door.
Out on the street, the occasional passerby appeared to recognize the tall and powerfully built 49-year-old. One woman glared at Laws as she walked past, and glanced back twice before ducking into a store.
Inside the Burlington Housing Authority headquarters on lower Main Street, Laws seemed to find a sympathetic ear. "I was released from prison 23 years ago ... I mean, I was just released," he stammered nervously to the female receptionist. Laws explained that he had been staying with friends in Barre since he got out of prison, but, fearing that his hosts would encounter backlash, he didn't think he should stay there for long.
"I'm trying to see if there's any programs I'm eligible for," he said.
In fact, the receptionist said, the housing agency has someone specifically tasked with helping recently released inmates. "Why were you incarcerated?" she asked.
"Aggravated assault ... rape and kidnapping," Laws answered.
She told him he could return the next day to set up an appointment. "Bring your Social Security card," she told him. She had one more question.
"Are you on the sex offender registry?" she asked. He nodded yes.
"Are you on the 10-year registry or the lifetime?" she asked.
"The lifetime," he said.
"Then we can't assist you, unfortunately," she answered abruptly. "If you were on the 10-year, we could."
"OK," Laws said quietly. "OK ... OK." He shuffled outside and headed up Main Street with no specific destination in mind.
There are 1,361 registered sex offenders in Vermont, and almost all of them were released from custody without fanfare or public notice. Many are required to be on the public sex-offender registry for 10 years. More serious offenders, such as Laws, are on it for life.
"I took a plea ... to put this behind me," Laws said on Church Street. "The registry didn't even exist then. It wasn't part of the deal. It's a second, third punishment. They say it's about public safety," he said, predicting he would likely end up homeless. "How does that help public safety?"
Since 2009, when the Vermont Department of Corrections drafted new rules, the release of every high-risk offender who skipped sex-offender treatment has been publicly announced. Laws is one of a handful to trigger a statewide media blitz.
Such offenders do not qualify for parole or early release: They serve every day of their maximum sentence. Once they're free, they don't get probation supervision. They are only required to provide their address and comply with registry rules.
The DOC says such notifications help keep the public safe from people over whom they have little control. Critics say the public and media attention make it all but impossible for those offenders to successfully reenter society.
"They make people homeless; that's often the endgame," Vermont prisoner's rights attorney Seth Lipschutz said. "In every era in humanity, there's somebody that the public loves to hate. It's been Jews, Catholics, African Americans ... when I was a kid it was communists and homosexuals. Now, in our politically correct society, there is no one we can hate except for terrorists and sex offenders."
Complicating this particular case, Laws says he should never have been labeled as "non-compliant, high risk." He insists that he tried to get into sex-offender treatment for years but was rejected, and supplied court and DOC documents to Seven Days to support his claims. He even filed a lawsuit — later dismissed on a technicality — that sought admittance to treatment programs.
Records also show that Laws had completed the two-day assessment to get into treatment, while DOC officials told the parole board that he had refused. A lawyer from the Vermont Attorney General's Office acknowledged the error in a 2008 letter, which stated Laws was "eligible to participate in rehabilitative programming." But Laws maintains the DOC still wouldn't treat him.
"This is a shell game," Laws said. "They say I refused to do my assessment. They wanted it in writing that I refused to program. I would not."
In an email, Commissioner of Corrections Andy Pallito declined to discuss Laws' treatment status, citing federal privacy laws. "I can say that Mr. Laws was given the same access to our programs as all people within our custody are given," Pallito wrote. "Each program that we run, however, has certain requirements that an individual has to adhere to for successful participation and completion. I will say that the overwhelming majority of people participate and complete these programs during their custody with the DOC."
The program, which takes several months to complete, involves both group and one-on-one counseling designed to prevent subjects from reoffending. Had Laws been treated, he might have been released early on parole and avoided public notification.
Laws also said that the DOC offered him early release if he'd abandon his initial plan to move to Washington County. "I hope you understand the publicity that will surround your scheduled release," DOC official Darryl Graham wrote to Laws in June 2013. "Just a thought, have you considered relocating in another county in Vermont or possibly to another state?"
DOC records portray Laws as having a troubled life: abused as a child growing up in Chittenden County towns, placed in foster care, later convicted of crimes including DUI, marijuana possession and simple assault. Although he held jobs sporadically as a dishwasher and builder, he also had problems related to alcohol.
Authorities paint a grisly picture of what happened on a June night in 1992. Laws, then 27, came on to a woman inside the Mad Mountain Tavern in Waitsfield, but she rebuffed his advances. Later that night, he punctured her tires. When she tried to drive home, she was forced to pull over down the road from the tavern. Laws, who had followed her, offered to help. He then raped her in his car and beat her with a tire iron, fracturing her skull to the point of near death.
In a plea agreement, Laws was sentenced to what amounted to 23 years. He served every day of all 23, the DOC says, because he refused to undergo sex-offender treatment.
Now on the outside, Laws faces multiple restrictions. To keep him from contacting the victim, who lives in the Mad River Valley, the towns of Warren, Waitsfield and Fayston obtained court orders barring Laws from crossing their borders.
Nearly a dozen businesses in downtown Barre, including bars, a candy store and a jewelry store, have taken out no-trespass orders against Laws. If he enters any of those establishments, he could be arrested.
Laws initially hoped to take the bus from Barre to Burlington to access treatment providers and social services. But a few days after his release, University of Vermont officials took out a no-trespass order banning him from campus, where the bus makes a stop.
Last week in an Addison County court, his former girlfriend and adult daughter took out restraining orders against him. His victim, too, has been in the news. In Waitsfield, Sue Russell spoke out at a community forum organized to support her. "I know the community has my back and has my family's back," she told WCAX-TV in a news report that blacked out her face. Even after 23 years, she said, she still looks over her shoulder. (Seven Days does not usually identify sexual assault victims, but Russell has allowed other news outlets to use her name.)
Back in Burlington, Police Chief Michael Schirling urged "general vigilance, not hyper-vigilance" in an email. "There are, unfortunately, many violent offenders in our communities. Some have served their time. Others have yet to be identified or caught ... Mindfulness about personal and community safety is the most important tool."
In addition to public scrutiny and no-trespass orders, Laws faces more mundane challenges related to being incarcerated since 1992.
Laws bought a cellphone with money left over from his prison account, but he had no idea how to use it. When a reporter had lunch with him at Panera, he wondered if the notification buzzer was a tracking device. Walking through downtown Burlington made him thirsty. In front of the Rite Aid, he pondered aloud, "You think they have drinks in there?" He was wondering if he could buy an RC Cola, a brand that was prevalent on grocery store shelves decades ago.
For now, Laws is living with friends in a dilapidated house not far from downtown Barre. The place is so grimy that Laws bought a $20 tent and pitched it in the spare bedroom. Inside the tent is an air mattress, a chest where he stores his legal papers, a lamp, a tin of biscotti and a half-empty jar of Nutella.
While in Barre, Laws says, he's homebound, fearful that someone will file a police report accusing him of wrongdoing. Laws said prison taught him to aggressively defend himself, which could get him in trouble on the outside. "If I feel threatened, I swing first," he said. "In prison, there's nowhere to run, there are no cops to call. It's an instinct I am trying to turn off. That's not going to work for me in public."
Laws occasionally takes day trips with his girlfriend, whom he met through a prison pen pal program. She lives in Winooski and needs oxygen because of a health problem. Two weekends ago, while driving in Franklin County, she fell ill, according to Laws, so he took the wheel. Someone had already called the police about the erratic driving on Route 105 in Sheldon. The cops stopped the car and charged Laws with driving with a suspended license. That case is pending.
Laws says he wants to get a job and an apartment in Burlington, where he can get help. A few days a week, his girlfriend drives him there so he can pick up his mail at the post office and meet with social service agencies, including the Champlain Valley Office of Economic Opportunity and the Howard Center.
There have been other acts of kindness, too, Laws said. He figured the police would be his "worst enemy," but said they've been exceedingly polite and helpful — they even set up the voicemail on his phone.
A few days after his release, Laws decided to get a haircut. He came upon a barbershop and was surprised to find a woman working alone inside. He didn't want to scare her, he said, nor did he want her to accuse him of doing anything wrong.
The barber later told Seven Days that she recognized Laws from media coverage. Her heart started racing, she recalled, but she cut his hair anyway, and they talked. He told her he'd been in prison. When another customer finally walked in, she said she felt a lot better.