Jeb Wallace-brodeur
The Reynolds House Inn in Barre
Barre may be known for its granite museum, opera house and sculpture-filled cemetery, but there's a new reason to visit: the Reynolds House Inn. On Main Street, just south of Dollar General and Aubuchon Hardware, sits the elegant, fully renovated mansion, surrounded by large trees.
The house was built as a single-family home in 1892 by George J. Reynolds, a leader in the Barre business community and founder of G.J. Reynolds & Son hardware supply store (now Reynolds & Son, an industrial solutions company). At the time, the 6,500-square-foot house was a showcase of modernity with electricity, hot and cold running water, two bathrooms, and a motorized dumbwaiter to hoist wet laundry up to the second-floor drying porch.
Members of the Reynolds family lived in the house until Reynolds' granddaughter, Cleora, passed away in 1995. Then the house was a bed-and-breakfast until 2014, when a fire gutted half of it. The house sat vacant until 2016, when Karen Lauzon, wife of developer and former mayor Thom Lauzon, bought it and invited Eric and Jeffrey Tuper-Giles to fulfill their lifelong dream of running an inn. The Lauzons own the building, and the Tuper-Giles couple own the business itself; the long restoration was a true collaborative effort by all parties.
Jeb Wallace-brodeur
Jeffrey and Eric Tuper-Giles at the Reynolds House Inn in Barre
Eric, the music director and organist at the Barre Congregational Church, and Jeffrey, a city councilor who formerly worked in IT, now run the inn full time. The couple spent six months cleaning out the house to get it ready for contractors, filling three dumpsters with old bedding, plaster and lath, and insulation.
"I never really saw the mess," said Jeffrey. "I always saw the beautiful parties I was going to have, and with every bag of trash I took out, I was one step closer."
After two years of renovation, the Reynolds House opened for business in May 2019. Eric and Jeffrey live upstairs in the back of the inn. "If we can't feel at home here, we can't make other people feel at home here," explained Jeffrey.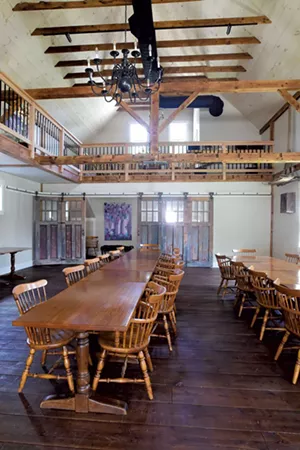 Jeb Wallace-brodeur
Cleora's Carriage House
Many Victorian homes were painted bright colors (called "painted ladies"), but the Reynolds House is a stately mustard. It has a curved front porch, a turret and intricate acorn-shaped shingles. Inside the dark front hall, with its burnished wooden floors and lush green walls, visitors can find a welcome respite from the heat of the day and the bustle of downtown Barre. Artfully placed details, including crocheted lace and peacock feathers, abound. The mauve parlor offers comfortable seating, a fireplace and birdseye-maple trim.
Complete with a library, music room and lounge, the house has the feeling of being inside a classic game of Clue — but without the fatal encounters.
Eric and Jeffrey have spent the last seven years collecting Victorian furniture, and the Reynolds House is filled with their finds. They regularly scour eBay and Craigslist, but their favorite source is Last Time Around in downtown Barre, whose co-owner, Terry Culver, they call "Vermont's secret."
In addition, Barre residents have begun donating china dishes, sets of encyclopedias and vintage glassware. The inn is becoming something of a local living museum, giving new life to old objects that might otherwise gather dust in an attic.
"It's still a work in progress," said Jeffrey, pointing to two paintings in the stairwell. "These went up just this week. But that's part of the fun; it takes time to collect things."
Each of the five guest rooms combines the best of the Victorian age — antique wooden bed frames, polished armoires, marble-topped dressers — with modern-day comforts, including fully updated bathrooms and air conditioning.
Jeb Wallace-brodeur
The music room and lounge
The two innkeepers do everything, including the cooking and cleaning. Their meticulous attention to detail is evident in the ironed pillowcases and tidy stacks of folded towels in the linen closet. Guests can expect a different home-cooked breakfast every morning, from stuffed French toast to omelettes to fruit salad made with local honey.
"It's a lot of work running a bed-and-breakfast," admitted Eric. "But it's also really rewarding, because our job is to make a home. We meet people who we may not ever see again, but we make a connection."
The deep quiet inside the Reynolds House is striking. The large curved windows shut out the sound of local traffic, but the restful silence also derives from the absence of all screens, including TVs. When families stay — such as one that recently rented the entire inn to celebrate a 65th wedding anniversary — they converse and play board games.
"We've had so many people thank us for not having TVs," noted Eric. In fact, that anniversary party had never been able to eat all together at one table until their dinner at the inn, cooked by Eric and Jeffrey.
The Reynolds House's tagline is "the place to have people over," and that means more than individual guests. The inn also offers two event spaces — the music room and lounge for small parties and the renovated carriage barn, called Cleora's, for large events.
Jeb Wallace-brodeur
The Miranda room, featuring a rounded tower section
The carriage barn bore the brunt of the 2014 fire, which burned rafters and destroyed windows. Contractors sandblasted the original beams, installed new windows and sprayed in foam insulation. Now Cleora's is a bright and airy two-story space with original hemlock floors and a high ceiling that opens up to the cupola. The flexible layout and close proximity to the commercial kitchen mean it can easily accommodate corporate retreats, large family gatherings and special occasion parties. This winter, Eric and Jeffrey plan to work with local chefs and wine distributors to host pop-up events.
The couple assumed that restoring the Reynolds House would appeal to Barre's older generations, but they've been surprised by how much the younger community has embraced it, as well. "They've grown up here and want Barre to have nice things, too, so they don't have to go to Stowe or Montpelier for an event," said Eric. "We aren't marketing to nationwide tourism. We wanted to do something for Barre."
Recently, they installed a light in the cupola of the carriage barn. "People commented how nice it was to see a light [there] again," said Eric.
The Reynolds House is now a symbol of Barre's past that offers a chance to slow down for conversation and home-cooked meals. Guests relax in wicker furniture on the wide front porch, walk downtown for dinner and perhaps stroll back with creemees, enjoying a quintessential summer night in a small Vermont town.