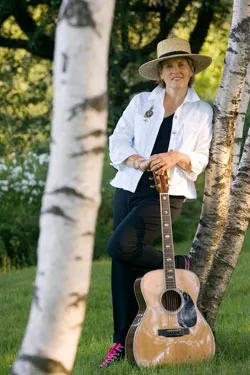 Singer Linda Radtke was sifting through the Vermont Historical Society's collection of Vermont songs in Barre — about 1800 pieces, dating back to 1798 — when one caught her eye. "Forward Together" was written by a Richford-born woman named Arwin F.B.G. Sexauer for the state celebration of the U.S. Bicentennial in 1976.
It was the only song by Sexauer the Society had. But at the back of the manuscript, Radtke — an alto soloist from Middlesex and a founding member of the choral group Counterpoint — discovered a startling collection of newspaper clippings about Sexauer's achievements dating from the Cold War. They described the warm responses of kings, queens and heads of state all over the world to songs about peace Sexauer had mailed them from her home in Montpelier. Primarily a poet, she had written the lyrics; her second husband, John Garellick, a composer and disabled World War II veteran, set them to music.
In one clipping, says Radtke, "The King of Thailand — the same king they have now — called Washington and had the ambassador fly a private plane into Montpelier airport" to present Sexauer and Garellick with a thank-you gift. Anwar Sadat of Egypt sent an Arabic lute; Israel's Golda Meir sent a shofar (an instrument made from the horn of a ram); and letters came in from six American presidents and the rulers of Korea, Afghanistan and the Philippines, among others.
Intrigued, Radtke tracked down Sexauer's sister in Enosburg and daughter in Rhode Island. The two women shared boxes filled with more than 100 songs their relative had written over her lifetime (1921-1992). Sexauer and Garellick, it turned out, had sent abroad more than 60 original peace songs over 22 years.
To honor this nearly forgotten Vermont peace crusader, Radtke created a narrative concert interweaving Sexauer's songs and life story, which she first performed as part of a concert in Montpelier last August on what would have been Sexauer's 87th birthday. This Sunday she'll reprise that performance, accompanied by pianist John Lincoln and joined by singer-songwriter Elisabeth von Trapp, who will sing her own songs about peace. The concert is co-sponsored by the Vermont Humanities Council and the Vermont Women's History Project, an initiative of the Vermont Commission on Women. According to VWHP Director Judith Irving, the performance is part of the Project's effort to sponsor events beyond Women's History Month in March — and, she says, "It's a wonderful opportunity to bring some fantastic performers together."
Von Trapp of Waitsfield, granddaughter of the couple fictionalized in The Sound of Music and another musician with a lifelong interest in promoting peace, has what she describes as a "serendipitous" connection to Sexauer. In the mid-1980s, she visited the Soviet Union to perform with Project Harmony, a musical and cultural youth exchange program initiated during the Cold War by teachers at Harwood Union High School. During one concert in Siberia — "the furthest from home I had ever been," von Trapp recalls — she performed a haiku she had set to music. When she received Radtke's copies of Sexauer's music a few months ago, von Trapp discovered that very same haiku at the top of one of the songs. Sexauer had jotted it down there as an introduction to her song about peace.
The concert will take place, appropriately, in a little-known but longstanding and prestigious private women's club in Burlington, the Klifa Club. Von Trapp arranged for the venue through her friend, club member Rae Worthen. Radtke relates that Eleanor Roosevelt was once an invited speaker. Rarely open to the public, the club will host a wine-and-cheese reception after the concert.
Radtke says there is much to learn from Sexauer — a farm girl who never finished school but became an "idealist and a self-made woman," who reared two children and outlived three husbands. "What I love about her is that she worked from her little corner of Vermont to bring about peace," says the singer. "And she really felt that if people all put their minds to peace, it would really happen. It's a great lesson: to not just say, 'I'm not important enough, I can't change things.'"
And singing, Radtke adds, "is a way for people to come together. It's not a small thing; it gives people idealism."