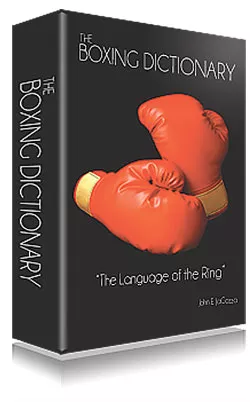 The language of sports has a long tradition of influencing the popular lexicon. From baseball we appropriate terms such as "strike out" and "hit a home run" to describe, respectively, failure and success. Racing, in its various forms, gives us the notion of "crossing the finish line" to describe reaching a goal. Did that hot date go especially well? Congrats on "scoring," dude. Or perhaps you overdid it with the cologne and went home alone. Way to "drop the ball."
In his new book The Boxing Dictionary, first-time Vermont author Dave Kolok outlines in painstaking detail the colorful "language of the ring." Written under the pen name John E. JaGozza, Kolok's heavyweight tome — it's essentially a nearly 400-page glossary — offers a blow-by-blow account of sweet science slang and pugilistic parlance that could be a handy reference for veteran boxing fans. It could also be a guide for newbies to the sport. Like, for instance, Kolok's wife.
Kolok, 62, began compiling what would become the book's first entries 15 years ago. Newly married at the time, he was attempting to introduce his blushing bride to boxing, for which he had developed a passion as a kid growing up in Westchester County, N.Y. That was thanks to his dad, who was a boxer in the Navy.
"She agreed to watch some fights with me and was able to understand what was happening," says Kolok, who works as a substance-abuse counselor, in a recent interview at his Jericho home. "But she had a hard time understanding what the hell the announcers were talking about."
So Kolok wrote down a few key terms and their definitions. As the couple watched more fights over the years, that list grew and grew, from 40 to 400 to the more than 4000 entries his book comprises.
Kolok's labor of love was indeed laborious. But the result is a one-of-a-kind look at a sports vernacular that has infiltrated the common tongue with terms such as "knockout" and "on the ropes" — and, of course, encompasses hundreds of other pieces of jargon likely to be mysterious to the uninitiated.
"The language of boxing is fascinating," Kolok says. "I hope this book helps more people appreciate just how rich it is."
"The Boxing Dictionary" by John E. JaGozza, Cow Pie Press, 397 pages. $19.95. Available at boxingdictionary.com and Phoenix Books Burlington.