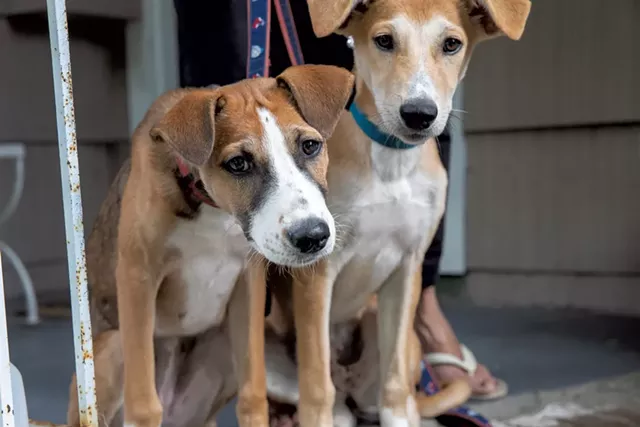 James Buck
Asha and Zayda, two of the Saudi dogs
Two months before Annie Viets moved back to the U.S. after six and a half years in the Kingdom of Saudi Arabia, she found herself with a problem. She had to find homes for a litter of desert puppies that she and her colleague at Prince Mohammad bin Fahd University had rescued in May.
"It was actually my friend's idea," said Viets during a recent interview at her home in Burlington. "She said, 'We have to get them.' I was not the initiator of this fiasco."
Stray animals are generally considered a nuisance in Saudi Arabia. Saudis tend not to neuter their pets and to abandon kittens and puppies, adding to a stray population that is sometimes controlled by methods such as poisoning, Viets said.
The puppies she rescued from her campus grounds were desert dogs, salukis that have interbred with abandoned or runaway domestic dogs. These feral dogs run in packs on the outskirts of cities or near oil refineries, said Viets; some farmers rear them as watchdogs but not as pets.
Viets cared for the puppies while she screened potential adoptive families. But finding forever homes for the canines in Saudi Arabia proved difficult. While most Islamic scholars discourage rearing dogs as pets, some Saudis do so, but they inevitably choose toy dogs, she said.
"One guy wanted a puppy that wasn't going to scare his wife," recalled Viets. Another wanted to know how many puppies he could take. That alarmed her, because some expat communities consume dog meat.
As her departure date loomed, Viets found a home for just one puppy. There were no animal shelters to take in the remaining seven. Pet abandonment is already a huge problem in the Kingdom, especially during the summer as expat families leave for their vacations.
Viets realized her best bet was to find homes for the rest of the litter in North America. "At this point, I'm not eating. I'm not sleeping. I'm obsessed," she recalled. "I can't think about or do anything besides try to get these puppies out of there."
Before she became entangled in finding homes for the puppies, Viets was already feeding and caring for stray cats near her home on the Al Bilad compound in the city of Al Khobar.
A former associate professor at SIT Graduate Institute in Brattleboro, Viets relocated to Saudi Arabia in 2012 to teach entrepreneurship and business strategies to female students at Prince Mohammad bin Fahd University. An avid traveler who grew up in Ghana, she attended the University of Vermont and worked in New Zealand. She went to Saudi Arabia with an open mind, Viets said.
But the state of animal welfare in the Kingdom shocked her. The first morning Viets walked out of her apartment, she saw all the open dumpsters crawling with emaciated cats and kittens. She began feeding the ones near her home, unsure if she was doing the right thing.
"But I couldn't not feed them, because they were starving," said Viets. She also began catching the felines and taking them to a vet for spaying and neutering. "That was what started my career as the 'Cat Lady on Al Bilad.'"
Viets estimated that she brought 60 cats and kittens to the vet in three years. A community-based and volunteer-run group, the People's Animal Welfare Society Eastern Province, paid for neutering; Viets paid the cats' taxi fares. As a result, no more kittens were born in the Al Bilad compound.
Though the Kingdom has a number of veterinary clinics and pet shops, it has no permanent animal shelters, said PAWS EP member Linda Cattermole. Instead, volunteers like Cattermole turn their homes into temporary refuges.
Animal rescue remains an initiative driven by the expat community in Saudi Arabia, Cattermole continued. Because that population is transient, PAWS EP's membership fluctuates, leaving those who remain feeling burnt out. "It is becoming increasingly difficult to find volunteers," said Cattermole.
While the expat community spearheads animal rescue efforts, it's also the group most responsible for abandoning pets. There's "absolutely no excuse for it," given the availability of boarding services and independent pet sitters, said Cattermole. "I have a number of surrendered pets in my care, and, sadly, some people choose to euthanize [their pets] as homes cannot be found."
James Buck
Annie Viets holding one of her rescue cats
It didn't take long for Viets to become attached to some of the cats she cared for. Every summer when she flew back to the U.S., she brought a few with her. "My daughter has the same 'disease,'" said Viets, "'cause, as she was growing up, she was always coming home with animals, usually cats."
Sadeeqa was the first cat Viets adopted. Named after the Arabic word for "female friend," the cat had been abandoned and left to die under the sun. Sweetie Pie meowed outside Viets' apartment and refused to leave. There's also Stevie, the blind cat, and Fluff Fluff, a Persian cat whose owner never came back for it.
Bringing the cats to the U.S. was relatively easy, Viets said. Vaccinated against rabies and caged, they flew as excess baggage for between $300 and $500 each. Viets hired a housesitter to care for the animals in Vermont while she worked in Saudi Arabia.
Bringing the puppies to North America proved more arduous, especially because Viets had to leave the Kingdom within 60 days after receiving her final exit visa. The period coincided with the Islamic fasting month of Ramadan — "a crazy time to get anything done" because government offices had reduced working hours, said Viets.
An acquaintance who had agreed to be a flight companion for three puppies backed out at the last minute. Viets delayed her flight after learning that the puppies had to be at least 4 months old to enter the U.S. Their young age caused further problems with airline and vaccination requirements. By this time, Viets had agreed to transport another young abandoned dog.
At last, Viets found two people who were willing to take five dogs with them to Canada and the U.S. She emailed everyone in her compound, offering anyone who would transport the remaining three puppies a free round-trip ticket to Montréal and a week's vacation in Burlington. Viets had already booked her own flight with Emirates, which allowed her to take four cats.
"By hook or by crook, I was going to get those puppies to North America and to their homes," said Viets, "but I wasn't going to compromise my cats. They were coming."
According to Cattermole, exporting rescued animals out of the Kingdom offers the best prospect for the animals' well-being. Some are picked up by their new families, while others go to animal shelters.
Ads for animal travel buddies are a common sight on animal welfare Facebook pages such as one titled Bring Them With You — Export Pets From KSA to USA and Canada. "We will do all the paperwork, pay all expenses for the animal, and bring them to the airport," wrote one user.
But the best solution is to encourage expats to adopt and bring home their animals when they leave the Kingdom, noted Cattermole. "We try and home as many as we can and are very happy a number of PAWS EP [rescues] now call [the] UK, Europe, USA, Canada, Australia and New Zealand home."
In July, Viets felt relief as she drove to Montréal to pick up the last two puppies and the young dog. "Given everything that I went through to get them here, you would think I was importing the crown jewels," said Viets, "not seven puppies that probably would have been exterminated."
In total, Viets spent about $7,000 in vet bills and transportation fees to bring the seven puppies and a dog to Canada and the U.S. A fundraiser defrayed some of the costs, she said, and she charges adoption fees.
Though she had to endure about three months of stress, Viets said she doesn't regret her rescue mission. Finding new homes for the animals is its own reward, she said.
Thus far, Viets has found families for five puppies and the young dog. Among the locals who showed up at her house to meet the rescued pups were Katherine Bartlett and her husband of Fort Drum, N.Y., joining her father-in-law and brother-in-law from Rutland. Her brother-in-law had been seeking a dog for a while, Bartlett said, but hadn't found the right fit.
"After searching on Facebook, we saw a post about [the puppies] and were of course interested in their story," said Bartlett. She ended up falling in love with one of the puppies, and the two families left Viets' house with a puppy each.
Burlington resident Kori Gargano, a friend of Viets' daughter, adopted the young dog. "I had been looking to adopt a dog for a couple months through local rescues," she said, "but it wasn't until I met Juniper that I was ready to take one home."
Viets is still looking to place one of the puppies and is keeping the last for herself. "The outcome has exceeded my expectation," she said. "People in Vermont actually love those dogs."