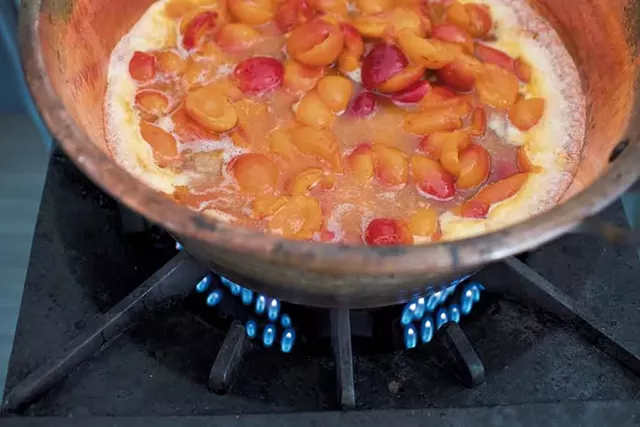 Caleb Kenna
Apricots, honey and lemon from V Smiley Preserves
"Growing up, it was our job to fill the pantry," V Smiley said on a recent tour of her childhood home in New Haven. A wall held glass jars of pantry staples, while a woodstove burned against the misty chill of a late-summer morning. It all evoked a bygone era, perhaps the early 1800s, when the oldest parts of this farmhouse were built.
"Mostly, I grew up sitting on a box by the woodstove. We didn't get central heat until I was 13," Smiley, 35, continued. "My parents were trying to do the subsistence thing."
In 2015, Smiley returned to live on her family's farm with her partner, Amy Johnson. She'd spent a dozen years away from Vermont, including seven cooking professionally on the West Coast, working in Seattle for James Beard Foundation Award-winning chefs such as Renee Erickson and Matt Dillon.
Coming back to Vermont had been Smiley's goal since her early twenties. "It was kind of unfinished business," she said. "I saw a thirst in myself. I needed to be back here."
But the way home wasn't a straight shot. Her journey involved the death of a parent, the birth of an award-winning food business and finding a life partner who supported her dreams.
When Smiley finally made it home to New Haven, she brought with her both Johnson, who farms, and V Smiley Preserves, the enterprise she had launched in Seattle. "I've been intentionally gathering skills in order to get back to the land," she said. "I started this because I knew we were moving back and Amy would be growing stuff for me ... I want the farm to be the engine behind the business."
V Smiley Preserves are not your grandmother's jams. Among her dozens of seasonal offerings are: raspberry, red-currant and geranium jam; pear, sage and lemon marmalade with lavender and white peppercorn; and a tomato jam that packs warm, smoky heat from three kinds of chile peppers. That last one won a 2019 Good Food Award, Smiley's first in the prestigious national competition.
Smiley's preserves deliver a kaleidoscopic fusion of tastes and textures. They are sophisticated with subtle sweetness; fruits and aromatics dance together, often in unexpected pairings.
You can slather them on toast, but they also take plain yogurt and sandwiches to a celestial level, swirl beautifully into pan sauces and partner exceptionally well with cheese. Smiley suggested, for instance, pairing the nectarine-lemon with bee balm and lemongrass with bloomy-rinded, creamy cow cheeses such as von Trapp Farmstead's Mt. Alice.
Her approach stands out in other ways. Smiley uses no added pectin and sweetens her preserves with honey alone instead of sugar. That's not cheap: She estimates that the almost 4,000 pounds of honey she will buy this year from beekeeper Kirk Webster of New Haven cost more than six times the price of refined sugar. Still, she described using Webster's honey as "the most exciting thing."
Some of the fruits, herbs and flowers in her preserves come from the 150-acre New Haven farm that Smiley's back-to-the-lander parents bought in 1972. She sources many of the remaining ingredients from Vermont and New York.
The transition from Seattle to Vermont has meant a partial shift to fruits that grow better in the Northeast. "I love elderberries for their deep, dark, winey flavor," Smiley said, clipping berries from large bushes near the farmhouse. "There's something so homey tasting about them; it really draws out the nostalgia." She uses both the flowers and fruits in combinations such as: apricot, yarrow, plum and elderflower; elderberry-plum; and gooseberry, grapefruit, elderberry and white pepper.
White pepper is another of her unique ingredients. "It elongates the flavors," she explained. "I can tell my time in restaurants influenced me. I think of building a jam flavor like building a dish."
A short drive down the road from the farmhouse, Smiley navigated a tangle of thriving plants in what she calls "Amy's garden." Johnson is inspired by pioneering Japanese farmer Masanobu Fukuoka, known for his 1975 book The One-Straw Revolution: An Introduction to Natural Farming. "It's about how little intervention you can take in growing food," Smiley said.
The tomato jam award was particularly gratifying because Johnson grew all the tomatoes. "It was so sweet to win for that, because it was a collaboration between us," Smiley said. "When Amy brings me what she's grown, there's nothing better."
In addition to heirloom tomatoes, currants, gooseberries and jostaberries, the garden contained scented geraniums — rose, orange and lemon — and herbs such as sage, lavender, rosemary and thyme. "I love the herb garden; I build flavors around it," Smiley said.
A variety of Agastache called Tutti Frutti is "my secret weapon," she added, handing over a few tiny purple blooms. "It sweetens like vanilla but doesn't truncate the other flavors." Some aromatics go into the jam pot at the beginning; others, like yarrow, are reamed against the side of the pot at the end of cooking.
As she prepared to leave the garden, Smiley gestured to the far edge of the property and said, "Dad is planted under that maple."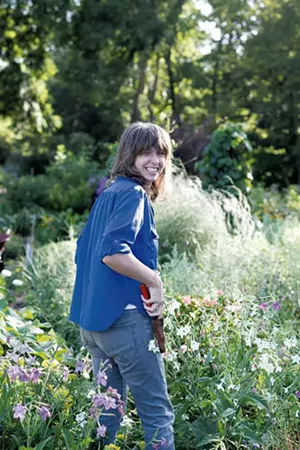 Caleb Kenna
V Smiley
Smiley's parents ran an Angus beef and market garden operation. She and her three siblings contributed countless hours of work, which she does not always remember fondly.
Their mother, Susan Smiley, traveled for her off-farm job; Jerry Smiley homeschooled the kids until they went to Catholic school in Burlington. "He was the stay-at-home parent, very critical and super-involved," Smiley said. "Dad was the boss."
By the age of 13, Smiley knew she was queer; she also knew she couldn't tell her parents. Her father was, in his daughter's words, "intensely homophobic" — in reaction, she suspects, to his own mother's coming out later in life.
When Smiley finally shared the truth with her parents, at age 20, her father wrote her a 10-page letter that essentially said, "You're dead to me," she recalled. She didn't talk to her parents for more than two years afterward — although, she said, her mother tried to keep in touch.
After graduating from college with a degree in art history and writing, Smiley headed to Los Angeles to work in the arts. A couple years in, "I was pretty disgusted with the art world," she said. "I was struggling a lot in LA. That city was eating me alive."
But she had no idea what she wanted to do or where she wanted to be instead. "It was fucking terrifying," she admitted.
Smiley turned to something that she did remember warmly from her Vermont childhood: cooking. "I just needed to do this thing where I made food for people," she said. "I needed something really tangible. I was always cooking for my friends." At one dinner party, she served blue cheese-stuffed eggs and fennel-pear soup. Among the guests were the owners of a restaurant, who ended up offering her a prep cook position.
Ironically, as she started her culinary career, Smiley was experiencing serious gut health issues. "I thought the city was making me sick," she said. She ended up on Whidbey Island, near Seattle, cooking at an arts residency, then moved on to a coffee roastery and restaurant. There she met Johnson, who was learning to farm at the time.
"We bonded over scones and hot sauce," Smiley said with a chuckle. "She ate scones and hot sauce together."
The couple moved to Seattle, where Smiley spent several years working at two of the city's highly regarded restaurants: Renee Erickson's the Whale Wins and Matt Dillon's Sitka & Spruce.
But she was still figuring out how to get home to Vermont.
While working for Dillon, Smiley spent a day each week on food preservation projects. That planted the idea to start a jam company.
There was just one problem: For her health, she had eliminated all refined sugar. "I thought, I can't do this. I'm going to start a jam company using sugar, and I won't be able to eat it. I have to make something I love and crave," she said. "I was around cooks who cooked from their own hunger. One way to make great food is to cook what you crave."
Honey was Smiley's go-to sweetener, but conventional wisdom held that it could not be used reliably in jams or other preserves. The Seattle Public Library came to her rescue with a 1979 book called Putting It Up With Honey: A Natural Foods Canning and Preserving Cookbook by Susann Geiskopf-Hadler. "It was like a little hand on my shoulder saying it was OK," Smiley recalled.
In 2012, Jerry Smiley died. V Smiley Preserves launched in 2013; two years later, the couple moved back to Vermont and into the old family farmhouse with Susan Smiley. "Mom had really tried to maintain contact," Smiley said. "She would send me beautiful Mason jars, honey-sweetened cookies. She was excited about us coming. She was planting fruit for us."
Smiley's journey continues. In late August of this year, she moved her business offices out of the farmhouse into a space in Bristol. She already cooks and jars her products in a shared commercial kitchen called Tandem on the town's Main Street. Last year, she produced 26,000 jars of preserves by herself with just three months of holiday help from one person. This year, she expects her business to grow by 25 percent.
At Tandem, Smiley set four copper pans over heat for one of her simplest jams. Apricots from New York had been macerating with lemon juice and Vermont honey overnight, which helps generate juice and improves the final texture, she explained. The fruit glowed almost the same shade as the cooking vessels.
Smiley sells about 60 percent of her product wholesale to retail accounts, mostly on the coasts. E-commerce and the year-round Burlington Farmers Market make up the remainder; she hopes to ramp up direct sales, which improve her bottom line.
She also hopes to launch a café project in late winter out of Tandem. All day, on weekends only, she'll serve honey-­sweetened, grain-free baked goods, coffee, toast, yogurt and cheeseboards with preserves; evenings will bring vegetable-focused sit-down dinners with simple meats.
"I've been home long enough to see where there are needs in the community and [to] pivot back to cooking," Smiley said. "I started the farm business to cook for people."
Tips for Making Your Own Preserves From V Smiley
Make small batches: about two pounds of fruit.
If using honey and not adding pectin, replace 2/3 to 3/4 the weight of sugar in the recipe with honey, depending on sweetness desired.
Use a shallow pan to allow for quicker evaporation.
"Don't worry about the foam," said V Smiley.
"Stop stirring; your job is just to prevent sticking," she added.
Recommended references: The Blue Chair Jam Cookbook by Rachel Saunders and Putting It Up With Honey: A Natural Foods Canning and Preserving Cookbook by Susann Geiskopf-Hadler.