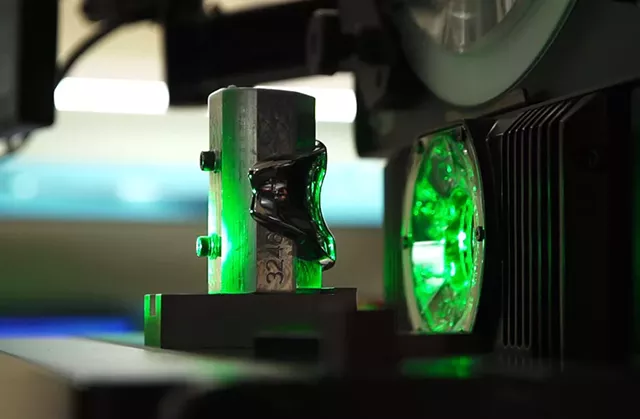 At 10:27 a.m. in an operating room at Copley Hospital in Morrisville, Dr. Bryan Huber begins surgery by drawing a thick purple line down the leg of his sedated patient. After checking to make sure the tourniquet is cinched around the patient's thigh, Huber cuts a deep incision along the line, opening her flesh like an unfolded wallet.
Many of the instruments arranged neatly beside him resemble woodworking tools: saws, mallets, clamps, pliers, drills and bits of various lengths and diameters. But others are high-tech tools, including white nylon jigs and inserts that were custom-made on a 3D printer for this patient alone.
"If this were an off-the-shelf [knee] implant, there'd be five more toolboxes on that table, because you never know what you're going to need," says Tom O'Malley, a representative with ConforMIS. The Bedford, Mass.-based medical technology company pioneered the use of 3D-printing technology to create a customized joint replacement system called iTotal. O'Malley agreed to provide a play-by-play explanation of the operation to demonstrate how it differs from conventional knee replacement.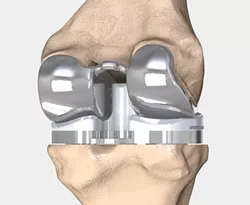 Huber, an orthopedic surgeon with Mansfield Orthopaedics in Morrisville, and his partner, Dr. Brian Aros, are currently the only doctors in Vermont performing this cutting-edge procedure.* Since he started using iTotal four years ago, he says it's revolutionized his practice by vastly improving the results he can produce. The procedure is drawing patients from around the country to get their knees replaced in this remote community hospital in Lamoille County.*
As Huber explained before we entered surgery, the iTotal technology replaces "one-size-fits-all" artificial knees, which he used for years, with implants that re-create the patient's own healthy anatomy. Because customized implants fit better, patients experience less pain, heal and return to normal activities more quickly, and enjoy greater mobility and functionality.
Ten minutes into the procedure, a nurse removes the shrink-wrap from a metallic object the size of a baseball. The shiny, curved cobalt-chromium implant resembles a chunk of Terminator cyborg. In fact, it's an almost-exact replica of the patient's knee, anatomically accurate to within a 10th of a millimeter.
The sixtysomething patient's knee had worn out prematurely as a result of her weight. Two months earlier, she'd visited Huber's Morrisville office for a CT scan. The digital image of her knee was uploaded to ConforMIS, which made the implant on a 3D printer, along with the 50 to 60 medical instruments used during the surgery.
Within 15 minutes of the first incision, Huber has removed the patient's patella. Next, he positions a white nylon jig that has pre-machined grooves and holes showing him exactly where to saw and drill. In all, Huber will use six such jigs in a predetermined order, then insert a trial implant before he cements the permanent metal parts in place. The trial allows Huber to flex and extend the knee while the surgery is still under way, ensuring a correct fit.
"The alignment is so critical when you put in a knee," O'Malley explains. "Just think of the first set of tires you ever bought, and you said, 'I don't need to align and balance them.' How long did they last?"
Periodically, Huber reviews a checklist to ensure that all his measurements are accurate; just as in a woodshop, he measures twice and cuts once. When a section of tibia protrudes a fraction of a millimeter too far, Huber "manicures" the bone with a flat saw, producing a high whine and tiny puffs of smoke. Observing this procedure is not for the squeamish.
By 11:10, Huber has made all the necessary cuts and holes, and he asks the nurse to mix the cement that will hold the implant in place. Because the six-member surgical team works together so often, Huber rarely has to ask for anything. As in a well-rehearsed dance routine, he just holds out his hand and someone delivers the instrument he needs.
Huber washes the knee capsule with saline and dries it with compressed air, leaving an exposed bone surface that resembles coral. He coats the surface with white cement, dispensed from what looks like a caulking gun, then hammers the artificial tibial plate into place with a mallet.
Once all the implants are seated, Huber puts in a poly insert, which O'Malley likens to a carpentry shim. Because the precise measurements have been done in advance, it snaps neatly into position with an audible click. At 11:22, Huber sprays the inside of the knee with a local anesthetic, then leaves his team to close up the incision.
A nurse beside me points out that this patient will be walking by 5 p.m. Glancing at the clock, I realize that the entire operation took less than an hour. I've spent more time in a dentist's chair getting a filling.
Between this surgery and the next, Huber grabs a quick lunch in the cafeteria. On this particular Monday, which he calls "a light day," he has three surgeries scheduled. Typically, he does four or five knee replacements a day, two or three days a week. While this one seemed quick, Huber points out that the morning's previous surgery was actually 15 minutes faster.
That speediness isn't what brings patients from near and far to Copley for knee replacements, though. They come for the outcomes.
Studies have shown that one in five patients isn't satisfied with their conventional knee replacement, Huber says. Conventional implants, which he likens to "a hinge you'd buy at a hardware store," are made to fit all patients, regardless of anatomy. As a consequence, Huber says, two-thirds of implants are too big or too small, causing chronic pain, stiffness and limited mobility.
When ConforMIS introduced its customized knee implant about five years ago, Huber, who served on the company's scientific advisory board, became one of the technology's earliest adopters. He shrugs off the suggestion that he's promoting this product for revenue, noting that he's on salary at Copley and gets the same pay whether he does five knee replacements a year or 500.
"This technology has always made sense to me," he adds. "Why would you want to put something in the knee that's not anatomic?"
Huber's patients range from young athletes who've blown out their knees to septuagenarians who suffer from advanced arthritis. His "niche," he says, is the middle-aged athlete who's already tried conservative, less-invasive knee remedies such as modified activities, anti-inflammatory drugs, injections, physical therapy and weight loss.
For many, he says, the nonoperative interventions stop working, and their knee function dips below an acceptable level. They can't ski, snowboard or play tennis anymore; it may be painful just getting out of bed. When their quality of life diminishes to the point where constant pain keeps them grumpy and miserable, patients are ready to accept the modest risks associated with surgery.
One of the advantages of the customized knee implant, Huber says, is reduced blood loss. It also allows him to preserve 25 to 30 percent more bone, which is especially important to younger patients who may need another implant later in life.
Postoperative recovery is also much faster, he says. Typically, Huber's patients leave the hospital within 24 to 48 hours; conventional surgeries require longer stays. Huber directs all his patients to use a CPM (continuous passive motion) machine, which exercises the knee and slowly increases its flexibility. As a result, fewer than 5 percent of his knee-replacement patients require physical rehabilitation.* After six months, 95 percent of Huber's patients report that their knee feels normal "sometimes" or "all the time."
"We had a lady from Vermont who came back in a month and did a century [bicycle] ride — 100 miles," Huber says. While he doesn't promise comparable results — generally, full recovery takes a year — Huber has routinely seen patients return to skiing and snowboarding in three months or less. That's particularly important to the many elite athletes he treats, who are eager to return to competition.
Fifty-year-old Huber is no stranger to competitive sports himself. A native of Lancaster, Pa., he played soccer, rugby and water polo in college and has been an avid snowboarder for years.
Huber first moved to Vermont in 1988 to attend the University of Vermont College of Medicine. After completing his residency there, he took a research fellowship at the Hospital for Special Surgery in New York City. Afterward, he needed to "pay the Navy back" for a scholarship and served four years in Spain.
"It was an amazing life experience, professionally and personally," he recalls. While overseas, Huber became a doctor for the Navy's World Class Athlete Program, traveling around Europe with the Navy SEALs and other elite military athletes. He also cared for athletes on other national teams that didn't have their own physicians on staff. Here in Vermont, where he returned in 2001, Huber serves as the team doctor for both the Burton and the U.S. Snowboarding teams.
At least once a month, Huber travels around the country teaching the iTotal procedure to other surgeons. In October, he was in Chicago; in November, Dallas; in December, Tampa.
Demand for the technology is growing. About 600,000 knee replacements are currently performed in the United States each year. As baby boomers age, that figure is expected to rise to a million knee replacements per year within a decade.
Baby boomers in particular have very different attitudes about remaining active later in life than did their parents' generation, Huber says. Today, his patients aren't willing to give up their favorite activities and walk with a cane, for example.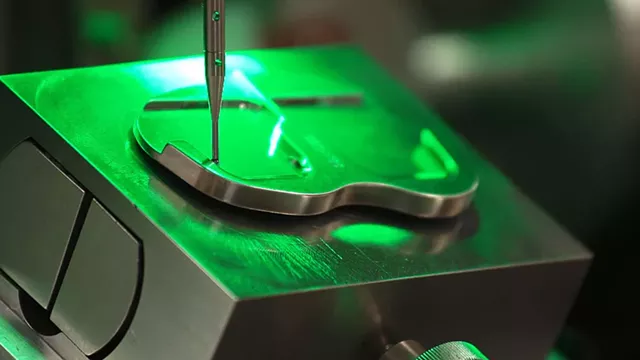 "We also know that knee and hip replacements are very valuable societally from a financial standpoint," he says. In other words, the longer people remain physically active, the healthier they stay, thereby delaying age-related hospitalizations and nursing-home admissions.
"The 56-year-old guy is similar to the 26-year-old guy," Huber says. "They're both trying to stay active and healthy and keep doing their thing."
One Vermonter who's intent on still "doing his thing" is Burlington entrepreneur Alan Newman, founder of Magic Hat Brewing. Newman, 69, had his second knee replacement done by Huber in early December. After getting a conventional knee implant nine years ago from a surgeon who's since retired, Newman asked friends where they'd gotten their knees done. Time after time, Huber's name came up.
When asked if he's noticed a difference between the two recoveries, Newman doesn't hesitate.
"Oh, yeah! It's night and day," he says. "By day 10, I was totally independent. If you'd looked at me going up stairs, you'd never know that I'd just had a knee replacement."
What makes Huber happiest is seeing his patients return to the activities they love.
"This is the biggest advancement in joint replacement in many, many years. The reason we didn't do this five years ago is, we didn't have the technology," he says. "Every knee is unique, like a fingerprint. And now we're able to make it perfectly for you."
Correction, January 22, 2016: An earlier version of this article mistakenly said Dr. Huber was the only surgeon in the state who performs this type of knee replacement. In fact, Huber's partner at Mansfield Orthopaedics also performs the surgery. Also, the story has been updated to clarify how many of Dr. Huber's patients require physical rehabilitation.
Correction, January 25, 2016: This article originally referred to Morrisville as being in the Northeast Kingdom. In fact, Lamoille County is not in the Northeast Kingdom.