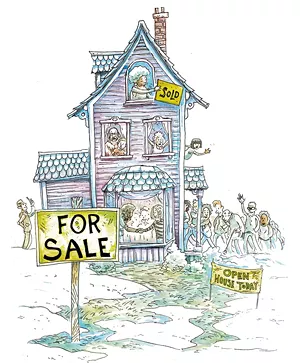 Editor's note: This story was reported and written before the recent outbreak of COVID-19, which has had profound impacts everywhere, including in real estate markets. As such, some of this information may no longer be accurate. We recommend directly consulting real estate and financial professionals with any questions relating to buying or selling homes.
This just in: Buying a house in Chittenden County is tough. OK, so that's probably not breaking news to anyone currently on the hunt for a three-bedroom Arts and Crafts in Burlington's Five Sisters neighborhood, a fixer-upper farmhouse in East Charlotte or a tidy ranch on a corner lot in Essex Junction. Crowded open houses, properties that garner multiple offers above asking price and listings that disappear faster than you can say "Zillow" are par for the course these days. And the market is likely to stay that way for the foreseeable future.
That's the verdict of the Early 2020 Northwest Vermont Market Report, released in February by Coldwell Banker Hickok & Boardman. Every year, the real estate company compiles statistics on home sales in the northwest corner of the state — specifically, in Chittenden, Addison, Franklin and Grand Isle counties. The idea is to project the state of the real estate market in the coming year.
Much like 2019, 2020 is shaping up to be a good time for sellers, less so for buyers, thanks to high demand bolstered by low interest rates and inventory that is unlikely to keep pace.
"It's a seller's market, for sure," Coldwell Banker real estate agent Stacey Lax said.
That's especially true in Chittenden County, where the median sale price of single-family homes rose to $355,000 — up from $322,00 in 2017 and $339,950 in 2018. The ballooning numbers bear out that real estate chestnut: location, location, location. In other words, people want to live in or around Burlington. But, as anyone who's watched an episode or 40 of "House Hunters" on HGTV could tell you, buyers open to compromise can find more palatable prices and a wider array of homes by looking beyond their target area.
"If you're willing to look outside the Burlington area, you start to see more affordable options," Lax said. "And that's becoming attractive to a lot of buyers."
The market report confirms that assessment. In Chittenden County, sales of single-family homes in Hinesburg and Jericho grew more than 30 percent over 2018. That trend also held in Addison County, where Vergennes, Middlebury and Bristol were hot locales.
Buyers were increasingly drawn to Franklin County last year, too. The most affordable county in northwest Vermont boasted a median single-family home sale price of $233,000 in 2019, up from $208,950 in 2018. Half of those sales were in the up-and-coming markets of Swanton and St. Albans.
Millennials made up the single largest home-buying demographic in 2019, at 45 percent. Citing projections from realtor.com, the market report expects that group again to dominate the market as young people flock to rural and suburban areas.
But when they move in, they might find that their neighbors are folks their parents' age. "What we're seeing is that millennials and baby boomers are competing for the same houses," Lax said.
She explained that boomers are staying in their houses longer than they used to. When they do move, they're looking for smaller homes that don't require a lot of work. Traditionally, younger people have sought out less-expensive fixer-uppers. But, according to Lax, more members of that group are looking for small, move-in-ready homes, too, creating a greater strain on an already skimpy inventory.
With heightened competition, it's even more important for buyers to develop a strong plan of attack with their real estate agents, so they can move quickly when opportunities arrive.
"You never want to be caught flat-footed," Lax said.
In addition to finding a trustworthy agent, she recommended seeking out one of the local lenders, since they're often able to work more quickly, and at less conventional hours, than national lenders.
"The saying is that real estate happens before 9 a.m. and after 5 p.m.," Lax noted.
Coldwell Banker's 2019 projection came on the heels of a volatile stock market, rising interest rates and a government shutdown in 2018. Despite those concerns, Vermont's housing market proved resilient in 2019. But could coronavirus-fueled fears of an economic slowdown — and the uncertainty of an election year — dim the 2020 forecast?
A full-blown pandemic would affect any sort of financial market, including housing. But Lax said Vermont real estate has historically been relatively insulated from dramatic fluctuations.
"Our highs are usually not too high, and our lows are usually not too low," she explained.
She would know. A licensed agent for six years, Lax entered the real estate business as a marketer in 2008, at the peak — or rather, nadir — of the housing market crash.
"That was an interesting time to get into real estate," she said with a chuckle.
If this year's market report proves prophetic, 2020 might just be a pretty interesting time, too.