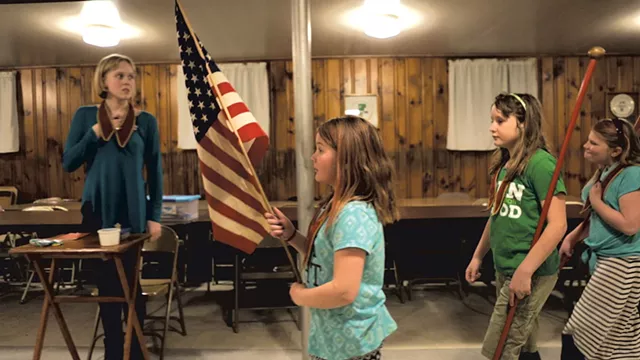 Photos Courtesy Of Ned Castle
Filming at Riverside Grange
For nearly three decades, Charlotte Barrett dreamed of somehow documenting the essence of the Grange. The once-robust agricultural advocacy group has seen flagging membership as the number of small farms in America has steadily declined.
The kernel of Barrett's idea sprang from an article she wrote for the Valley News in the late 1980s about the Grafton Star Grange hall in Hanover, N.H., which was being converted into an upscale clothing store. Over the years, she considered self-funding her pet project, but it wasn't until she took the reins as community preservation manager of the Western New England branch of Historic New England that funding fell into place and the creative gears began to turn.
"I didn't know what form it might take, and it percolated for years," Barrett recalls, "and then, when I was hired by Historic New England ... it just seemed like a perfect project, because what we really like to do is to focus on pieces of history that are at risk of being lost."
Barrett's vision became the film Rooted: Cultivating Community in the Vermont Grange, made in collaboration with Ned Castle, gallery director and media producer at Vermont Folklife Center in Middlebury. The documentary premieres at Riverside Grange in West Topsham on April 6 and will be screened again at Middle Branch Grange in East Bethel on April 14.
Though Rooted delves into the history of the Grange — which was founded in 1867 as the National Grange of the Order of Patrons of Husbandry — its primary focus is on the current membership of the two Vermont Granges hosting the screenings. Castle, who served as the film's cinematographer and did most of the editing, says that the specific Grange chapters were chosen because they "seem to exist at either ends of the spectrum."
Most of Middle Branch's members are farming families, and some are descendants of its founding members. Though the Grange hosts suppers open to the public, its formal meetings adhere strictly to the traditions and rituals of the Grange, including the use of symbolic blindfolds for initiates.
Riverside Grange's meetings are more casual, and its members include a variety of professionals such as a medical worker and the operator of a dog kennel. Barrett notes that Riverside founded a farmers market and gardening program to remain relevant through community outreach.
"One of the things that makes the story interesting is that Vermont has this very robust local food movement and small-farm movement, so there is perhaps an opportunity for the Grange to reinvent itself as part of that movement," says Barrett.
According to Vermont State Grange Master Brenda Rousselle, the Green Mountain State currently has 37 Granges with combined membership of approximately 1,100. In 1990, there were 91 locations with nearly 4,000 members statewide.
Rousselle says she hopes to diversify the organization's population, composed primarily of people over the age of 50, by increasing Junior Grange membership. While Middle Branch is the only Grange in the state with a full-fledged Junior Grange, those in Ferrisburgh and Bomoseen participate in the recently established Junior Grange 1+ Program, which allows children between the ages of 5 and 14 to participate in Grange activities.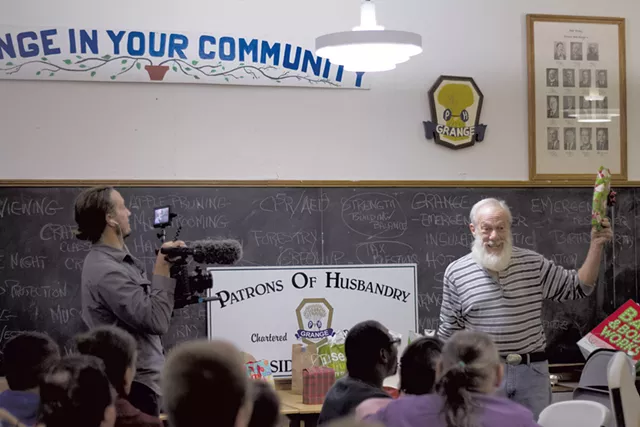 "The hope is that when the kids do this ... they'll enjoy it, and they'll start talking to their friends in school," Rousselle says.
Emily Waterman, a kindergarten teacher and leader of Middle Branch Junior Grange, has fond childhood memories of attending Grange meetings after finishing her chores on the family dairy farm. She says it's been challenging to recruit kids who aren't part of Grange families — particularly because meetings start at 8:30 p.m. on Fridays to accommodate farmers' work schedules.
"We're just busier than we were when I was a child. There's not as many farm families, [and they] don't get out as much," Waterman says. "Growing up, I did not have the social life that my kids do. I grew up on the farm, and going out Friday night to a Grange meeting was a highlight."
Rousselle, who was elected state Grange master in 2014, has been a member of the Blue Spruce Grange in Essex Junction for 28 years. She notes that while some Granges in central and southern Vermont are flourishing and have increasing memberships, one of her primary goals is to raise general awareness about Grange activities, particularly in Chittenden County.
"The question that I would hope, at some point, to never again hear is, 'The Grange is still operating? I thought that died years ago,'" Rousselle says. "I have to try to think of some way where Granges can be sure to get their name out there, and to become more visible, so that people know that there are Grangers still out there working for the community." m