Julia Shipley
Christian Collins
Christian Collins appears to be living a double life. By day, he's a mild-mannered American-born librarian at the St. Johnsbury Athenaeum. Off the clock, he's a Canadian resident who uses his fluency in Arabic to help translate the short stories of Syrian writer Osama Alomar into English.
Alomar immigrated to Chicago in 2008 and until recently worked as a cabdriver; he now lives in Pittsburgh. He has published three collections of short stories and one volume of poetry in Arabic. Since 2009, Collins has worked with the writer — over the phone, at Alomar's kitchen table and even in his cab, between fares — to translate Alomar's epigrammatic prose.
In 2014, New Directions Publishing published Fullblood Arabian, translated by the duo. Praised by the New Yorker and the New York Times, Alomar's stories have also appeared in Ploughshares, TriQuarterly and the Literary Review. His newest book co-translated with Collins, The Teeth of the Comb & Other Stories, debuts this week. Seven Days recently caught up with Collins, 39, to learn about his dual adventures in the book world.
SEVEN DAYS: You appear to have two professional names: In Vermont you're known as Christian J. Collins. However, on the covers of Alomar's books, you're C.J. Collins. Similarly, your book bios describe you as a librarian based in Queens and Grafton, N.Y. Meanwhile, the St. Johnsbury Athenaeum lists you in the staff directory. What up?
CHRISTIAN COLLINS: I used to live in Queens. Then Grafton. Then St. Johnsbury, while I was waiting for my residency in Canada to come through. Now [I live in] Compton with my wife, who has lived in Québec for 18 years. My book bios are not particularly accurate. C.J. Collins is the name under which I publish. Christian is my given name.
SD: As you navigate the U.S.-Canada border, have your Middle Eastern affiliations been an issue?
CC: I am a permanent resident of Canada as of a year ago, and I have been a regular visitor over the last three years. I cross the border almost daily for work. I am familiar to the border agents of both sides, and knowing Arabic or having lived in Syria has never posed a problem.
SD: You first met Osama Alomar when you were in Syria in 2007, following a 2006 Fulbright fellowship to study Middle Eastern history there. How?
CC: I met Osama at a monthly sort of semiformal literary and cultural meeting in a private home, organized by Sahar Abu Harb, a poet, writer and theorist of nonviolence in an Islamic-feminist context. The group met to discuss the principles and practice of nonviolence and nonviolent social change.
SD: Prior to your Fulbright, you were enrolled in a master's program at the University of Massachusetts Amherst. What put you on the path to Damascus? What were you hoping to discover? And have those studies informed your work with Alomar?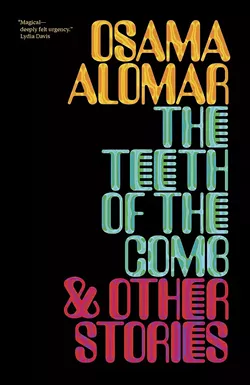 The Teeth of the Comb & Other Stories by Osama Alomar, translation by Osama Alomar and C.J. Collins, New Directions Publishing, 96 pages. $13.95.
CC: At UMass I did a master's degree in the French department, with substantial coursework in history. I started off looking at the story of French scholarship about Syria and the eastern Mediterranean in the 18th and 19th centuries — the way information was gathered and knowledge produced about that part of the world, and the ends this served. The Fulbright was to lay the groundwork, with research and language training, for doctoral work on a related topic.
All of this has made me feel strongly that I would rather be a conduit for Syrian voices than one more American voice telling people what to think about Syria.
SD: What brought you to Vermont?
CC: I married my wife, Yuko, who was living in Québec (and whom I had met in Brattleboro). We could not live together right away because I did not yet have a status in Canada. So I moved from Grafton (just over the state line from Bennington) to St. Johnsbury, where I had gotten a job at the Athenaeum in 2015, and waited.
SD: If you were to open The Teeth of the Comb & Other Stories right now and page through it, would those pages trigger specific memories of days spent translating?
CC: Yes, almost every page. When Osama and I translate, we are very much doing it together, relying on the firm footing each of us has in one language and our somewhat shaky footing in the other. It's a kind of dance, or negotiation, or slow clarification.
SD: Are other aspects of your Fulbright experience still reverberating or activated, besides your work with Alomar?
CC: To be honest, I'm still trying to make sense of my time in Syria. I have friends who fled Syria [and are] now scattered all over the Middle East and Europe, and friends from every side in this conflict. Osama and the other artists and writers I knew in Syria foresaw some kind of crisis, and they were seeking to defuse it with nonviolent means, with dialogue, reconciliation, solidarity. I was lucky to be able to observe that courageous and vital work.
The time I spent there is with me every day. On a concrete level, besides literary translation, I am volunteering weekly with the Service d'aide aux Néo-Canadiens in Sherbrooke, where more than 500 refugees have been resettled in the last year. I help with interpretation, finding apartments, opening bank accounts, learning their way around their new city — all the basics of getting settled in a new culture. It feels good to be able to offer that kind of support.
SD: The Athenaeum featured Alomar reading from your translation of Fullblood Arabian last May. Have you scheduled any Vermont readings for the new book?
CC: I am eager to bring Osama back to Vermont. We had a great reception last year in Burlington, Montpelier and St. Johnsbury. All offers considered.