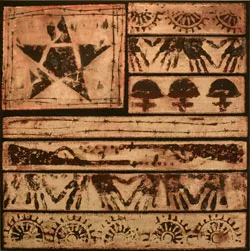 Bloodied hands, bare trees, barbed wire — they're not the kind of images one expects from Warren Kimble. Yes, that Warren Kimble. A new series of paintings by the renowned, Brandon-based folk artist currently on view at a Manhattan gallery uses a somber palette and recurrent images to lodge a powerful protest against the war in Iraq.
With his 20 or so semi-abstract and mixed-media works, collectively entitled "Waiting at the Window: Widows of War," Kimble has executed a sharp, stunning departure from the naively rendered Vermont landscapes, cows and snowmen that have been the staples of his long and lucrative career. The pieces exhibited at the Syracuse University Lubin House are the product of an epiphany that Kimble (an Orangeman, class of '57) experienced a couple of years ago. He was in the midst of a month-long sojourn at the Vermont Studio Center in Johnson when a radio report on U.S. casualties in Iraq "hit me in the gut," Kimble recalls. "I'm a light-hearted guy, but something new has come into my work," he says, defining that something as "anger."
While listening to the war news that day, Kimble was looking at a dressmaker's mannequin he had recently purchased at an antique shop and had placed in front of a window in his room at the studio center. That form seemed to represent "the mothers, wives, daughters who have lost a loved one and are waiting by their windows wondering what to do," he says.
Sure enough, a headless, armless female mannequin appears in several of the works. It's silhouetted against a window like a ghost in one painting; in another, it's surrounded by black smudges, with handprints hovering above each shoulder and with the words "WAR WAR WAR" stenciled across the canvas in red. An actual dressmaker's form stands in a corner of the gallery wearing a triple-strand barbed-wire necklace and a hip-to-floor petticoat that might look flouncy if it were not also made of barbed wire.
A few of the larger paintings consist of rectangles of varying sizes in which gray paint has been applied in hatched brushstrokes — reminiscent of the signature technique of Pop Expressionist Jasper Johns. In an interview, Kimble, 73, confirmed that Johns, 77, has long been a source of inspiration. The older artist's iconic representations of the American flag were floating in his mind's eye, Kimble reveals, as he painted some of his own renditions of the Stars and Stripes.
Although Kimble has sold thousands of flag prints, he hasn't created any new ones since September 11, 2001, he reveals.
And — who knew? — Kimble has been busily producing abstract works in the past few years, as he had earlier in his career. He began composing abstractly while teaching art at Castleton State College in the years after he moved to Vermont from New Jersey in 1970. "At a small college, you have to teach everything — batiks, drawing, watercolors, oil, figures, abstractions," Kimble explains. "You experiment."
His folk art actually includes its own elements of abstraction, he adds. "The animals and houses I do are simplified, reduced. And what's abstraction but a simplification of seeing something?"
Conversely, Kimble fans can get a more complex view of the artist and his work next year, when a major retrospective will be presented at the Shelburne Museum. Curated by museum Director Stephan Jost, that show will certainly include the "Widows of War" work, says museum spokesperson Leslie Wright. "Stephan wants to show you the Warren Kimble you know and the Warren Kimble you don't know," she says. Some of his non-folk paintings will be in the collection as well, Wright adds. "Warren Kimble's America" opens in the Shelburne Museum's Round Barn on May 18, 2008.