Hats off to you, 2013. With the calendar coming to a close and 2014 on the horizon, it's time to end the year on a high note. Setting the tone for the days ahead, poet Rainer Maria Rilke once mused, "and now we welcome the new year, full of things that have never been." Taking this lighthearted approach, Burlington and St. Johnsbury's First Night celebrations offer far-reaching festivities that bring top-notch talent to revelers of all ages.
Buy a button or a wristband — they're your "tickets" to music, theater, dance and fireworks. Burlington's shindig begins at noon, while St. J kicks things off at 4 p.m.
This year, First Night Burlington celebrates its 31st anniversary, making it the longest-running event of its kind in the world. With this status comes a lineup of more than 100 performers and activities at 18 different venues. Newcomers including Afinque, Ray Vega and Kat Wright & the Indomitable Soul Band join mainstays such as Jon Gailmor, Burlington Taiko and Circus Smirkus. Also new this year is the Africa to Vermont program, featuring A2VT, Walinja and the Burundian Women's Dance Company. Last but certainly not least, fireworks explode over Lake Champlain at 6 p.m. and midnight.
In the Northeast Kingdom, St. Johnsbury's historic downtown comes alive with a multitude of merriment and both new and returning acts. Fan favorites include the Wicked Smart Horn Band and fire artists Dancing Djinn. Kiddos join the party at the Family Fun Fair and Kids Rock! All-Star Musical Revue. At 8:30 p.m., folks head to the St. Johnsbury Academy field house parking lot to release lighted lanterns into the winter sky, and then return at midnight for a fireworks display.
See sidebar for highlights of New Year's Eve celebrations in other local towns, where parades, parties and tasty fare await!
Farewell, 2013, it's been real. Bring it, 2014.
BURLINGTON
Tuesday, December 31, noon to midnight at various downtown locations. $5-30 button; free for kids under 3; some shows require additional $4 tickets. Info, 863-6005. firstnightburlington.com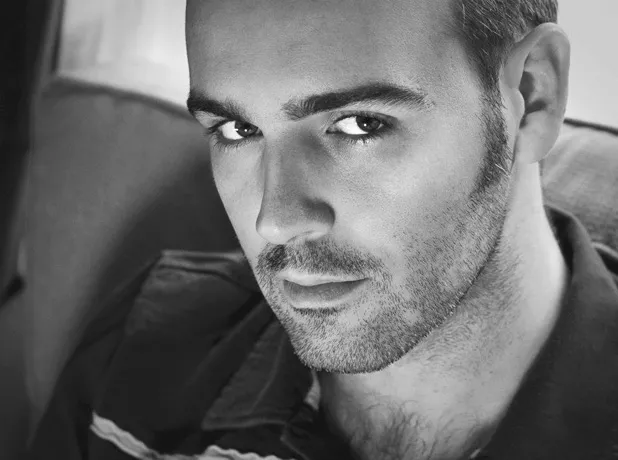 Gregory Douglass. Photo courtesy of Adrien Broom.
Piano Man?
As a teenager, Gregory Douglass learned the piano by ear. Upon graduating from high school, his musicianship and unique voice were so strong, others encouraged him to eschew college and pursue his passion. These days, the internationally acclaimed singer-songwriter has eight albums under his belt. Seamlessly blending folk, pop and rock, the Hyde Park native has garnered comparisons to Jeff Buckley and shared the stage with They Might Be Giants and India.Arie, among others.
Gregory Douglass: 5-5:40 p.m. and 7-7:40 p.m. at FlynnSpace
If you like this, try: Cody Michaels
South Congregational Church, 7 and 9 p.m. at First Night St. Johnsbury
Family Ties
The DuPont Brothers
Brothers, best buds and bandmates — these traits make for a solid musical foundation. Such is the case for the DuPont Brothers. After years apart, the siblings recently reunited when Sam, the younger of the two, moved to Vermont and joined Zack, an established local performer. The rest, as they say, is history. Having turned heads with their self-titled EP, the rising talents deliver a mix of folk and Americana featuring effortless harmonies and fingerstyle acoustic guitar.
The DuPont Brothers: 6-6:40 p.m. at FlynnSpace
If you like this, try: Alan Greenleaf & the Doctor
St. Johnsbury House, 9 and 10 p.m. at First Night St. Johnsbury
Decked Out
Give Christopher McBride sap and he'll make maple syrup; give him Vermont landscapes and he'll produce stunning photographs. A deck of cards? The Westford resident turns aces and spades into awe-inspiring feats of magic. Drawing on more than 30 years of experience, McBride forgoes flashy props in favor of misdirection and traditional sleight-of-hand. The result? An evening of illusion that keeps audience members guessing.
Christopher McBride: 10-10:40 p.m. at FlynnSpace
If you like this, try: Marko the Magician & Hypnotist
Fuller Hall, St. Johnsbury Academy, 10 and 11 p.m. at First Night St. Johnsbury
ST. JOHNSBURY
Tuesday, December 31, 4 p.m. to midnight at various downtown locations. $13-20 wristband. Info, 748-2600. firstnightstj.com
Dynamic Duo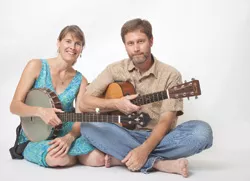 Dana and Susan Robinson
Banjo, guitar, fiddle and vocal harmonies, oh my! Dana and Susan Robinson weave these elements into an interpretation of mountain music steeped in Appalachian traditions. Known for their captivating live shows, the pair delivers lighthearted and poignant songs alike with technical sophistication and a playful stage presence. Currently based in Asheville, N.C., the couple travels to northern Vermont — where Dana once lived in an off-the-grid homestead — with originals and time-tested tunes.
Dana & Susan Robinson: 8 and 9 p.m. at Grace United Methodist Church
If you like this, try: Good Old Wagon
First Congregational Church, 7-7:40 p.m. at First Night Burlington
Vaudevillians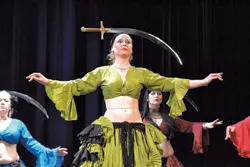 Hypzotique. Courtesy of Paul Seaton.
Normally, baring one's stomach in Vermont in December is not a good idea. But for members of the Hypzotique Bellydance Circus, the opposite is true. Led by E.K. Narey and her sinister sidekick Jingo the Dark Clown, this caravan of sideshow performers includes dancers, jugglers and pranksters who charm an all-ages crowd. This year, the eclectic crew welcomes Middle Eastern dance troupe the Raq-ettes as special guests.
Hypzotique Bellydance Circus: 6 and 7 p.m. at Fuller Hall, St. Johnsbury Academy
If you like this, try: Circus Smirkus
Memorial Auditorium, 1-2 p.m. and 3-4 p.m. at First Night Burlington
Multigenre Medley
Tritium Well brings everything but the proverbial kitchen sink to the stage. Embracing a varied, uncommon repertoire, the five-member ensemble presents original music alongside traditional American, Cuban, reggae, rock, funk and blues. This versatile approach encompasses tunes ranging from the 1928 folk song "Follow the Drinking Gourd" to selections made popular by Jimi Hendrix and Hank Williams. Led by guitarist Bobby Farlice-Rubio, the Northeast Kingdom band gets folks dancing with rousing renditions.
Tritium Well: 10 and 11 p.m. at the VFW Hall
If you like this, try: PossumHaw
Unitarian Universalist Church, 5-5:40 p.m. at First Night Burlington
More Options for a Memorable New Year's Eve
Slopeside
New Year's Eve Torchlight Parade and Fireworks, 8 p.m. at Bolton Valley Resort. Free. Info, 877-926-5866. boltonvalley.com
New Year's Eve Party & Fireworks, 9 p.m.-1 a.m. at Jay Peak Resort. Foeger Ballroom & Tramside. $5-10. Info, 988-2611. jaypeakresort.com
Fireworks and Torchlight Parade, 7 p.m. at Lincoln Peak, Sugarbush Resort, in Warren. Call for price. Info, 800-537-8427. sugarbush.com
Live Entertainment
ECHO Last Night Dance Party, 10 p.m.-1 a.m. at ECHO Lake Aquarium and Science Center in Burlington. $50-60. Info, 864-1848. echovermont.org
Dave Keller's New Year's Eve Extravaganza, 9 p.m.-1 a.m. at Montpelier City Hall Auditorium. $10-15. Info, 229-2737. davekeller.com
A Rockin' New Year's Eve, 8 p.m. at Town Hall Theater in Middlebury. $15. Info, 382-9222. townhalltheater.org
Food & Drink
ECHO Ice Ball, 7 p.m.-1 a.m. at ECHO Lake Aquarium and Science Center in Burlington. $125. Info, 864-1848. echovermont.org
New Year's Eve Chili Cook-Off, 1-3:30 p.m. at Langdon Street in Montpelier. Free. Info, 223-9604. montpelieralive.org
New Year's Eve Dinner & Theater, 6:30-10 p.m. at Middlebury Inn. $85 includes admittance to Town Hall Theater party. Info, 382-9222. townhalltheater.org
New Year's Eve Dinner, 6-10 p.m. at NECI on Main in Montpelier. Limited seating; reservations required. $75-100. Info, 223-3188. neci.edu
Outdoors
New Year's Eve Road Race, 3 p.m. at Pavilion State Office Building in Montpelier. $10. Info, 229-6288. cvrunners.org
Trapp Nordic Cup, 9 a.m.-4 p.m. at Trapp Family Lodge Nordic Center in Stowe. Call for conditions. $8. Info, 253-5755. trappfamily.com
FirstRun, 10:30 a.m. on January 1, starting at Memorial Auditorium in Burlington. Info, 863-8412. runvermont.org