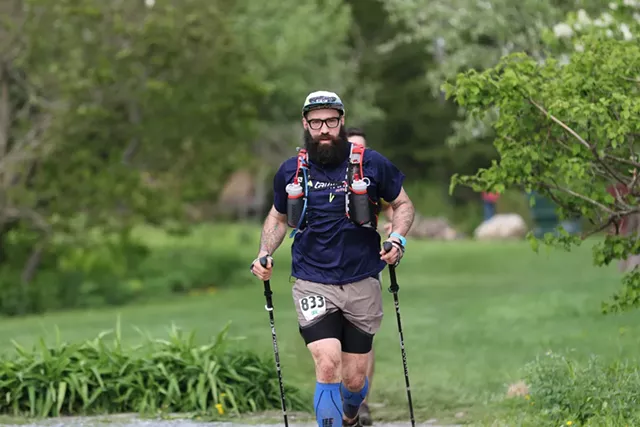 Courtesy Of Mark Mccaslin
Phil LaCroix
A West Bolton ultramarathoner is planning to run the Long Trail this summer to raise money for — and awareness about — opioid abuse treatment.
Phil LaCroix, 35, said he was inspired to take on the state's signature 274-mile mountain route after seven close friends fatally overdosed, beginning with the 2016 death of Sean Stem, 26, of Winooski, who LaCroix described as "like a little brother to me."
LaCroix said he noticed common threads involving his pals who died. All of them had gone to rehab and sought help, and all lacked access to a transitional "sober house" after they finished getting clean, often leading to relapse. Those issues inspired LaCroix to try to raise $50,000 to split between a sober housing organization, Vermont Foundation of Recovery; and the Vermont Recovery Network, which oversees treatment centers around the state. He's brought in about $9,800 thus far.
LaCroix got into distance running in honor of his pal Andy "A_Dog" Williams, a fellow skateboarder and musician who died in 2013 of acute myeloid leukemia, a rare form of cancer.
"We watched how hard he fought and just drew on that just to see how far I could go," LaCroix said. "Because if he could fight that hard and for that long, then I gotta do something to remember that fight that he had."
His training is well under way. LaCroix will run a 50-kilometer race in Stowe this weekend — then will run home on the Long Trail to rack up some extra mileage.
The long haul begins August 24 at the Canadian border. From there, he'll make his way south, bagging many of Vermont's tallest peaks before finishing about 10 days later at the trail's terminus near the Massachusetts border. With a bivouac sack and a sleeping pad, he intends to stay in shelters along the trail.
"Running is the only thing I knew would really draw attention to it, 'cause not a lot of people are, some say, crazy enough to try and run the Long Trail in a week and a half," LaCroix says in a video about his adventure. "I have never done anything like this before. Two hundred seventy-four miles is a long way."