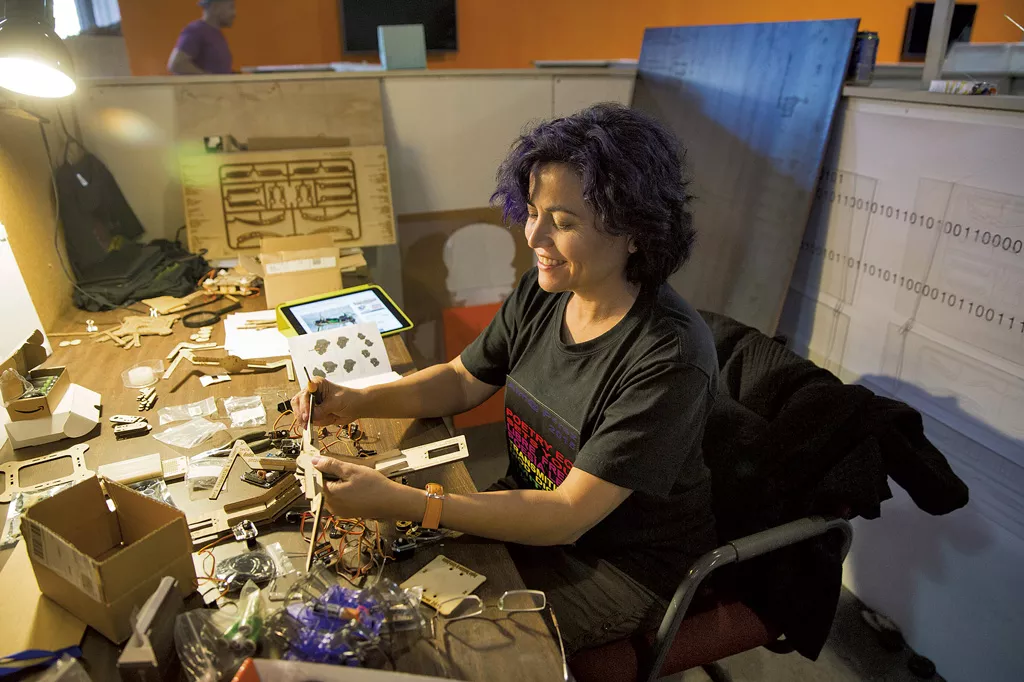 James Buck
Tina Escaja
What does Spanish poetry have to do with robotics? The answer may depend on your visceral response to poetry in general, and to crawling, spider-like cyborgs. Whether people are repulsed or fascinated by either one, Tina Escaja hopes that the unlikely pairing will prove entertaining and enlightening. The goal of her "poetry-inflected robots," she explained, is to get people engaged with her poetry, which explores the organic and the synthetic, the creator and the created.
Escaja is a professor of Spanish at the University of Vermont whose areas of expertise include 20th- and 21st-century Spanish and Latin American poetry, gender studies and digital media. Earlier this year, Escaja — who's also a poet, prose writer and digital artist — received a scholarship to spend two months this fall as a maker-in-residence at the Generator, Burlington's communal maker space for artists, engineers and entrepreneurs.
For the last few weeks, Escaja has spent her free time — when she's not parenting, teaching classes, serving as president of the Association of Spanish Professionals in America, or overseeing UVM's gender, sexuality and women's studies department — building robots engraved with her own Spanish and English poetry verses.
At least, she's trying to build the robots. When Seven Days caught up with Escaja, her desk in the sprawling Generator space beneath Memorial Auditorium was littered with electronic innards and wooden exoskeletons. With the crustacean-like leg segments strewn about, her workspace resembled a dinner table that had just hosted a futuristic crab bake, minus the melted butter.
"I don't know if I can do this. It's very difficult and taking me forever," Escaja admitted with a giggle. "I've never built robots before."
Escaja, her shoulder-length, curly hair streaked with purple, was clearly fascinated with digital technology, even if she hadn't mastered the nearby laser printer she planned to use to engrave the robots' legs and bodies with her words. As the 50-year-old spoke, rainbow-colored lights on an LED equalizer embedded in her T-shirt rose and fell with her voice — which, even after 27 years of living in the United States, still has a heavy Spanish accent.
Escaja's "robopoems," as she calls her seven-part poetry verses, are divided and etched into the five lobster-size robots that make up the project. Written from the point of view of the robots themselves, the verses explore the existential nature of humans' often conflicted relationship with technology. Using robots to communicate the message is also a way, she added, to help viewers connect with poetry — an art form that many people avoid or just don't get.
"Poetry is sometimes very cryptic," Escaja explained. "This comes in a different package that makes you reflect, and even have some fun at the same time."
So why create robots that look like spiders or crabs rather than more anthropomorphic designs? "I like the spiderlike insect style because that creates some anxiety in humans," Escaja said. "I want it to be a creature that is a little bit clumsy, too, emphasizing that sense of awkwardness of interacting with humans."
Escaja expects to complete the robots by the end of October. Built from open-source designs, they will interact with humans, and one another, using voice-recognition software. Escaja deliberately chose to build them out of wood rather than metal to further blur the lines between the organic and synthetic, she said.
The robots, which eventually will be on display in the Generator lobby, will also feature an augmented-reality component. Viewers will be able to hold up smartphones or tablets and see additional three-dimensional holographic images complementing the robots and telling their "story." (An early prototype of Escaja's robopoetry parts was on display in Burlington's Flynndog gallery in July.)
A native of Spain, Escaja has been fascinated with digital technology since she arrived in the United States in 1988. After earning her undergraduate degree at the University of Barcelona and her doctorate at the University of Pennsylvania, Escaja landed a job at UVM in 1993, and she has been there ever since.
Escaja occasionally writes under her "avatar" name, Alm@ Pérez — in Spanish, alma means "soul." The name refers to Augusto Pérez, a character from Niebla (Mist), a 1914 book by Spanish writer Miguel de Unamuno, who becomes aware that he exists only as a fictional character and confronts his author.
"I'm always questioning the binary divides," Escaja said, "and I want the poem to go beyond the page and create a beautiful, complex, three-dimensional element that also moves and interacts with you."
Though Escaja often works with digital media, not all of her projects are this high-tech. Years ago, she did a performance piece in Spain in which she painted various Spanish words on individual pieces of cloth, then pinned those to sheep. As the herd meandered around the pasture, the words intermixed and formed poetic phrases.
"I gave the sheep the opportunity to be poets themselves," Escaja said. "They are creating their own random poetry."