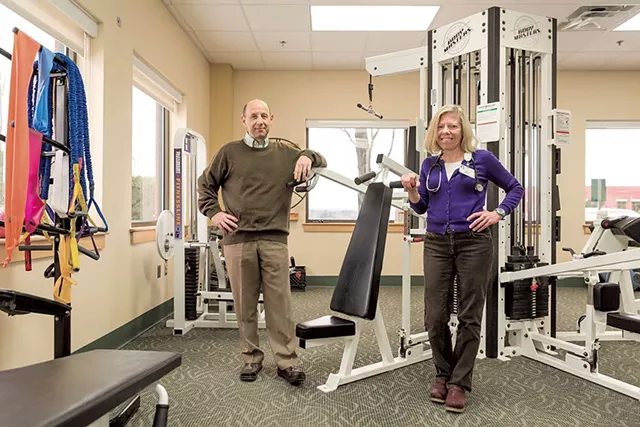 Oliver Parini
Dr. Philip Ades with registered nurse Joan Shaw
When Linda Wellings first visited the University of Vermont Medical Center cardiac rehabilitation clinic in mid-2015, she was scared. Wellings, then 67, had just had a heart attack.
"It's a slap in the face of your mortality," she recalled.
But after 12 weeks of cardiac rehabilitation, during which she had a supervised exercise regime, Wellings said, she felt more confident in her health.
"I always did the treadmill," she said. "My kryptonite, the thing I hated the worst, was the elliptical."
Two and a half years later, Wellings continues to work out in the gym at the clinic on South Burlington's Tilley Drive. Her friends have wondered why she doesn't use the athletic club nearest to her residence in Shelburne.
The clinic staff are the reason, Wellings tells them: "They know my situation. I feel supported, cared for and safe."
Where life-saving tactics such as surgery and medical devices leave off, cardiac rehabilitation begins. UVM's clinic offers a program designed to improve the physical and emotional well-being of people with heart conditions through exercise, behavioral changes and education on heart-healthy living.
Research has shown that participation in such rehab programs can reduce hospital readmissions by up to 30 percent and overall cardiac mortality by up to 28 percent. Yet only about 20 to 30 percent of patients nationwide participate in cardiac rehab, according to an article published by the Million Hearts Cardiac Rehabilitation Collaborative.
Dr. Philip Ades, longtime director of UVM's cardiac rehab, wants to change that. He was a contributor to the collaborative, which aims to increase the percentage of rehab participants to 70 by 2022.
Ades' clinic sees 350 to 400 new patients each year. Last fall, it announced that it was recognized for its advanced practices when the American Association of Cardiovascular and Pulmonary Rehabilitation recertified its program.
"These really are the glory days of cardiac rehabilitation," said the clinic's associate director and senior exercise physiologist, Patrick Savage, who has been working with Ades for more than 20 years. Before the early '80s, the program tended to treat primarily men up to age 65. When Ades started working in Vermont in 1984, he began working with older individuals, too. Today the clinic treats all genders and ages, including people with diagnoses that weren't covered before.
"The diversity of people coming into our program is far greater than it was when I was getting into [it]," Savage said.
Situated in a bright room with huge windows that overlook the mountains, the clinic's gym is filled with exercise equipment. A mounted television screen plays a slide show of inspirational quotes, interspersed with a heart-health quiz.
"The only way to keep your health is to eat what you don't want, drink what you don't like and do what you'd rather not," said one slide, quoting Mark Twain. "A goal without a plan is just a wish," read a quote from Antoine de Saint-Exupéry.
When Seven Days visited the clinic last week, Ades was in a conference room speaking to a group of recently diagnosed patients who had signed up for cardiac rehabilitation. "You can outlive your heart disease," he told them.
Of the patients who attend cardiac rehab, some have had a heart attack; others deal with chronic conditions such as coronary artery disease. They may have undergone procedures such as bypass surgery, valve replacement or stenting.
Participants must first take a stress test, the results of which are used to design an individualized exercise program. "People ask me if cardiac rehabilitation is safe," Ades told his audience. "I tell them, 'Not doing cardiac rehabilitation is what's not safe.'"
Most participants work out three times a week for 12 weeks in what is known as phase two of cardiac rehab. (Phase one takes place in the hospital.) They also learn about heart-healthy dietary habits and stress-management techniques, because it's "very, very common" for patients to experience a period of mental depression, Ades explained.
The group discussed the efficacy of fitness tracking devices. Ades shared that he carries his iPhone everywhere he goes so he can use an app to count the number of steps he takes each day.
"My wife thinks I'm crazy," the cardiologist admitted. "I like to count my steps."
Before he ended the orientation, Ades reminded the group that he's always available to answer questions. "I live here," he told them.
Heart disease, Ades said in an interview afterward, is "very preventable." Having a family history of such disease is not a death sentence, he noted, but a call to arms.
Ades himself is on the front line. His father died of a heart attack at age 50, and his brother was diagnosed with heart disease at age 47. "I've not had a heart disease, and I'm 66," Ades said. "It's pretty obvious why — I've tried to be healthy."
An important component of cardiac rehab is diet. Until the New York native moved to Vermont in 1984, Ades had had no contact with dairy farmers. When he advised one of his first patients, a dairy farmer, to opt for skim milk and avoid cheese, "he looked at me like I was from the moon," the cardiologist recalled. "A lot of [farmers] look at skim milk like this stuff they'd like to throw away."
A change of diet is "painful" for some patients, agreed Joan Shaw, a registered nurse at the clinic. People from the older generation often aren't used to the idea of exercising, she continued. Behavioral changes don't always stick: 10 to 20 percent of those who complete the clinic's program will eventually need to participate again.
In line with his goal of promoting long-term heart-healthy living, Ades teamed up with the editors of Shelburne's EatingWell magazine to produce The EatingWell for a Healthy Heart Cookbook: 150 Delicious Recipes for Joyful, Heart-Smart Eating, published in 2008. He worked with a dietician on recipe makeovers, being sure to include not only traditional American favorites such as oven-fried chicken, but also international dishes including Lebanese fattoush salad with grilled chicken.
The book was nominated for a James Beard Award in the Healthy Cookbook category in 2009, and Ades attended the award ceremony at New York City's Lincoln Center with his wife. "Nora Ephron was there," he recalled, referring to the celebrated late screenwriter and humorist. "I was chatting with her about eating octopus."
Besides doing clinical work, Ades is committed to researching ways of getting more patients involved in cardiac rehabilitation. Between 2013 and 2015, for instance, he and his colleagues carried out a study to find out whether financial incentives would entice more patients of lower socioeconomic status to participate. They'll publish their findings in the coming months.
Ades' dedication to his patients doesn't go unnoticed. Wellings said the cardiologist expressed gratitude when she recently gave him a brochure from a cardiac rehabilitation clinic in Florida that her brother had attended. "He's not set in his ways, but open to ... continually [improving] this program," she noted.
Likewise, for Savage and Shaw, it's all about improving the program's success rates. That might involve increasing overall motivation, helping women engage in higher-intensity training or encouraging participants to keep up with their exercise regimen after they've completed the program. Savage estimates that a third of such former participants, such as Wellings, continue to use the clinic's gym facility as part of a long-term maintenance exercise program, also known as phase three of cardiac rehab.
These days, the cardiac patients share their space with oncology and pulmonary rehabilitation patients. "They inspire me," Wellings said of a group of female cancer survivors who were working out alongside her.
Some participants form friendships and meet for breakfast or coffee after exercising. "The support that they get from one another is a really beneficial thing about cardiac rehabilitation," said Savage.
"This is much more social than any health club you would go to," added Shaw.
Sharing the space with other programs allows the gym to be open more hours, said Ades. And that suits him: "I like [it] to be busy."